Here is the list of maximum supporters in India's most popular football league i.e. Indian Super League. Fan's enjoyment of attending Indian Super League matches across the country has also made India the globally amongst the best football Leagues. In just first edition of the Indian Super League, the ISL has achieved a rare milestone with registering the highest average stadium attendance for any football league in Asia. Just before the halfway mark, ISL had an average stadium attendance of 22,639 which is more than the other football league across Asia such as China's CSL, Japan's J‑League and South Korea's K‑League. See below the list of most loudest supporters Indian Super League with team standings.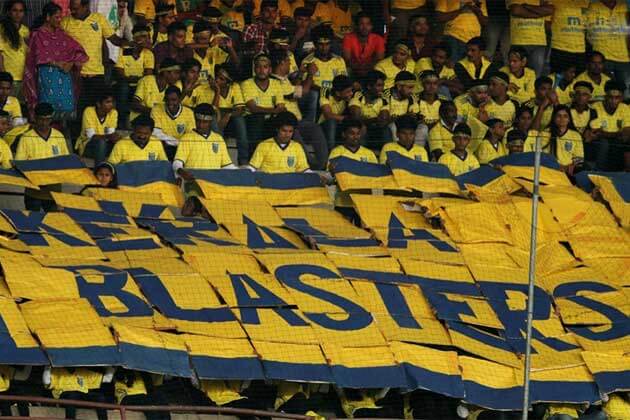 List of Highest Supporters of Indian Super League
Indian Super League has an average more than 26,000 attendance in the first edition and it became the fifth highest football League in average attendance around the world, behind only Bundesliga, EPL, La Liga and Serie A.
ISL has left behind the famous French Ligue 1, USA's popular MLS and Mexico's Liga MX. It's a big achievement for newly formed Indian Super League.
Read also: Top 10 supporters of football club
ISL also became the 11th best attended Leagues across any sport around the world in the list of average attendance ranks. You can predict from the average attendance of the ISL that Kerala Blasters is the most loudest supporters team in the Indian Super League in the first season with an average attendance of 49,111 spectators.
| | | | | | |
| --- | --- | --- | --- | --- | --- |
| Position | Team | Total | High | Low | Average |
| 1 | Kerala Blasters FC | 392,886 | 61,323 | 34,657 | 49,111 |
| 2 | Atletico de Kolkata | 316,195 | 65,000 | 21,550 | 45,171 |
| 3 | NorthEast United FC | 200,296 | 31,770 | 25,530 | 28,614 |
| 4 | Mumbai City FC | 158,142 | 28,000 | 18,197 | 22,592 |
| 5 | Chennaiyin FC | 176,757 | 25,317 | 16,567 | 22,095 |
| 6 | FC Goa | 144,524 | 19,752 | 16,652 | 18,066 |
| 7 | Delhi Dynamos | 109,993 | 18,268 | 13,000 | 15,713 |
| 8 | FC Pune City | 55,015 | 8,427 | 7,243 | 7,859 |
An ISL spokesperson said that "We are delighted by the overwhelming response to the ISL's inaugural season. We have always believed in the potential of football, and the fan's support highlights the fact that football in the country needed the right platform. The popularity with which the ISL has been received only spurs us on towards realizing the eventual dream of giving rise to a footballing nation. We take this opportunity to thank the people of India for extending such great support."