Lionel Messi Wins UEFA 2014–15 Player Of The Year Award: For the second time in the history of UEFA, the Barcelona forward Lionel Messi has bagged UEFA best player in Europe award. After an incredible season with Barca, the Argentine captain won the first individual trophy of the season. He beats his own team partner Luis Suarez and Real Madrid's winger Cristiano Ronaldo by huge margin. His second goal against Bayern Munich in semi final was also named as best Champions League goal of the season. Messi received the trophy from the president of UEFA, Michel Platini during the gala ceremony in Monaco.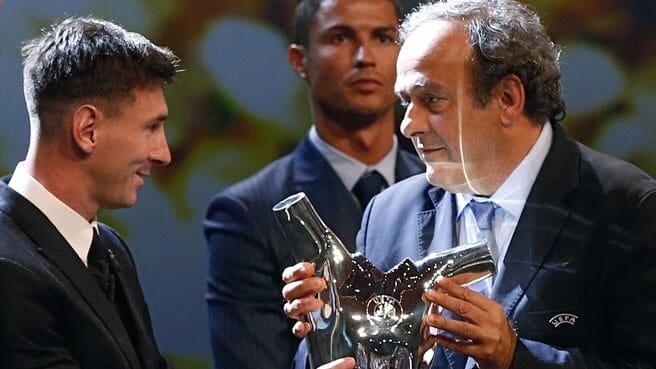 Lionel Messi: UEFA Best Player Of The Year 2014–15
Lionel Messi received the most number of votes, totaling 49 votes. Cristiano Ronaldo had to satisfied with 2 and Suarez with 3 votes. This means, Messi named as the player of Europe with 90% of total votes.
Messi won the Uefa Best Player award with 90% of the votes. pic.twitter.com/1bCrX8xZuf

— BarcaHD (@Barcelona_HD) August 27, 2015
Although Messi bagged the trophy, but Cristiano Ronaldo showed spirit of sportsmanship by applauding Messi.
Cristiano Ronaldo being a good sport & applauding Lionel Messi ???????????? pic.twitter.com/tL3oslRlDg — Cristiano Ronaldo (@TheCRonaldoFan) August 27, 2015
During the last season at Barca, Lionel Messi played total of 57 games in which he scored 58 goals with more than one goal per game average. The player also provided total of 27 assists and bagged three trophies.
Lionel Messi in 2014/15 season: — 57 games. — 58 goals — 27 assists. — 3 trophies. pic.twitter.com/ijuEAkMQ2c

— Purely Football (@PurelyFootball) August 27, 2015
Read also: UEFA Champions League 2015–16 IST Fixtures After the draw of Champions League, Messi said "We are a unified squad who worked very hard to achieve the goals we did. I'm very happy and I would like to thank my team-mates — without them I wouldn't have received this." Top 10 Players Of Europe 2014–15
Lionel Messi [Argentina, Barcelona]
Luis Suarez [Uruguay, Barcelona]
Cristiano Ronaldo [Portugal, Real Madrid]
Gianluigi Buffon [Italy, Juventus]
Neymar [Brazil, Barcelona]
Eden Hazard [Belgium, Chelsea]

Andrea Pirlo [Italy, Juventus]

Arturo Vidal [Chile, Juventus, currently plays for Bayern Munich]

Carlos Tevez [Argentina, Juventus, currently plays for Bayern Munich]

Paul Pogba [France, Juventus]