Adidas have launched New F50 Adizero Blaugrana boots of Champions League edition for their Brand Ambassador Lionel Messi. These are specially designed for the upcoming new season UEFA Champions League 2014–15 competition. The four times FIFA Ballon D'or winner will be seen in new Barcelona boots in upcoming matches of this tournament. Let's have a close look on the new arrivals of Adidas Adizero F50.
Adidas Adizero F50 Blaugrana Boots For Lionel Messi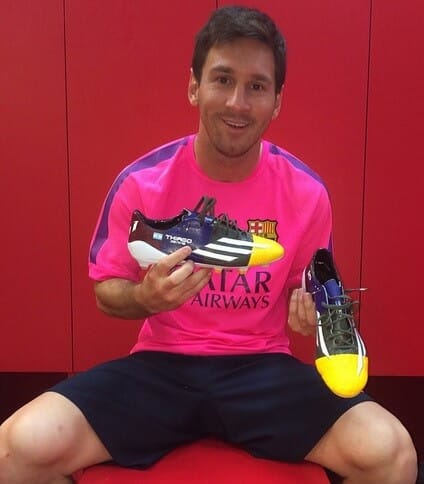 This the second launch of Adidas for Messi in this season as they have already launched gold colored Adidas Adizero F50 for La Liga 2014–15. It is so called because of its design and color combination. The complete layout of Blaugrana boots of Messi are manufactured in Barca colors. Read also: Adidas Predator Mania 2014 Remake Red and Blue colors are considered as the main Barca colors, but gold and green applications are also taken into account for the extra attractiveness. The layout of Blaugrana boot start with gold color from mouth, followed by green, blue and red to the back of boot. In fact, two more colors maroon and white also also added. The all new 2014–15 Champions League boots are specially designed for control on speed and to improve accuracy.
Lionel Messi 2014–15 Champions League Boots Pictures

Almost all colors of this boot are inspired from that of his club. Name of boot "Adizero" is written on tongue of boot on which trademark logo of Adidas is also designed in white appearance. Adidas three white colored stripes are also designed on each side of cleats in same color. Adidas F50 Adizero 2014–15 UCL boots are made with a Hybrid touch synthetic upper for softness, light weight and performance. As Messi likes to use leather boots, that's why Adidas have made these shoes without speed foil material on the heel. Read also: Adidas F50 Yamamoto Dragon Boots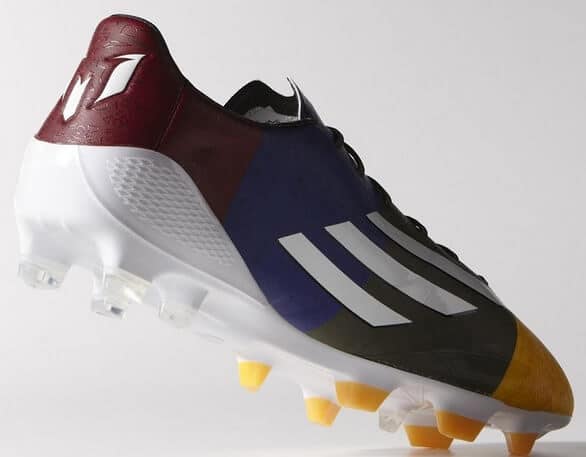 A text "mas que un botin" is there means more than just a boot. The title is taken from famous FC Barcelona motto "Mes que un club" which means more than just a club. Sole of Adidas Adizero F50 are designed in white applications, whereas the spikes are provided with golden & white ends. In short the German sports kit supplier have introduced an impressive boot with perfect combination of Barca colors. Check out the pictures of these new cleats below.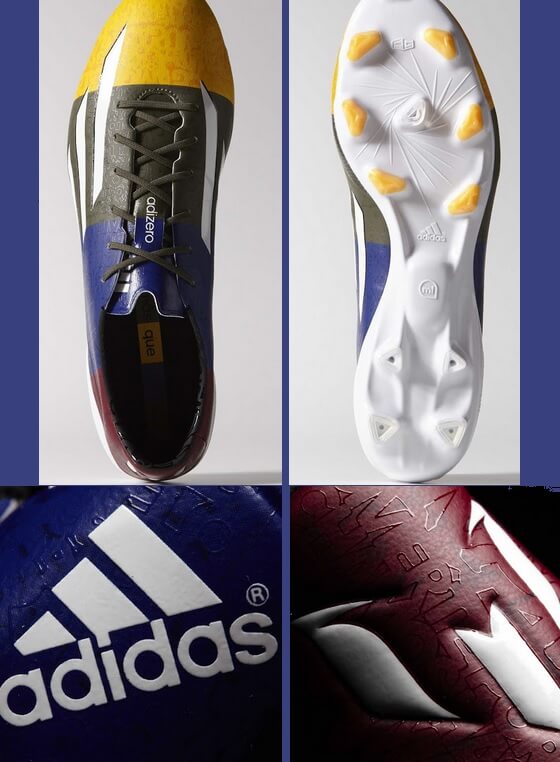 Leo Messi will wear these shoes in upcoming matches of UCL. This competition is beginning from 16 September 2014. Barcelona's first match of group stage is against Apoel Nicosia on 17th September. So Messi will be seen in these new football boots on Wednesday in group stage round.