Four times Ballon D'or winner Lionel Messi is now the first ever player who scored 21 goals against the Spanish club Real Madrid. He is also the first one who scored 2 hat-tricks against the same club. During El Clasico of 23-03-2014, he set up a new record of goals against his strongest rivals. Before Los Blancos, Messi's record of scoring highest goals was against Atletico Madrid, but after scoring thrice at Santiago Bernabeu, his goals against Real Madrid rose to 21 count. Watch & download free video of all goals of Lionel Messi vs Real Madrid in HD format.
Video of Lionel Messi all goals against Real Madrid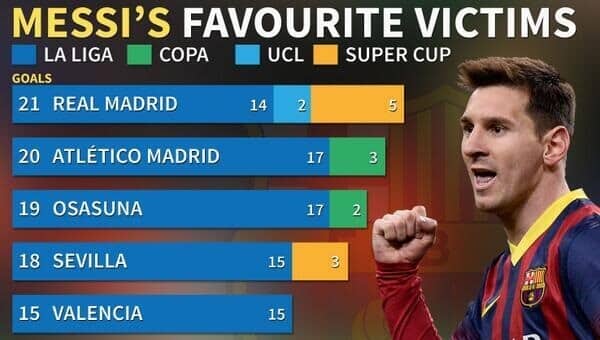 Messi started his career for FC Barcelona during season of 2004-05. In first season for FC Barcelona, he made 7 appearances in domestic league, La Liga & scored one goal in these appearances. In that season he played 9 games total in all competitions including Champions league. After playing 9 games in first season, he netted once. The player is also listed in Guinness World Records title for scoring maximum number of goals in a year. In 2012, he scored 91 times in all competitions at the age of 25. His 91st goal was against Real Valladolid & match result was in favor of Barcelona by 3–1. Although his last hat-trick against Real Madrid scored through 2 penalties, but it was a clean hat-trick. Last goal of 23-03-2014 turned a controversial score, in the end netted last goal of the game & a new record was created. He also scored most consecutive league matches [33 goals in 21 games]. Also, he is the first footballer ever to score consecutively against all teams in a professional football league.
How to download this video of Lionel Messi
To download this video, follow the instructions mentioned below.
To download this video, you need an add-on for your browser to save it to your device.

Search "1‑click YouTube video downloader" in your add on search option. First download the ad-on & install it. You need to restart your browsers to run this add-on.

After installing it, click on

Download

A new tab featuring video will appear. Now you'll notice a red Download button below this video.

Just click on button & save the type of video format you wish to download & click on it.

You've done it all & the download will begin.
So download this free video of Lionel Messi & share it with your friends to help them.