Lionel Messi 15.1 Ice Adidas Football Boots Unveiled: Barcelona's superstar Lionel Messi will wear Adidas 15.1 boots in the final of UEFA Champions League 2014–15 against Juventus. With totally new design and different pattern, the ice soccer cleats are simple yet impressive. After winning two trophies this season, Messi is ready to add third title of the season. Scroll down and find out more about Messi 15.1 new football boots introduced by Adidas.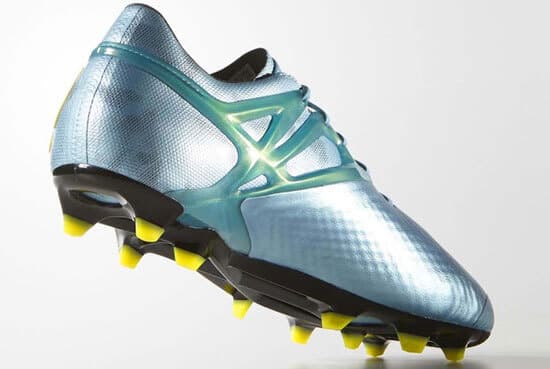 Lionel Messi 15.1 Ice Football Boots Released
Manufactured with extremely soft synthetic upper leather and 3D structure, the 15.1 ice boots of Lionel Messi are in cyan appearance. Adidas has claimed that these new ice boots resists water that increases the life span of these football boots. The upper material is similar to Adidas Hybrid-touch material, which was used for previous football boots of Lionel Messi.
To provide more stability with his speed, 3D external cage structure is provided on its upper surface. Also, there is new Adidas messiFrame is introduced for a locked in fit. The manufacturers have provided icy appearance with a metallic effect. On its heel area, black colored Adidas Messi logo is provided below a single stripe. Inside the boot, there is a text "Messi 15.1 Built To Win" is written on black background. The all new Adidas Ace 2015–16 football boots also launched by the supplier.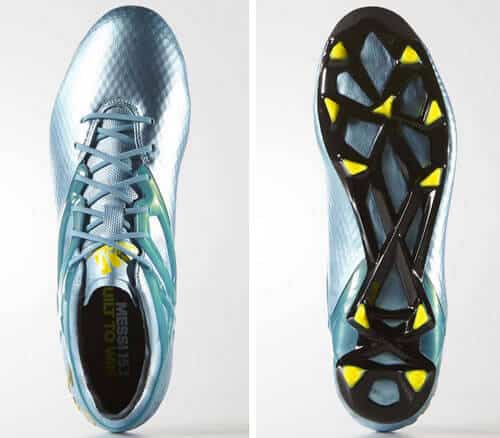 Some changes on its outsole has been made in design and layout. A skeleton sole plate which is quite identical of Adidas X football boots is designed on its bottom. Studs are in yellow appearance. Their alignment is based on the Adidas Adizero F50 2015 football boots which is called as Adidas messiGAMBATRAX.
Messi will wear Adidas 15.1 ice football boots in the final of Champions League on 6th June. That will be the first time a footballer will use these new soccer cleats. Thereafter, he will use these cleats during the South American football competition Copa America 2015.