La Liga team of year 2014 have been announced. The best players of this year are listed in one of the best league of Europe which we are going to reveal right over here. In the history of La Liga, the 2013–14 season came to an exciting finish. The Atletico Madrid clinched the title for first time since 1996. The 2014–15 started has started in a style with some scintillating performances and plenty of records have been broken. So here is the list of La Liga Team of the year 2014.
La Liga Team of the Year 2014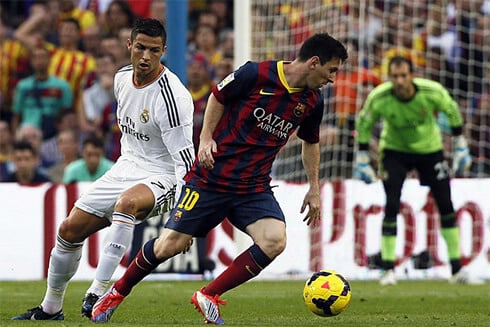 Thibaut Courtois [Goalkeeper, Atletico Madrid]
Thibaut Courtois presence on field was very assuring for the Atletico defense with amazing shot stopping ability. The Belgian keeper moved to Chelsea FC in the summer but his sublime performances in the La Liga which saw him keep 12 clean sheets in the 2013–14 season.
Juanfran [Right Back, Atletico Madrid]
Juanfran is the most glamorous or adventurous full back in the league. His presence in the team make Atletico Madrid so strong because of their ability to hurt teams in so many different ways. The Spaniard has the capability of both defensive discipline and bombing forward to put things for the striker to score.
Diego Godin [Centre Back, Atletico Madrid]
Although a center back, Godin provided his team crucial goals when his team needed. Throughout 2014, the Godin lead his side, he was one of the main reasons why Atletico were not only tough to beat, but also to score against big teams.
Sergio Ramos [Centre Back, Real Madrid]
Well it was obvious that the Spanish defender played a decent role behind the success of Real Madrid last season. Sergio Ramos is one of the best defender of the world and also the best attacker of the ball when it is in the air. He is also tenacious in the tackle and also has the pace to make up for any defensive lapses.
Marcelo [Left Back, Real Madrid]
Marcelo is the best left back in Spain after the Luis departure. The Brazilian has also ability to bomb forward at will and support the attack has been a key part in Real Madrid forward counter attack.
Javier Mascherano [Central Midfield, Barcelona]
Mascherano performances in both central midfield and as a central defender have been so crucial to Barcelona football club. He has not have enough assists or goals but he has ability to stopped as many attacks and snuffed out as much danger.
Luka Modric [Central Midfield, Real Madrid]
Modric has control on his pace and ability to maintain possession. He has a calm head in the middle to keep the ball circulating and enuring proper and timely distribution of the ball. They player provided not only assists last season, but also scored stunning goals that took the vikings to a new level in European football.
Gareth Bale [Right Winger, Real Madrid]
Gareth Bale moved to Real Madrid with world record transfer in the history of football. With fourteen goals and nine assists in 2014, Bale has shown that Madrid hadn't wasted their money. He has still a long way to go repaying the money the club paid for him but he has shown for Madrid with his ability why Madrid paid for him.
Koke [Left Winger, Atletico Madrid]
Koke has shown that he has every skill to become one of the best creative midfielder in Europe with his set piece delivery, crosses from the flanks or his killer through balls. Despite having brilliant performance in La Liga last season, Koke didn't get much opportunity to show his class in summer World Cup.
Lionel Messi [Forward, Barcelona]
Despite have problem with physical fitness, Lionel Messi enjoyed an outstanding 2014. Messi scored 50 goals in the calender year for Barcelona. In this year, he became the top goal scorer in Barcelona's history, the all time leading goal scorer in La Liga.
Cristiano Ronaldo [Forward, Real Madrid]
The Cristiano Ronaldo has already scored 25 goals in 2014–15 season so far after the halfway into the season. Ronaldo has scored 56 goals across all the competitions. There is no surprise to see him leading the line for La Liga team of Year 2014.