The Spanish football federation annoucned the fixtures of La Liga for new season 2014–15. In past few years, La Liga increased their fans count with a great extent because of their star power & why not as World's most popular footballers are playing in this league. Yesterday, the upcoming matches of this tournament were annoucned by the federation. Have a look on schedule of La Liga for new season of 2014–15.
La Liga 2014–15 Fixtures & Start Date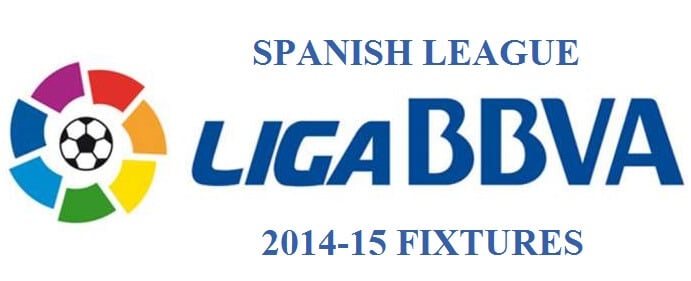 24th of August 2014 will be the first match day of Spanish league 2014–15. The current champions of this league Atletico Madrid will begin their new season against Rayo Vallecano. Whereas, vice champions Barcelona will face Elche in opening game. Current European Champions are schedule to play against Cordoba in first match day. Start Date: 24 August 2014.
Ya se conoce el calendario completo de @LaLiga. Repase las jornadas en http://t.co/TjLk0OtcTe #CALENDARIODELALIGA pic.twitter.com/aXyB3ViqLH — La Liga (@LaLiga) July 24, 2014
1st Day Fixtures of All Teams
Complete fixtures are here: click here First El Clasico on 26 October 2014 First El Clasico [Real Madrid vs Barcelona] is scheduled to be played on 26th of October. On this day the ban of Uruguayan player Luis Suarez will be over which means he will play his first game for Barcelona against strongest competition Real Madrid. The former Liverpool player was banned for 4 months by Football Internationale de Football Association for biting Italian defender Giorgio Chiellini in group stage game of FIFA World Cup 2014. Barca signed him for 75 million pounds for 5 years contract. He was the best player in premier league last season. Cristiano Ronaldo and Lionel Messi are two players of this competition who took this league to a new level. In every season, their head to head clash records highest audience attendance. In addition with these 2 players, the competition is boosted up with 2 more world class players in names of Luis Suarez & James Rodriguez. Rodriguez was awarded with Golden boot in summer World Cup for scoring 6 goals & making one assist. Fans will enjoy first Madrid Derby [Real Madrid vs Atletico Madrid] on 14th of September 2014. First El Derbi Madrelino will be held at home ground of the vikings i.e. Estadio Santiago Bernabeu. The Indios will miss their players who were the key players in last season behind their success. The players are Diego Costa, Thibaut Courtois. Defending champions lifted trophy of La Liga of 2013–14 after 18 years by playing a final draw against Barcelona in final match day. They also qualified for the final of UEFA Champions league where they faced defeat in Madrid Derby & finished as runners-up. That was the best performance of Los Indios in Champions league campaign.