Spanish football federation have announced latest Fixtures for La Liga 2014–15 season. The competition is reaching towards a new height in India because of its star power. World's best footballers Lionel Messi, Cristiano Ronaldo, Neymar, Gareth Bale now Luis Suarez & James Rodriguez are making this competition just better. Given below table will help you to know about Indian Standard Time of upcoming matches of La Liga. So mark your Indian calender for Liga BBVA games now.
La Liga 2014–15 Schedule in Indian Time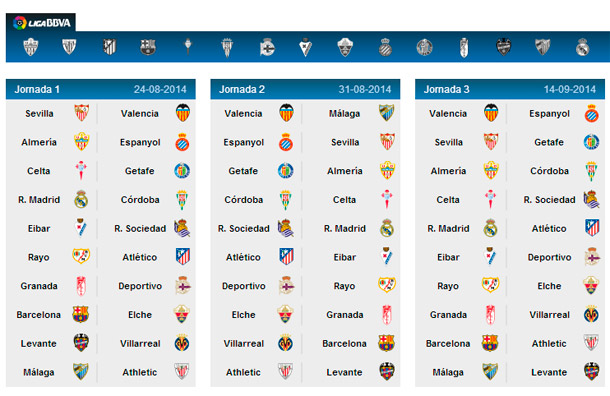 We have seen a fantastic Spanish league competition in which champions were decided on last match day. That was so close competition between the top giants. Football fans are desperate to watch new star players in action and why not as star power is the backbone of this campaign. Will this season be as good as last season or will it be even better? Let's see what happens.
MATCH DAY 1
Home
Away
Date
Time
Malaga
Athletic Bilbao
23 Aug
10:30 pm
Granada
Deportivo La Coruna
24 Aug
12:30 am
Sevilla FC
Valencia
24 Aug
12:30 am
Almeria
Espanyol
24 Aug
02:30 am
Eibar
Real Sociedad
24 Aug
10:30 pm
Barcelona
Elche
25 Aug
12:30 am
Celta Vigo
Getafe
25 Aug
12:30 am
Levante
Villarreal
25 Aug
02:30 am
Real Madrid
Cordoba
25 Aug
11:30 pm
Rayo Vallecano
Atletico Madrid
26 Aug
01:30 am
MATCH DAY 2
Getafe
Almeria
30 Aug
11:30 am
Valencia
Malaga
30 Aug
1:30 am
Athletic Bilbao
Levante
30 Aug
10:30 pm
Cordoba
Celta Vigo
30 Aug
10:30 pm
Atletico Madrid
Eibar
31 Aug
12:30 am
Espanyol
Sevilla FC
31 Aug
2:30 am
Villareal
Barcelona
31 Aug
10:30 pm
Deportivo La Coruna
Rayo Vallecano
1 Sept
12:30 am
Real Sociedad
Real Madrid
1 Sept
12:30 am
Elche
Granada
1 Sept
2:30 am
MATCH DAY 3
Almeria
Cordoba
13 Sept
12:20 am
Barcelona
Athletic Bilbao
13 Sept
7:30 pm
Celta Vigo
Real Sociedad
13 Sept
9:30 pm
Real Madrid
Atletico Madrid
13 Sept
11:30 am
Malaga
Levante
14 Sept
1:30 am
Rayo Vallecano
Elche
14 Sept
3:30 am
Sevilla FC
Getafe
14 Sept
10:30 pm
Valencia
Espanyol
14 Sept
8:30 pm
Granada
Villareal
15 Sept
12:30 am
Eibar
Deportivo
16 Sept
12:15 am
MATCH DAY 4
Elche
Eibar
20 Sept
12:30 am
Deportivo
Real Madrid
20 Sept
7:30 pm
Athletic Bilbao
Granada
20 Sept
9:30 pm
Atletico Madrid
Celta Vigo
20 Sept
11:30 pm
Espanyol
Malaga
21 Sept
1:30 am
Real Sociedad
Almeria
21 Sept
3:30 pm
Villarreal
Rayo Vallecano
21 Sept
8:30 pm
Cordoba
Sevilla
21 Sept
10:30 pm
Levante
Barcelona
22 Sept
12:30 am
Getafe CF
Valencia
23 Sept
12:15 am

MATCH DAY 5

Real Madrid
Elche
23 Sept
11:30 pm
Celta Vigo
Deportivo
24 Sept
1:30 am
Eibar
Villarreal
24 Sept
11:30 pm
Rayo Vallecano
Athletic Bilbao
24 Sept
11:30 pm
Almeria
Atletico Madrid
24 Sept
11:30 pm
Sevilla
Real Sociedad
25 Sept
1:30 am
Granada
Levante
25 Sept
1:30 am
Malaga
Barcelona
25 Sept
1:30 am
Valencia
Cordoba
25 Sept
1:30 am
Espanyol
Getafe CF
25 Sept
11:30 pm

MATCH DAY 6

Elche
Celta Vigo
27 Sept
11:30 pm
Villarreal
Real Madrid
27 Sept
1:30 am
Barcelona
Granada
27 Sept
11:30 pm
Atletico Madrid
Sevilla
27 Sept
11:30 pm
Levante
Rayo
28 Sept
11:30 pm
Athletic
Eibar
28 Sept
1:30 am
Getafe
Malaga
28 Sept
1:30 am
Deportivo
Almeria
28 Sept
1:30 am
Real Sociedad
Valencia
28 Sept
11:30 pm
Cordoba
Espanyol
29 Sept
11:30 pm

MATCH DAY 7

Getafe CF
Cordoba
4 Oct
12:30am
Valencia
Atletico Madrid
4 Oct
7:30pm
Rayo
Barcelona
4 Oct
9:30pm
Eibar
Levante
4 Oct
11:30pm
Malaga
Granada
5 Oct
1:30am
Almeria
Elche
5 Oct
1:30am
Sevilla
Deportivo
5 Oct
3:30pm
Celta Vigo
Villarreal
5 Oct
8:30pm
Espanyol
Real Sociedad
5 Oct
10:30pm
Real Madrid
Athletic Bilbao
6 Oct
12:30am
MATCH DAY 10
Deportivo vs Getafe
1 Nov
Finished
-
Granada
Real Madrid
1 Nov
8:30pm
Atletico Madrid
Cordoba
1 Nov
10:30pm
Barcelona
Celta Vigo
2 Nov
12:30am
Real Sociedad
Malaga
2 Nov
2:30am
Athletic
Sevilla
2 Nov
4:30pm
Villarreal
Valencia
2 Nov
9:30pm
Levante
Almeria
2 Nov
11:30pm
Elche
Espanyol
3 Nov
1:30am
Rayo
Eibar
4 Nov
1:15am
MATCH DAY 11
Cordoba
Deportivo
8 Nov
1:15am
Almeria
Barcelona
8 Nov
8:30pm
Getafe
Elche
8 Nov
10:30pm
Real Madrid
Rayo
9 Nov
12:30am
Celta Vigo
Granada
9 Nov
2:30am
Malaga
Eibar
9 Nov
2:30am
Sevilla
Levante
9 Nov
4:30pm
Espanyol
Villarreal
9 Nov
9:30pm
Valencia
Athletic
9 Nov
11:30pm
Real Sociedad
Atletico Madrid
10 Nov
1:30am
MATCH DAY 12
Athletic Bilbao
Espanyol
22 Nov
1:15am
Atletico Madrid
Malaga
22 Nov
8:30pm
Eibar
Real Madrid
22 Nov
10:30pm
Barcelona
Sevilla
23 Nov
12:30am
Deportivo
Real Sociedad
23 Nov
2:30am
Rayo Vallecano
Celta Vigo
23 Nov
4:30pm
Levante
Valencia
23 Nov
9:30pm
Elche
Cordoba
23 Nov
11:30pm
Villarreal
Getafe CF
24 Nov
1:30am
Granada
Almeria
25 Nov
1:15am
MATCH DAY 13
Real Sociedad
Elche
29 Nov
1:15am
Getafe
Athletic Bilbao
29 Nov
8:30pm
Espanyol
Levante
29 Nov
10:30pm
Malaga
Real Madrid
30 Nov
12:30am
Celta Vigo
Eibar
30 Nov
2:30am
Atletico Madrid
Deportivo
30 Nov
4:30pm
Sevilla
Granada
30 Nov
9:30pm
Cordoba
Villarreal
30 Nov
11:30pm
Valencia
Barcelona
1 Dec
1:30am
Almeria
Rayo Vallecano
2 Dec
1:15am
MATCH DAY 17
Atletico Madrid
Levante
3 Jan
8:30pm
Sevilla
Celta Vigo
4 Jan
10:30pm
Elche
Villarreal
4 Jan
12:30am
Deportivo
Athletic Bilbao
4 Jan
2:30am
Malaga
Almeria
4 Jan
2:30am
Getafe CF
Rayo
4 Jan
4:30pm
Valencia
Real Madrid
4 Jan
9:30pm
Espanyol
Eibar
4 Jan
11:30pm
Real Sociedad
Barcelona
5 Jan
1:30am
MATCH DAY 18
Levante
Deportivo
10 Jan
1:15am
Real Madrid
Espanyol
10 Jan
8:30pm
Malaga
Villarreal
10 Jan
10:30pm
Celta Vigo
Valencia
11 Jan
12:30am
Eibar
Getafe CF
11 Jan
2:30am
Almeria
Sevilla
11 Jan
4:30pm
Athletic
Elche
11 Jan
9:30pm
Granada
Real Sociedad
11 Jan
11:30pm
Barcelona
Atletico Madrid
12 Jan
1:30am
Rayo
Cordoba
13 Jan
1:15am
MATCH DAY 19
Cordoba
Eibar
17 Jan
1:15am
Real Sociedad
Rayo
17 Jan
8:30pm
Valencia
Almeria
17 Jan
10:30pm
Villarreal
Athletic
18 Jan
12:30am
Espanyol
Celta Vigo
18 Jan
2:30am
Getafe
Real Madrid
18 Jan
4:30pm
Atletico Madrid
Granada
18 Jan
9:30pm
Deportivo
Barcelona
18 Jan
11:30pm
Sevilla
Malaga
19 Jan
1:30am
Elche
Levante
19 Jan
1:30am
MATCH DAY 20
Cordoba
Real Madrid
24 Jan
8:30pm
Elche
Barcelona
24 Jan
10:30pm
Atletico Madrid
Rayo
25 Jan
12:30am
Real Sociedad
Eibar
25 Jan
2:30am
Villarreal
Levante
25 Jan
2:30am
Deportivo
Granada
25 Jan
4:30pm
Athletic
Malaga
25 Jan
9:30pm
Espanyol
Almeria
25 Jan
11:30pm
Valencia
Sevilla
26 Jan
1:30am
Getafe
Celta Vigo
27 Jan
1:15am
MATCH DAY 21
Rayo
Deportivo
31 Jan
1:15am
Real Madrid
Real Sociedad
31 Jan
8:30pm
Eibar
Atletico Madrid
31 Jan
10:30pm
Granada
Elche
1 Feb
12:30am
Celta Vigo
Cordoba
1 Feb
2:30am
Levante
Athletic
1 Feb
4:30pm
Almeria
Getafe CF
1 Feb
9:30pm
Sevilla
Espanyol
1 Feb
11:30pm
Barcelona
Villarreal
2 Feb
1:30am
Malaga
Valencia
3 Feb
1:15am
MATCH WEEK 22
Deportivo
Eibar
7 Feb
1:15am
Atletico Madrid
Real Madrid
7 Feb
8:30pm
Villarreal
Granada
7 Feb
10:30pm
Levante
Malaga
8 Feb
12:30am
Real Sociedad
Celta Vigo
8 Feb
2:30am
Cordoba
Almeria
8 Feb
4:30pm
Getafe
Sevilla
8 Feb
9:30pm
Espanyol
Valencia
8 Feb
11:30pm
Athletic
Barcelona
9 Feb
1:30am
Elche
Rayo
9 Feb
1:15am
MATCH WEEK 23
Almeria
Real Sociedad
14 Feb
1:15am
Sevilla
Cordoba
14 Feb
8:30pm
Real Madrid
Deportivo
14 Feb
10:30pm
Granada
Athletic
15 Feb
12:30am
Malaga
Espanyol
15 Feb
2:30am
Valencia
Getafe
15 Feb
4:30pm
Barcelona
Levante
15 Feb
9:30pm
Rayo
Villarreal
15 Feb
11:30pm
Celta Vigo
Atletico Madrid
16 Feb
1:30am
Eibar
Elche
17 Feb
1:15am
MATCH WEEK 24
Getafe
Espanyol
21 Feb
1:15 am
Barcelona
Malaga
21 Feb
8:30 pm
Cordoba
Valencia
21 Feb
10:30 pm
Atletico Madrid
Almeria
22 Feb
12:30 am
Deportivo
Celta Vigo
22 Feb
2:30 pm
Real Sociedad
Sevilla
22 Feb
4:30 pm
Athletic
Rayo
22 Feb
9:30 pm
Villarreal
Eibar
22 Feb
11: pm
Elche
Real Madrid
23 Feb
1:30 am
Levante
Granada
23 Feb
1:15 am
MATCH WEEK 25
Espanyol
Cordoba
28 Feb
1:15 am
Granada
Barcelona
28 Feb
8:30 pm
Rayo
Levante
28 Feb
10:30 pm
Almeria
Deportivo
1 Mar
12:30 am
Malaga
Getafe
1 Mar
2:30 am
Valencia
Real Sociedad
1 Mar
4:30 pm
Eibar
Athletic Bilbao
1 Mar
9:30 pm
Sevilla
Atletico Madrid
1 Mar
11:30 pm
Real Madrid
Villarreal
2 Mar
1:30 am
Celta Vigo
Elche
3 Mar
1:15 am

MATCH WEEK 26

Levante
Eibar
7 Mar
1:15 am
Deportivo
Sevilla
7 Mar
8:30 pm
Athletic
Real Madrid
7 Mar
10:30 pm
Elche
Almeria
8 Mar
12:30 am
Granada
Malaga
8 Mar
2:30 am
Barcelona
Rayo
8 Mar
4:30 pm
Real Sociedad
Espanyol
8 Mar
9:30 pm
Villarreal
Celta Vigo
8 Mar
11:30 pm
Atletico Madrid
Valencia
9 Mar
1:30 am
Cordoba
Getafe
10 Mar
1:15 am
MATCH WEEK 27
Valencia
Deportivo
14 Mar
1:15 am
Espanyol
Atletico Madrid
14 Mar
8:30 pm
Eibar
Barcelona
14 Mar
10:30 pm
Rayo
Granada
15 Mar
12:30 am
Celta Vigo
Athletic
15 Mar
2:30 am
Almeria
Villarreal
15 Mar
4:30 pm
Malaga
Cordoba
15 Mar
9:30 pm
Sevilla
Elche
15 Mar
11:30 pm
Real Madrid
Levante
16 Mar
1:30 am
Getafe
Real Sociedad
17 Mar
1:15 am
MATCH WEEK 28
Elche
Valencia
21 Mar
1:15 am
Atletico Madrid
Getafe CF
21 Mar
8:30 pm
Rayo
Malaga
21 Mar
10:30 pm
Levante
Celta Vigo
22 Mar
12:30 am
Athletic
Almeria
22 Mar
2:30 am
Granada
Eibar
22 Mar
2:30 am
Deportivo
Espanyol
22 Mar
4:30 pm
Villarreal
Sevilla
22 Mar
9:30 pm
Real Sociedad
Cordoba
22 Mar
11:30 pm
Barcelona
Real Madrid
23 Mar
1:30 am
MATCH WEEK 29
Eibar
Rayo
4 Apr
12:15 am
Sevilla
Athletic
4 Apr
7:30 pm
Cordoba
Atletico Madrid
4 Apr
9:30 pm
Almeria
Levante
4 Apr
11:30 pm
Malaga
Real Sociedad
5 Apr
1:30 am
Real Madrid
Granada
5 Apr
3:30 pm
Valencia
Villarreal
5 Apr
8:30 pm
Getafe
Deportivo
5 Apr
10:30 pm
Celta Vigo
Barcelona
6 Apr
12:30 am
Espanyol
Elche
6 Apr
11:30 pm
MATCH WEEK 30
Atletico Madrid
Real Sociedad
7 Apr
11:30 pm
Levante
Sevilla
8 Apr
1:30 am
Eibar
Malaga
8 Apr
1:30 am
Deportivo
Cordoba
8 Apr
11:30 pm
Barcelona
Almeria
8 Apr
11:30 pm
Granada
Celta Vigo
9 Apr
1:30 am
Rayo
Real Madrid
9 Apr
1:30 am
Athletic
Valencia
9 Apr
11:30 pm
Villarreal
Espanyol
10 Apr
1:30 am
Elche
Getafe CF
10 Apr
1:30 am
MATCH WEEK 31
Real Madrid
Eibar
11 Apr
Malaga
Atletico Madrid
11 Apr
Sevilla
Barcelona
11 Apr
Celta Vigo
Rayo
1:30 am
Almeria
Granada
1:30 am
Getafe CF
Villarreal
3:30 pm
Espanyol
Athletic
8:30 pm
Real Sociedad
Deportivo
10:30 pm
Cordoba
Elche
12:30 am
Valencia
Levante
12:00 am
MATCH WEEK 32
Elche
Real Sociedad
21 Apr
Deportivo
Atletico Madrid
18 Apr
Granada
Sevilla
19 Apr
Levante
Espanyol
18 Apr
Eibar
Celta Vigo
20 Apr
Real Madrid
Malaga
18 Apr
Athletic
Getafe CF
19 Apr
Villarreal
Cordoba
19 Apr
Rayo
Almeria
19 Apr
Barcelona
Valencia
18 Apr
MATCH WEEK 33
Cordoba
Athletic
25 Apr
12:30 am
Espanyol
Barcelona
25 Apr
7:30 pm
Atletico Madrid
Elche
25 Apr
9:30 pm
Getafe
Levante
25 Apr
11:30 pm
Real Sociedad
Villarreal
26 Apr
1:30 am
Malaga
Deportivo
26 Apr
3:30 pm
Almeria
Eibar
26 Apr
8:30 pm
Sevilla
Rayo
26 Apr
10:30 pm
Celta Vigo
Real Madrid
27 Apr
12:30 am
Valencia
Granada
28 Apr
12:15 am
MATCH WEEK 34
Barcelona
Getafe
28 Apr
11:30 pm
Athletic
Real Sociedad
29 Apr
1:30 am
Levante
Cordoba
29 Apr
1:30 am
Eibar
Sevilla
29 Apr
11:30 pm
Celta Vigo
Malaga
29 Apr
11:30 pm
Real Madrid
Almeria
29 Apr
11:30 pm
Elche
Deportivo
30 Apr
1:30 am
Villarreal
Atletico Madrid
30 Apr
1:30 am
Rayo
Valencia
30 Apr
11:30 pm
Granada
Espanyol
1 May
1:30 am
MATCH WEEK 35
Real Sociedad
Levante
2 May
12:15 am
Cordoba
Barcelona
2 May
7:30 pm
Atletico Madrid
Athletic
2 May
9:30 pm
Sevilla
Real Madrid
2 May
11:30 pm
Deportivo
Villarreal
3 May
1:30 am
Espanyol
Rayo
3 May
3:30 pm
Getafe
Granada
3 May
8:30 pm
Valencia
Eibar
3 May
10:30 pm
Malaga
Elche
4 May
12:30 am
Almeria
Celta Vigo
4 May
12:15 am
MATCH WEEK 36
Eibar
Espanyol
9 May
12:15 am
Granada
Cordoba
9 May
7:30 pm
Barcelona
Real Sociedad
9 May
9:30 pm
Real Madrid
Valencia
9 May
11:30 pm
Athletic
Deportivo
10 May
1:30 am
Levante
Atletico Madrid
10 May
3:30 pm
Villarreal
Elche
10 May
8:30 pm
Almeria
Malaga
10 May
10:30 pm
Celta Vigo
Sevilla
11 May
12:30 am
Rayo
Getafe
12 May
12:15 am