La Liga 2014–15 Best XI of the Season: Another season of Spain's top football league came to an end with lots of ups and downs. Some players impressed their fans, while some disappoint them. The best 11 players of La Liga 2014–15 have been announced. The list is dominated by the champions Barcelona players as why not, they dominate the Spanish league with their best attack and defense. Check out the best eleven players of Liga BBVA 2014–15.
La Liga 2014–15 Best 11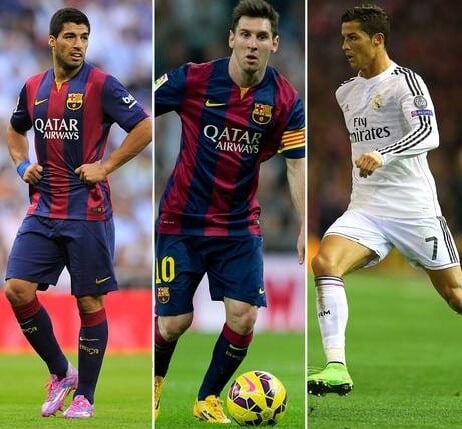 Goalkeeper: Claudio Bravo [Barcelona]
The wall of Barcelona did allowed other strikers to score many goals. He played one of the most crucial part behind the success of Barcelona this season. Under the management of Luis Enrique, Bravo improved his goalkeeping skills and made some great saves. His distribution from hand or foot was incredibly accurate and his awareness of developing situations total.
Related: La Liga 2014–15 top goal scorers
Left Back: Jose Luis Gaya [Valencia]
Jose Luis Gaya is the reason that why Valencia are flying high this season. The left back of Valencia was unstoppable this season who acted as great wall of Valencia against some big clubs like Real Madrid and Atletico Madrid. Most of European clubs wants to sign him, but will he join any other club? Time will tell.
Center Back: Gerard Pique [Barcelona]
We have voted Gerard Pique in the list of most improved players of 2014–15. So why not in best eleven of La Liga 2014–15? The defender not only defended well, but also scored some memorable goals that makes him different from other defenders.The responsibility that had hitherto been missing from his natural game now formed part of it, and Barca were the beneficiaries.
Center Back: Nicolas Otamendi [Valencia]
Except Barcelona, Valencia conceded least number of goals this season, just 3 more than Barca. Otamendi has proved that you have to try hard to beat him if you are on the way against him. He has been at the heart of Valencia to Champions League qualification. He has added his name to the score sheet after netting 6 goals in this season of La Liga.
Midfield: Isco [Real Madrid]
The first player in the list of La Liga 2014–15 best eleven in the form of Midfielder is Isco. Isco didn't play so many games before this season, but Carlo Ancelotti used him on most occasions in his second season in charge. Despite having James Rodriguez and Luka Modric, Ancelotti believed in Isco who didn't disappoint Real Madrid fans.
Defensive Midfield: Grzegorz Krychowiak [Sevilla]
Meet the another underrated midfielder of Spanish league. Not only in La Liga, Krychowiak showed his class in Europa League also. If you have watched the final of UEFA Europa League, then you are aware of his performance. Europa league title means he and his team has qualified for the next season of Champions League.
Central Midfield: Nolito [Celta Vigo]
Celta Vigo finished this season of Liga BBVA at eighth spot which is not bad at all. Their central midfielder Nolito scored 13 goals and made same number of assists this season. He has been chief reason why his club finished at 8th position in La Liga 2014–15.
Forward: Luis Suarez [Barcelona]
Despite late start due to ban of FIFA, Suarez still made perfect debut at Barcelona. He was critical in first few games and lots of questions were raised towards manager Luis Enrique. But he made a perfect come back and scored great goals against some big clubs. With 16 goals and 14 assists in 25 games of Liga BBVA, Suarez voted as the best striker of La Liga.
Forward: Lionel Messi [Barcelona]
I'm sure you've predicted the remaining two players. Yes, the first one is of-course Lionel Messi. Being the second most goal scorer of the season, Messi lifted the first trophy of the season and now eyeing to win Champions League and Copa Del Rey title. He scored 43 goals this season and finished at second spot for scoring most goals.
Forward: Cristiano Ronaldo [Real Madrid]
The world's best player of the year set up another record of scoring most goals in one season. Scoring 48 goals in one season of La Liga is not everyone's cup of tea, but If there is Cristiano Ronaldo, then it looks quite easier. Although he scored most goals this season, but he failed to add trophy this season.