The pressure on the head coach of Barcelona Ronald Koeman continues to grow — his team played in an annoying zero draw against the modest Cadiz.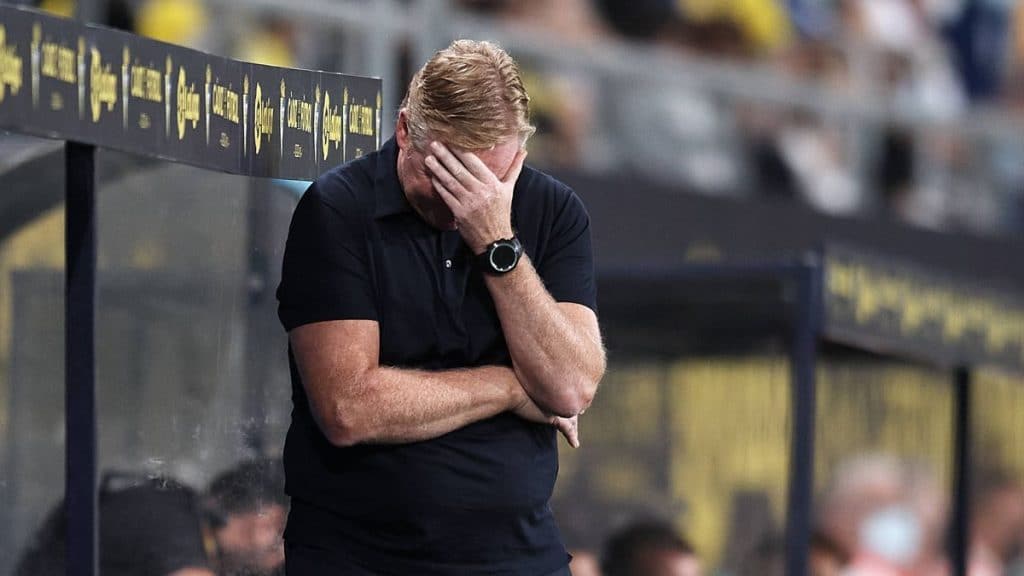 The red card of Frank de Jong led to the fact that the guests were forced to play ten times in the last 25 minutes. And Koeman was sent off in the previous minutes for arguing with the referee.
Barcelona has only two wins in their opening five league matches, and talk about Koeman's future is becoming more active.
Memphis Depay was the closest to a goal in the match for Barca, but he made a mistake and did not score from several meters and also missed several good opportunities. But for the guests, who lacked creativity, everything could have ended worse — goalkeeper Marc-Andre ter Stegen had to make several impressive saves at the end of the match.
Koeman was furious about the two yellow cards for de Jong. However, Barcelona had to sit deep in defence, and Cadiz created chances for victory in most cases. Ter Stegen dealt with blows from Alvaro Negredo, Salvi Sanchez and Anthony Lozano.
In compensated time, annoyance got the better of Koeman, and he was removed from the technical area after being indignant because of a yellow card for Busquets.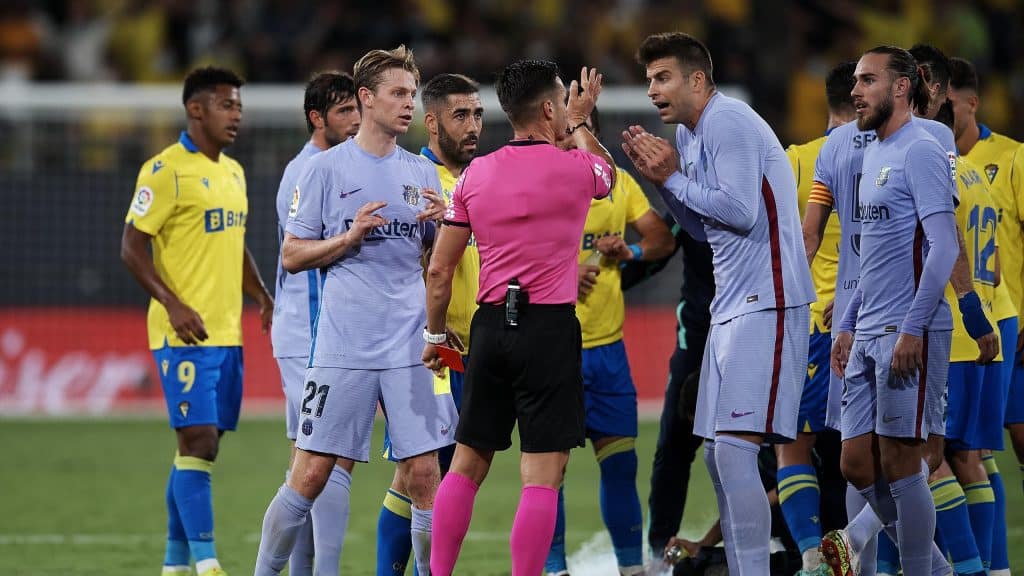 "One of the problems in Spain is that you are removed for nothing. They don't explain anything. Everyone saw the moment when the second ball appeared on the field. Everyone should have seen it," Koeman was indignant in a comment on La Liga TV.
"I'm strong. I can't win the battle with the press. I will put all my energy into the team and the players, which is the most important thing for me. I can't stop what the press writes. We must continue. This is my job," he added.
The pressure on Koeman began to grow from the very start of the season — the Catalans could not win in three league matches and also lost to Bayern Munich in the Champions League (0:3).
Due to the difficult financial situation, Lionel Messi left Barcelona in the summer, leaving Koeman alone with a young and inexperienced team. Against Cadiz, 17-year-old midfielder Gavi made his debut for Barca, and 18-year-old Yussuf Demir continued his performances in the attack.
The 58-year-old Koeman's relationship with President Joan Laporta has become strained in recent weeks. And rumours about a possible change of coach began to appear more and more often.
Barcelona midfielder Sergi Roberto believes that the Catalans should still fight for the title:
"We have to try to win La Liga. The concept of "it's OK to finish in the top four" does not work for me. We have a squad capable of fighting for victory in the championship. I don't think that other teams have better lineups than we do. We need to get involved and start winning."
Gerard Pique also says that Barcelona will fight:
"We will fight. I don't wear a Barcelona shirt to take second or third place. I am here to win titles, and I am sure that we will fight despite how we started. We need the fans to stay with us."