Adidas Juventus 2015–16 home jersey leaked: A good news for the fans of Juventus as the new home t‑shirt of reigning Serie A champions is leaked. For the first time Adidas will provide kits to the Italian professional football club after signing a six year deal with Juventus. Based on same home colors and sponsor logo, Adidas is all set to launch the brand new kit in summer 2015. So let's take a look on new home jersey of the Zebras.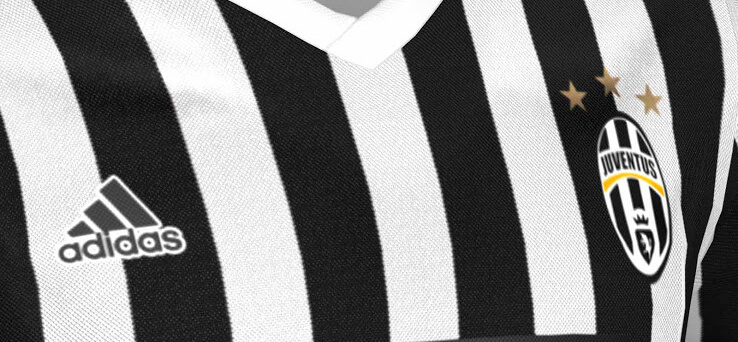 Juventus 2015–16 Adidas Home Jersey
We have seen wide black stripes on the previous home jersey of Juventus which was designed by Nike. But this new t‑shirt is made by Adidas and the stripes just become thin at the front and at the back. In short, Adidas have decreased the stripe size of Juventus home jersey.
The home jersey of Zebras celebrates club heritage with the iconic vertical black and white striped kit design. there are six vertical black colored at the front of t‑shirt separated by white stripes. These are also available on the sleeves in black and white combination.
On its back, white panel is designed to print the names and jersey number of footballers. At the bottom of Juventus 2015–16 home jersey, there is a black stripe which is provided at the end.
Related: Liverpool 2015–16 home jersey
One more big change have been made in this new kit. Club's crest logo is on the left chest above which three golden stars are there, representing thirty times Champions of Serie A. These stars were not available in previous kits.
On the other side of home jersey, Adidas trademark logo of three stripe is printed in black with white borders. Once again, Jeep is sponsoring the kits of this Italian club. Sponsor Logo Jeep is at the center of Juventus 2015–16 home jersey.
Shorts and socks are expected to be in white for home kit.
The away kit of Juventus for next season will be in pink, while third kit will be in black. Adidas will unveil home kits in summer 2015. Do you like these new kits?