The prize money of Indian Super League for the first season is announced by the board member of the tournament. The ISL is offering total winning prize of Rs.15 crore to the winners, runners-up and semi finalists. This amount will be given to the winning teams after the end of the competition. This is the second highest winning amount in a sports competition in India after the Indian Premier League.
Indian Super League 2014 Prize Money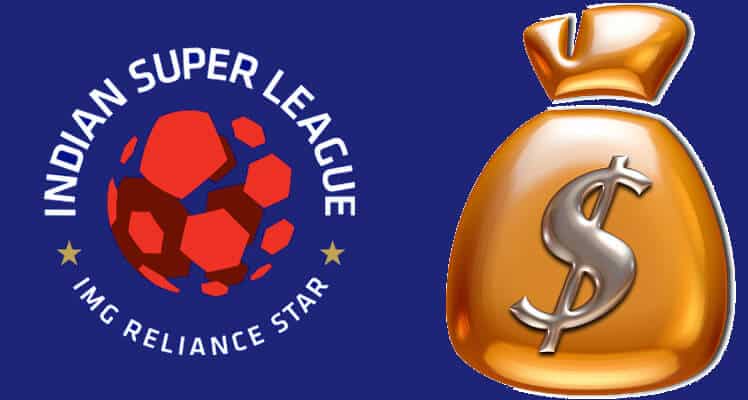 Winners: Rs.8 Crore [US $13million approx.]
Runner-ups: Rs.4 Crore [US $6.5 million approx.]
Each Team eliminated in semi final round: Rs.1.5 Crore [US $0.24 million]
It is now official that total of Rs.15 crore will be given as winning amount of the first season of the competition. The winner will receive Rs.8 crore & the losing final team will get Rs.4 crore. ISL have also planned winning amount for semi finalists also. Rs.1.5 crore will be given to each team which eliminated in semi final round.
Remaining four teams of the competition will also get some amount in terms of winning amount which depends upon their performance. The sum, also called the performance bonus, will be calculated as per the participation agreement.
A club official officially said "Each team will at the end of the league matches be given a certain number of League points depending on its final position in the league table before the play-off matches for that ISL season. The ISL is a money-spinner and there is no denying that. The I‑League, really is an extremely poor cousin."
If you compare this winning prize of Indian Super League, then you will notice, that the ISL winning amount is 11 times than that of I‑league which offers Rs.70 Lakh to the winners. So it is strong proof that this lots of investors have taken interest in it which would a great step for Indian Football.
Read also: India Super League 2014 Fixtures
Indian Premier League, the most expensive sports tournament in India awarded Rs.35 crore in last season [IPL7]. Champions Kolkata Knight Riders received Rs.15 crore of winning amount defeating Kings XI Punjab in final match of IPL seventh season. After this competition, ISL is now the most expensive sports campaign & most expensive football league of-course.
The first season of Indian Super League is beginning from 12th of October 2014 in Kolkata. The most expensive team Atletico de Kolkata will play the opening game against Mumbai City FC at their home stadium Salt Lake. Top 4 teams will qualify for the semi final round which will be two-legged round. Final will be played on 20th December which will be single legged.