Bar­celona can set new record of longest undefeated run if they wins or plays draw against Rayo Val­le­cano on this Thursday. Span­ish foot­ball club Bar­celona is dom­in­at­ing the foot­ball with back to back wins. The club has not lost any game since Octo­ber 2015. The Catalans are tast­ing extreme suc­cess at Camp Nou as they are undefeated in last 34 offi­cial games. If they wins or play a draw against Rayo Val­le­cano in their next fix­ture, they will beat the record of Real Mad­rid for longest undefeated run.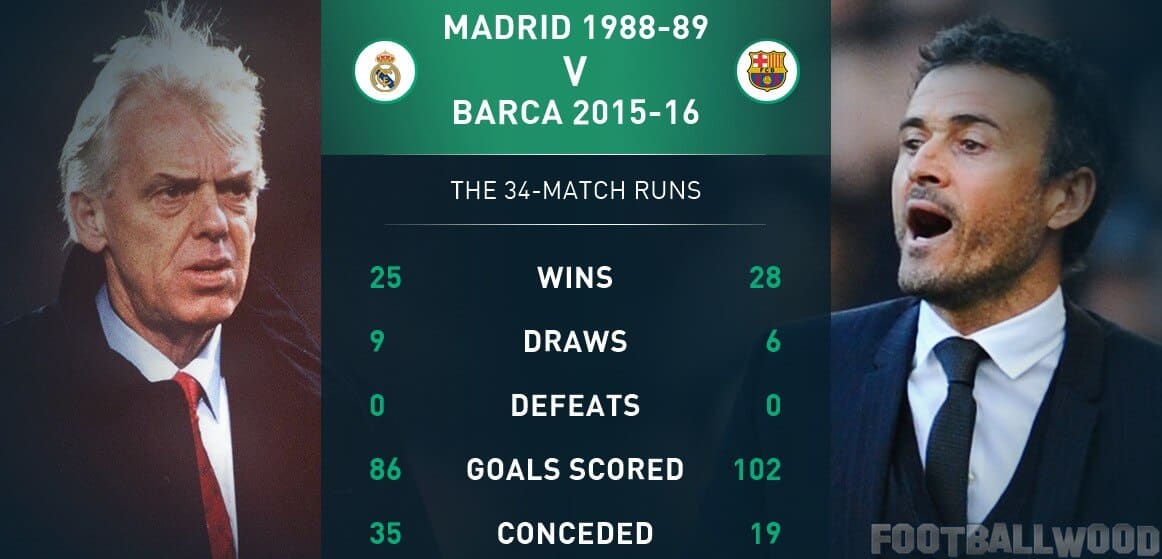 Barcelona FC Eyeing To Set New Record Of Unbeaten Run
El Clasico rivals Real Mad­rid went on a 34 match run without los­ing dur­ing the peri­od of 1988–1989. Barca are just one win or a draw away from break­ing this record. They will play an away game against Rayo Val­le­cano on this Thursday.
Between 1985 and 1990, Real Mad­rid won five back to back league titles under the man­age­ment of Quinta del Buitre. In recent dif­fi­culties of Real Mad­rid in La Liga, he said "Win­ning one league title in eight years has no rela­tion of the great­ness of Real Mad­rid. I don't know the details, bu they need calm, intel­li­gence and cred­ib­il­ity to form a great team."
After the resign of Ger­ardo Mar­tino, Luis Enrique took the respons­ib­il­ity of FC Bar­celona as man­ager. The man­ager won treble in his debut sea­son with Barca and now on the verge of break­ing record of Real Mad­rid.
FC Bar­celona have scored many more goals than Mad­rid's 1988–89 and con­ceded few­er, although foot­ball changed dra­mat­ic­ally in the 17 and a half years.
Bar­celona will play against Rayo Val­le­cano on 3rd of March 2016 at the Esta­dio de Val­le­cas. They are cur­rently lead­ing the league stand­ings with 5 points with a game in hand.