The Swedish and PSG striker Zlatan Ibrahimovic is not happy with Chelsea players and said them "11 Babies" after getting red card during second leg of Round of 16 at Stamford Bridge. Although his side have qualified for next round, but he suffered a red card which could ban him for his next Champions League fixture.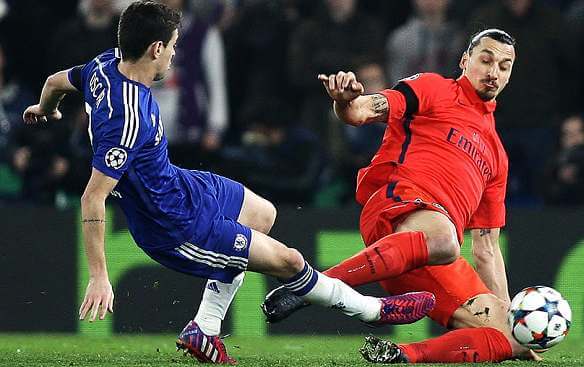 Zlatan Ibrahimovic: It felt like I had 11 babies around me
During the first half, he was dismissed after 31 minutes of play because of collision with Blues midfielder Oscar, with the likes of John Terry, Nemanja Matic and Gary Cahill surrounding referee Bjorn Kuipers immediately. After the match, he said
"When I saw the red card I was like the guy doesn't know what he's doing or maybe he saw something else. The worst is what I see when I get the red card-all the Chelsea players come around. It felt like I had 11 babies around me. I pulled out because I saw him also coming."
"I don't know if he was acting afterwards or where I hit him. It doesn't matter. We won the game and we went through so we will see what happens. It was an amazing performance because we were playing with one less, even in extra-time, so they should have all the credit they can get. They played with big hearts. We showed quality and big heart."
Former Chelsea defender David Luiz and the Brazilian defender Thiago Silva are the reason behind the disqualification of Chelsea in this competition. It was David Luiz who first equalized and then captain Silva netted the second goal for Paris Saint Germain.
Jose Mourinho also spoke about the performance of his squad saying "Our performance was not good enough. The opponent was stronger, coped better with the pressure. We tried to win but the moment they had 10 men at felt too much pressure."
The manager also praised the performance of rival team. He said "Paris Saint Germain deserved it. When team can't defend two corners and concedes two goals to corners they don't deserve to win."
PSG will get their next rival of quarter finals on 20 March 2015. The draw will be held at UEFA Head quarters in Nyon, Switzerland.