How To Shoot Bicycle Kick In Football | Video Download Tutorial: Are you a football player, are you practicing some extraordinary skills, then this article belongs to you. Shooting a bicycle kick in football game is not everyone's cup of tea. From the start of football game, lots of footballers have scored so many bicycle kicks. You might have enjoyed some bicycle goal kicks of your favorite footballer, but it's time to do it yourself. Now you can download video tutorial of bicycle kick through which you can learn how to shoot a bicycle kick in football game. The complete procedure of this task is given below with a video tutorial.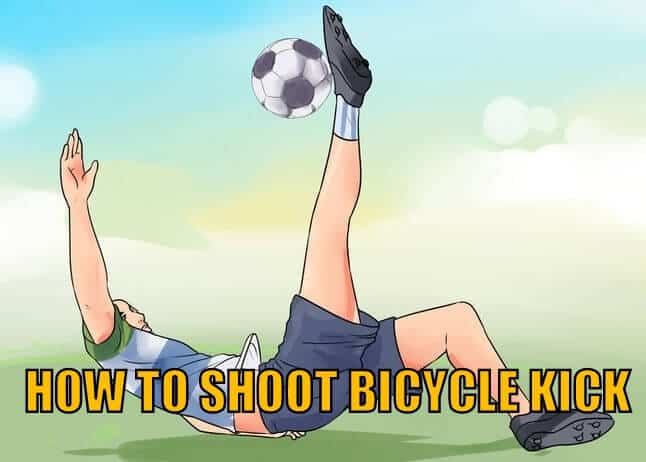 Download Bicycle Kick Video Tutorial Video
Before downloading, let's take a look on the video which describes the procedure. Watch this video and learn the technique used in it. Below this video, there is a link through which you can save this video to your device. Kindly look for the link at the bottom of video.
Download video
Step by Step procedure of shooting a bicycle kick in football
Keep your back towards the direction where you want to kick: First of all, stand in a position such that your back is facing the target. This means your back should be facing where you want the ball to go.
Read also: Download football funny videos
If you are playing a game, and you are standing inside the penalty box of opponent's area, then keep your back towards the goal post. You can only shoot bicycle kick if its height is up to your chest level. You cannot shoot a too high or too low flight ball. So fit yourself in a perfect position.
Jump and lift your kicking foot: The second step includes jumping and kick with stronger leg. When the ball is almost at your chest level, make a jump and lift your stronger foot. Try to move your weaker foot in reverse direction. This will help the stronger foot to gain the momentum and speed.
Related: Eden Hazard skills goals videos download
Move your shoulders and head downwards: This step should be done carefully. The height of your back should be less than your head and shoulders. Be careful not to throw your head back too quickly, or to dip your body into a full on flip.
Hit the ball at perpendicular direction: When you have lifted your stronger leg at perpendicular direction, strike the ball at the center of it. Ideally, you want to kick the ball flush on the opposite side of the ball from the goal, and not on the bottom of the ball, which might end up sending the ball straight up in the air.
Watch and download the video tutorial of "how to shoot bicycle kick in football". If you liked this article, kindly share it with the others as they might be searching for this video.