USA Vs Honduras 2015 Gold Cup Match All Goals Video Highlights
Watch out here the highlights video of USA vs Honduras 2015 Gold Cup match. The defending champion United States had a tough time in their opening match of Gold Cup 2015 against Honduras. Clint Dempsey scored twice as USA managed to win the opener with 2–1 scoreline. It was tough match played between USA vs Honduras on Tuesday night. USA bid to win their sixth Gold Cup title started successfully in Dallas. With this victory, they managed to hold their fifth consecutive victory.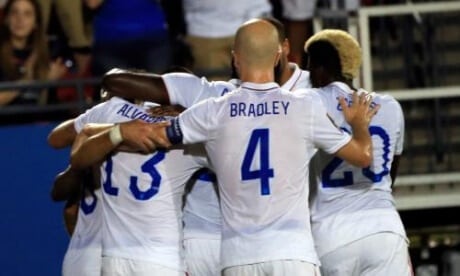 Highlights: USA Vs Honduras 2015 All Goals Video | 2015 Gold Cup
The opening match of the CONCACAF Gold Cup 2015 featured the tight match between hosting nation USA and Honduras, but thanks to the Clint Dempsey two goals to win the match against Honduras 2–1. Honduras came back in the match in 69th minute when Discua scored from Wilmer Crianto's pass. Honduras had created so many chances but didn't find the net second time. Watch USA vs Honduras 2015 Highlights video. https://youtu.be/iJbMxmJP1FA In the first half, US goalkeeper Brad Guzan was forced into two early saves as Honduras striker created lots of chances. The home side failed to open up Honduras defence effectively. But finally in the 25th minute, Dempsey header into the net from six yards put the home side up in the match. Both team had almost equal possession in the first half and no other goal hadn't been scored in the first half of the match despite Dempsey goal. Both team started strongest in the second half, but it was another set piece that cost Honduras another goal in the match in 64th minute. Once it was Dempsey who converted Michael Bradley's free kick into the net. The visitor created so many chances and after 5 minutes the visitors finally deservedly got the goal in the 69th minute of the match with coordination of Crisanto pass converted by Discua.