Ger­many has suc­cess­fully qual­i­fied for World Cup of 2014 after beat­ing Repub­lic of Ire­land last night. Shin­ing at the top of its group, Ger­many played this qual­i­fic­a­tion pro­cess fant­ast­ic & win­ning all matches except one which a draw. DFB elev­en has qual­i­fied 17 times already & this will be 18th time that this team will appear in next year of world battle.
After play­ing 9 games in this com­pet­i­tion, DFB elev­en has won 8 matches & scored 31 goals col­lect­ing 25 points & main­tained at top spot in Group C. Rest one match was a draw which was against Sweden. That was ended up with 4–4.
Match summary
Ger­man team was look­ing aggress­ive right from first half & it was night of deflec­tions. There was a huge crowd of Ger­man fans at home sta­di­um of win­ning team. First half was ended with 1–0 in favor of Ger­many & after full time the score rose to 3–0.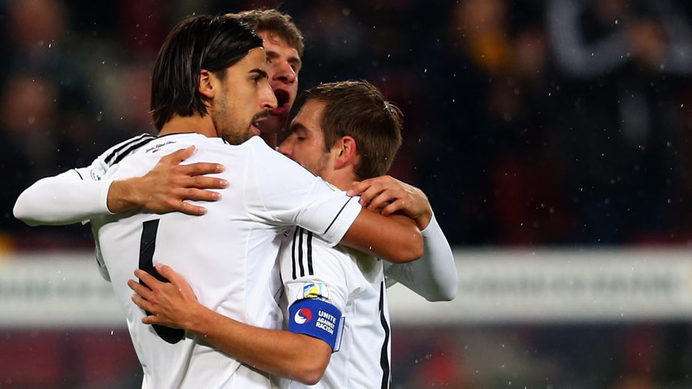 In 12th minute of first half, Cap­tain Phil­ipp Lahm made an assists for Sami Khedira. He shoot from the dis­tance and & as we talked earli­er, the ball changed its dir­ec­tion after touch­ing Ire­land defend­er. The Goal­keep­er did not under­stand that & 1st goal of Ger­many was scored.
First half fin­ished with 1–0. In 2nd, it was Kroos, who put gave assist to for­ward Schurrle. He kicked ball in first attempt with back turn & ball was into the net for second time. Ger­man play­ers done a fab­ulous job & they made some dif­fi­cult passes.
They were not sat­is­fied with this score & look­ing for one more score. The man who is known for mak­ing incred­ible assists scored third one in added time of second half. In 90+1' he scored last goal & the ref­er­ee blows whistle which was the tick­et of Ger­many for next year world cup
Goals scorers: Sami Kid­era (12'), Schurrle (58'), Mesut Ozil (90+1')
Line-ups of both teams
Ger­many: Neuer (Goal­keep­er), Jansen, Merte­sack­er, Boateng, Phil­lip Lahm, Khedira, Kroose, Sch­wein­steiger, Schurrle, Gotze, Ozil, Thomas Muller
Repub­lic of Ire­land: Forde, Delaney, Kelly, Clark, Cole­man, Wilson, Whelan, McCarthy, Gib­son, Stokes, Doyle