Germany has successfully qualified for World Cup of 2014 after beating Republic of Ireland last night. Shining at the top of its group, Germany played this qualification process fantastic & winning all matches except one which a draw. DFB eleven has qualified 17 times already & this will be 18th time that this team will appear in next year of world battle. After playing 9 games in this competition, DFB eleven has won 8 matches & scored 31 goals collecting 25 points & maintained at top spot in Group C. Rest one match was a draw which was against Sweden. That was ended up with 4–4.
Match summary
German team was looking aggressive right from first half & it was night of deflections. There was a huge crowd of German fans at home stadium of winning team. First half was ended with 1–0 in favor of Germany & after full time the score rose to 3–0.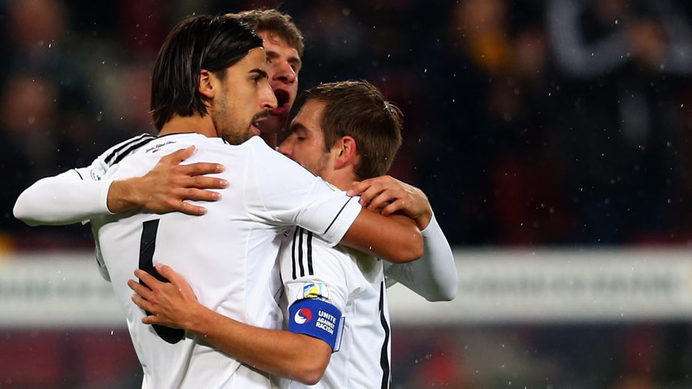 In 12th minute of first half, Captain Philipp Lahm made an assists for Sami Khedira. He shoot from the distance and & as we talked earlier, the ball changed its direction after touching Ireland defender. The Goalkeeper did not understand that & 1st goal of Germany was scored.
First half finished with 1–0. In 2nd, it was Kroos, who put gave assist to forward Schurrle. He kicked ball in first attempt with back turn & ball was into the net for second time. German players done a fabulous job & they made some difficult passes.
They were not satisfied with this score & looking for one more score. The man who is known for making incredible assists scored third one in added time of second half. In 90+1' he scored last goal & the referee blows whistle which was the ticket of Germany for next year world cup
Goals scorers: Sami Kidera (12'), Schurrle (58'), Mesut Ozil (90+1')
Line-ups of both teams
Germany: Neuer (Goalkeeper), Jansen, Mertesacker, Boateng, Phillip Lahm, Khedira, Kroose, Schweinsteiger, Schurrle, Gotze, Ozil, Thomas Muller Republic of Ireland: Forde, Delaney, Kelly, Clark, Coleman, Wilson, Whelan, McCarthy, Gibson, Stokes, Doyle