Leaked Home and away jersey of Germany for Euro 2016 Championship
Today, we are able to provide you the first look of Germany's new kit for Euro 2016 competition which is going to be held in France next year. The all new home jersey of world champions is inspired by completely white and black appearance. Kit manufacturer Adidas has revealed that it will be released in the month of November this year. Get ready to take a first look on the new home as well as the away jersey of Germany which are designed for the European competition 2016.
Germany Euro 2016 Home Kits, Jersey
A big change has been made on the new home jersey of Germany. The change is about the three iconic stripes which are now designed on the sides of jersey. Yes, according to the latest leaked pictures, no single stripe is available on the shoulders of Germany's new 2015–2016 jersey. If you don't believe, take a look on the picture below.
We saw a V‑shaped wide stripe on the chest of home jersey during the Brazil World Cup. Now, the pattern is completely removed and the old look is redesigned. The classic white and black t‑shirt is looking simple, but impressive as compared to the other kits launched by Adidas.
Read also: Euro 2016 Match Ball
Leaked picture shows, black and white jersey featured with a black classical collar. National team's crest and logo of Adidas are on same spot. Between these two badges, there is a golden colored FIFA World Cup winner badge just below collar.
Sleeves are provided with two black and one red colored stripes on both sides. There are three vertical stripes on each side of jersey. In short, the home jersey of Germany for Euro 2016 is in white.
Read also: UEFA Euro 2016 Mascot
Shorts are designed mainly with black appearance on which white applications like badge of team and kit manufacturer Adidas are in white. Black and white shorts completes the home kit of Germany for Euro Cup 2016 football competition.
Germany Euro 2016 Away Kit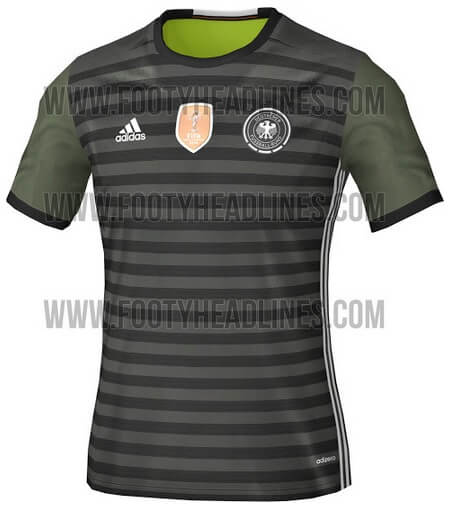 The new away kit looks alike of Chelsea's 2014–15 kit. You can see grey and black horizontal stipes at the front of jersey. It is dark grey with subtle black woven hoops, combined with green sleeves, drawing inspiration from street football. Stripes on the sides are in white. Note: These kits are just leaked, so kindly stay tuned with us for the latest information about Germany's new kit for UEFA Euro 2016.