Bale first match against Villarreal
Recent news declared that Gareth Bale will play his first match for Real Madrid against Villarreal. This match will be 4th match of Madrid in competition of La-Liga. Real Madrid manager Carlo Ancelotti has confirmed this debut of Bale. Fans of this clubs are waiting for his first match for Real Madrid.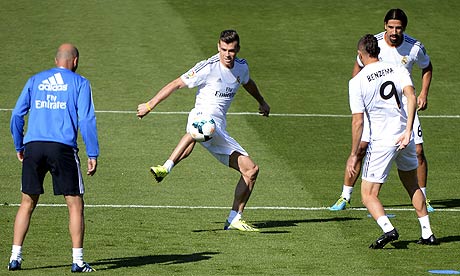 It will be great to see Cristiano Ronaldo & Gareth bale to play together. Today, the team has completed last training. The next match against Villarreal will be played in home stadium of Villarreal which is Estadio El Madrigal. This time Bale will be the center of attraction due to his transfer from Tottenham Hotspur to Madrid with world record deal of £85.3.
After transfer, he is looking very happy especially with Ronaldo. Cristinao is one of the big reasons why he has joined & both were caught in excited mood. He has not played even a single match for Tottenham as well as R. Madrid this season. He is a noble hearted person who loves to make a team work with his partners.
The manager Ancelotti said that we have just completed the satisfactory deal with Gareth. There are the clubs which can give money to Hotspur better than we paid but it was completely the decision of Bale to join Madrid and Cristiano Ronaldo. He was also available during launch of away kit of club.
Gareth said that he is extreme desperate to make his debut. When he joined club the team mates were very frank & nice to me I felt that I have not left any club. Players dissolved me very easily & there it did not take time to settle with them.
Recently bale played for his country Wales for world cup qualification. He was appeared for 30–40 minutes in ground. "But there is something not fit and fine with his physical fitness" Carlo said. On reply he told that he will pick himself very quickly and the wait will be over. He will join Cristiano Ronaldo soon we are waiting for that