Gareth bale is now the world's most costly football player in the world. After the completion of transfer, Real Madrid one more time set up a new record of signing new players with highest amount. The deal is completed with £85.3m & this is the record transfer which broke record of Cristiano Ronaldo which was also set up by Real Madrid. With Cristiano, Madrid made a deal with 80m but this record is now broken.
The transfer of Gareth from Tottenham Hotspur to R. Madrid was flanked by total of 35,000 fans. The English club will now miss this superstar and the Spanish club will now upgrade level of Bale. It is estimated that Bale will now earn £15m/year in wages in addition with £90m over 6 years of deal. After combining these figures he will earn £25m annually. This will make Gareth the highest paid football player of England.
Gareth Bale Profile

Full Name

Gareth Frank Bale

Date of Birth

16th-Jul-1989

Birth Place

Cardiff, Wales

Current Club

Real Madrid

Last Club

Tottenham Hotspur

Jersey Number

11

Playing Position

Attacking Midfielder

International Career

Year

Team

Apps. & Goals

2005-06

Wales U17

7, 1

2006

Wales U19

1, 1

2006-08

Wales U21

4, 2

2008*

Wales

41, 11

Club Career

2006-07

Southampton

40, 5

2007–13

Tottenham Hotspur

146, 42

2013

Real Madrid

-
After transfer Bale said "Cristiano Ronaldo is still the boss of club even though I cost more. He is the best player in the world he was one the many reason why I am here." Bale may be welcomed by fans more than in Tottenham Hotspur.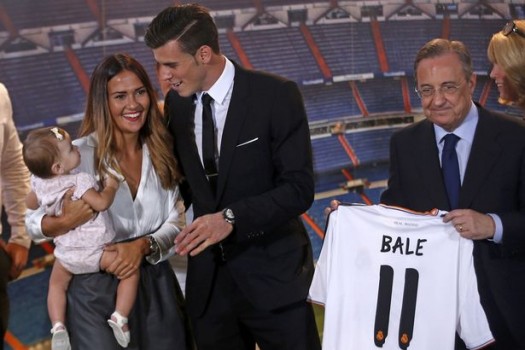 DON'T MISS: Mesut Ozil Transfer to Arsenal
For his last club he said few heart touching lines "Tottenham will always be in my heart & I am sure that this new season of Premier League the club will make a surprise for its fans. I am looking for my next chapter of my football life & playing football for Real Madrid."
Bale has started his career as left back with Southampton before moving to Spurs. He also scored hat-trick in the year of 2010 against Inter Milan but in the end, Spurs lost the match by 4–3. In last season of Premier League, He scored 9 goals for his team with higher than any other for Spurs. After playing 33 League appearances, he scored 21 goals after attempting 133 shots.
Last season bale attempted total of 154 dribbles and scored dribbled rate of 38% which is 46% less than Cristiano Ronaldo & 60% less than Lionel Messi. But he has made 272 crosses which is more than Messi (41) & Cristiano (74) in last season.
The manager of Tottenham, Andre Villas-Boas said "we wish him all the best for his upcoming football career. Although Bale has left us but his memorable memories will always be with us. But he has moved abd we will move on as well."
"It is a very huge amount of money for the football player with age of just 24 years. Real Madrid is making too much faith in this Wales footballer and hope he prove himself in this new club. "
Gareth Bale Official Presentation Video