Real Mad­rid pres­id­ent Florentino Perez denies the trans­fer of Gareth Bale and stated that Bale is not avail­able for sale any price. Gareth Bale was linked with Premi­er League club Manchester United and Chelsea Foot­ball Club. Even Man United man­ager Louis Van Gaal was des­per­ate to sign him at record price, but the Dutch man­ager still have to wait a little bit.
Florentino Perez: Gareth Bale is not for sale
Club pres­id­ent Perez told to Span­ish pub­lic­a­tion Marca "We would nev­er listen to any offers for Bale no mat­ter what the bid was. He is the key to the club's future, just like I can­not ima­gine a future without Cris­ti­ano Ron­aldo. He is a unique play­er who has already giv­en so much to the team."
In his first sea­son at Real Mad­rid, the Welsh­man won four trophies which are Copa Del Rey, UEFA Super Cup, Cham­pi­ons League and FIFA Club World Cup. He was the goal scorer of all those finals except UEFA Super Cup. It was a great debut for him, but he is facing lots of cri­ti­cism in second sea­son at same club.
Gareth Bale was brought by Carlo Ancelotti from Tot­ten­ham Hot­spur in 2013 with a record trans­fer that was the most expens­ive trans­fer in foot­ball his­tory.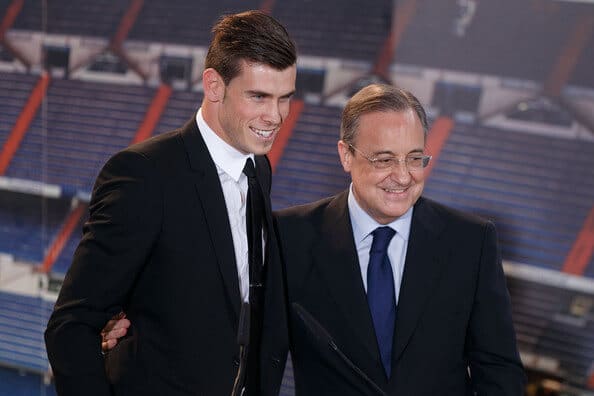 After scor­ing brace against Israel and claimed a 3–0 vic­tory in Euro 2016 qual­i­fi­ers. Their last win took them to the top of group. He also hits back at crit­ics after scor­ing two goals.
"I don't need to answer the crit­ics. I know, and every­one around me knows, what I can do. There are ups and downs in foot­ball, you have to take it with a pinch of salt and all you can do is respond with your per­form­ances on the pitch, like that. I don't feel I need to prove any­one wrong or right, I just need to play my foot­ball."
Do Gareth Bale really needs to say good­bye to Real Mad­rid? Do you want to see him at some oth­er club?