The Real Madrid manager Carlo Ancelotti have revealed that Gareth Bale is 100% fit and can play against the first leg semi final of Champions League against Juventus. The Welshman had a stumbling season so far at Real Madrid and needs a perfect come back. But whether he is in form or not, most of the top European clubs wants him. He was available for Real Madrid last game against Sevilla and provided an assist for Cristiano Ronaldo that resulted in 3–2 victory for Los Blancos.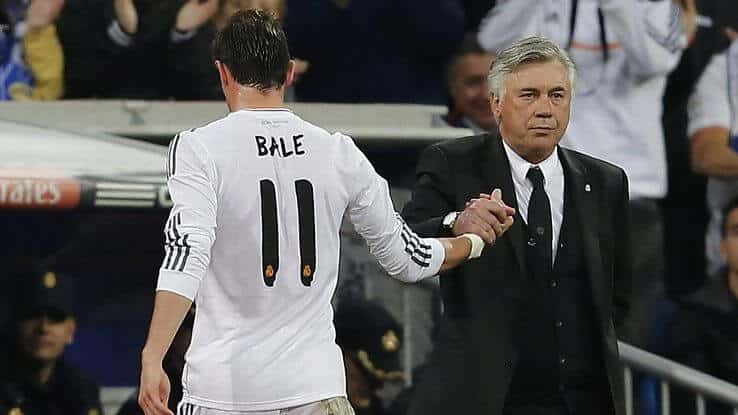 Gareth Bale is 100% Fit To Play Against Juventus
After looking on last press conference by club manager Carlo Ancelotti, the Italian manager is pretty sure about Bale's appearance at Juventus Stadium this Tuesday. About Bale's fitness, Carlo Ancelotti told to reporters
"I think Bale is perfect. He had an injury but then he recovered and is doing well. he played just 30 minutes against Sevilla, but he was fine afterwards. He is at 100%."
Related: Juventus vs Real Madrid IST Time
In group stage game of last season Champions League, Gareth Bale scored a beauty against The Zebras. Watch his first ever goal against Juventus in video below.
https://www.youtube.com/watch?v=ntPfh6jMN_g
It is not Gareth Bale who is in doubt of playing against Juventus, it is Karim Benzema who is suffering from serious injury. In place of Benzema, the only goal scorer of last Madrid derby, Javier Hernandez is most likely to start the game. About Chicharito, Ancelotti said
"Everybody is happy with Chicharito. If we are here, it is also thanks to him. I was smart when I called him to play and he will remain an important part of the team. He has never been a problem because he is in optimal physical and mental condition."
"He can play from the first minute or stepping off the bench. He just has to enjoy the positive moment he is in."
After a disappointment start in 2015, Real Madrid are bouncing back into their winning track, but they will now face Juventus who already claimed the Serie A title this season. So it would be a great game between the two European giants. Which side on you are?