Once again, Real Madrid most expensive player Gareth Bale gets booed by home fans after missing a clear chance against Real Sociedad. The Welshman recently stated that he would like to take place of suspended Cristiano Ronaldo to score goals, but was failed to do so. It was the easiest goal scoring opportunity of the game. Watch the video of the incident below.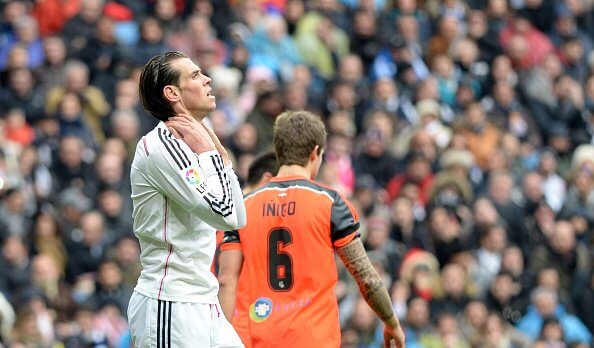 Video: Gareth Bale Gets Booed By Real Madrid Fans
Check out the video of incident below.
Karim Benzema, who was the man of the match set up a great chance for Bale when the Los Blancos were leading by 2–1. It was looking like Gareth Bale will increase the score, but did the unexpected. He hit his shot wide when he had just one defender to beat. James Rodriguez was also in great position who was available beside him.
This is not the first time, Bale was booed by home fans. Before this, he faced same reaction by the Madridistas when he didn't pass to Cristiano Ronaldo few weeks ago. But they still managed to win with clean sheet at Santiago Bernabeu.
Twitter Reactions
Gareth Bale has just done this. Not exactly endearing himself to the Bernabeu boo boys https://t.co/zVET0vMzJj

— Football Talk (@FootbaIlTalk) January 31, 2015
@FootbaIlTalk Lol, shut up — he scored the go-ahead goal to win la Decima, he has nothing to prove. One slip up. — Blake (@ABSYNWA) January 31, 2015
2015 World Cup golden boot winner James Rodriguez was seen sharing his head after Bale's miss. Bale has once again failed to endear himself to the Madrid fans. Bale has scored 36 goals and made 26 assists in 72 games for Real Madrid that is looking not able to win hearts of Madridistas.
In the end, all ended with another win for Carlo Ancelotti's squad and they managed their top spot in La Liga. After playing 20 games in domestic league, the vikings are at the top spot with 51 points. They will now face Sevilla FC on 4th Feb at Santiago Bernabeu.