This is about the dimensions and field sizes of football ground which is also called as soccer pitch. It is basically a rectangular field which follows rules and regulations of the laws of the game, "The Fiend of Play". The ground is different from that of American football which in which two long poles with no connections are being used. Along with football ground dimensions, we are also sharing the dimensions of goal post & player positions. Have a look on field sizes of this pitch.
Dimensions of Football Pitch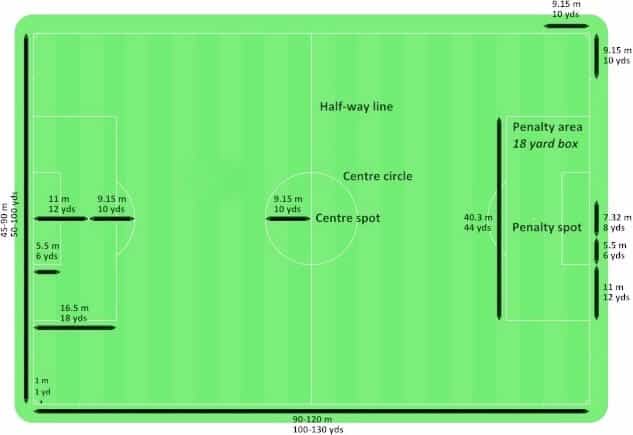 Length & Breadth
As we have discussed earlier, it is a rectangular football ground with two goal posts on each side. The long side of the pitch are called as touchlines & lines on which goal posts are there called as goal lines. Length of 2 goal lines must be between 45 m and 90 m. This means the width of ground should lie between 45 & 90 m. Length of two touch lines must be between 90 m and 120 m. All lines are marked with a special powder which are made 12 cm wide.
Penalty Box Dimensions
On each side of the football ground, two penalty box marked, one is large & second is small within large box. Length of large box is 40.3m & its width is 16m. This is the box inside which the opposition team gets the penalty after conceding foul. In between, large and small rectangular box, there is penalty spot from which penalty is taken. This spot is 11m away from goal line. The small box inside the large box is 5.5m in length & is marked at a distance of 11m away from large box. Read also: Download ISL Ringtone Outside the large penalty box, there is a small semi circle which is 9.19m away from penalty spot. This semi circle is also available on both sides of penalty boxes. At the center of ground, there is a circle which is called as center circle. A center line [diameter of circle], divides this circle in two equal parts joining the two large sides of ground. The radius of this center circle is 9.15m & center of it is called center spot.
Corner Posts Dimensions
On each corner of ground, a corner post for taking corner kicks are designed. At every corner a quarter of circle is there. The radius of this quarter circle is 9.15m. These all four corners are demarcated by corner flags.
Dimensions of Goal Posts
After knowing size of ground, it's time to know about goal posts. The standard length of a goal post is 7.32 m [24 feet] from left to right. Whereas, the height of top bar is 2.44 m [8 feet] from ground. Though nets are not required by the laws, but they are used by every football ground owners. Goalposts and top bars are made in white appearance. Stadium owners have full freedom of using any colored net behind goal posts. Read also: A goal line is marked at bottom of goal posts which decides whether it is a goal or not. When a ball crosses the goal line even by a defensive player. These days, goal line technology is also used by the football officials which was born in 2014 FIFA World Cup in Brazil.
Football Ground All Player Positions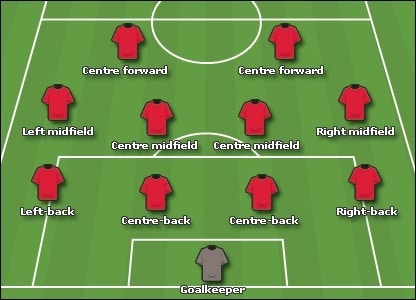 There are total of 4 player positions including goalkeeper in football ground according to international rules and regulations. A player can player as a Goalkeeper, Defender, Midfielder or a Forward. These all four positions are further divided into various positions which are mentioned below.
GOALKEEPER
DEFENDER

Center Back

Sweeper

Full Back

Wing Back

MIDFIELDER

Center Midfield

Defensive

Attacking

Wide

FORWARD

Center Forward

Second Forward

Winger
A team manager can use his or her team in any formation like 4–4‑2, 4–3‑3, 3–4‑3 etc.