Former Barcelona and Real Madrid forward Luis Figo makes bid for FIFA Presidency in order to challenge current FIFA President Sepp Blatter. After great career at club and National team, the fourty two years old footballer wants to be the head of football governing body. Along with him, the president of Royal Dutch Football Association, Van Praag also registered himself the candidate of the election.
Luis Figo Stands For FIFA Presidency
The former Portuguese forward said "Football has given me so much during my life and I want to give something back to the game. I look at the reputation of FIFA right now and I don't like it. Football deserves better. In recent weeks, months, and even years, I have seen the image of FIFA deteriorate."
"As I speak to many people in football — to players, managers and association presidents — so many of those people have told me that something has to be done."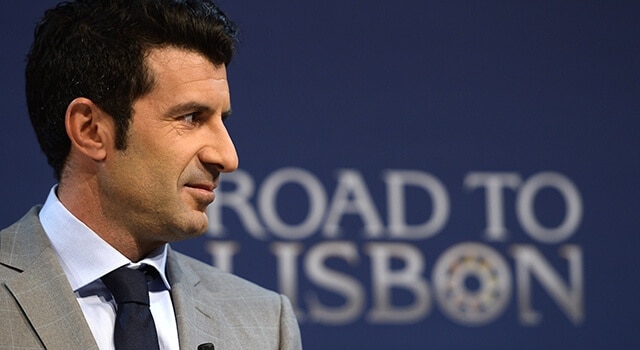 During the international career, Luis Figo played 127 matches. He played with one of the biggest football clubs which includes Sporting Lisbon, Barcelona, Real Madrid and Inter Milan.
Sepp Blatter who is current president of Football Internationale De Football Association [FIFA], has been boss of governing body since 1998 and said in June 2014 that he intended to run for a fifth term.
Some more names have been added in the list who are going to challenge Blatter in FIFA Presidency. David Ginola, the retired France international player and Jerome Champagne, a former FIFA executive and ex-diplomat, have already announced their intention to stand against Blatter.
Read also: Santiago Bernabeu New Name
The Portuguese manager of Chelsea Football Club Jose Mourinho says Figo's election as FIFA President would be a "great step forward for Football."
Van Praag, the Dutchman wants to clean up dirty images of FIFA and expand the world Cup if he succeeds Blatter. He said "FIFA is constantly under suspicion. Of conflicts of interest, of nepotism, of corruption."
Dominico Scala, the FIFA electoral committee member stated that all confirmed challengers must pass an anti corruption test. Candidates have to register themselves before Thursday in week.