Tickets for FIFA World of 2014 are on sale and this time a new record of tickets is on way. On 20th of August, the sales of tickets were started and within 24 hours, more than 400,000 football fans made request to buy tickets for about 2.3 million tickets. This request was registered on official website of FIFA which FIFA.com.
Some of them have booked tickets. Those who have not registered can apply this until the date of 10-10-2013. This date is the deadline of 1st sales period. Those who do not want to fill application form can apply for this process. It is natural that the number of requests generally more than available tickets. So to sort out this problem FIFA has found another way. If there will be more requests per ticket for a particular category, then a lucky draw will be held which select the fans that deserve ticket.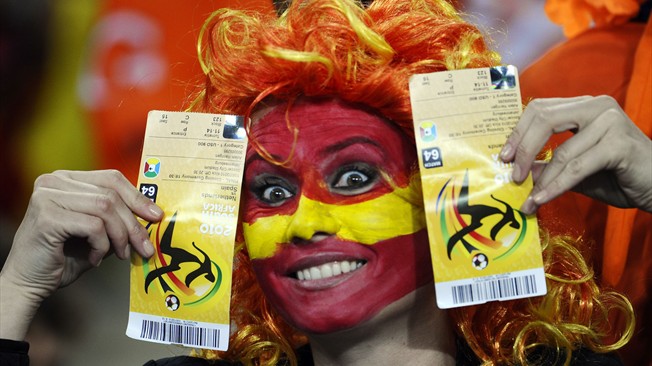 How can I Apply for World Cup Tickets?
The sales of tickets are divided into 2 categories i.e. Phase 1 & phase 2. The person who is residing in Brazil or outside from Brazil can apply for tickets by given below details:-
1. Online: First visit the official website of FIFA & then go to www.fifa.com/tickets. Then request simply for tickets by choosing your mode of payment. You have to select you payment card that is registered from your bank account which can make online transition. For the simplest and flexible mode of payment you can use Visa card. This procedure is best suited for the civilians who are residing out of Brazil.
Brazilians can pay by Boleto during phase one & two. Once applicant got confirmation SMS or Email, the he/she can collect tickets from centers of FIFA Centers in Brazil in April 2014.
2. Offline: If you do not want to register for online tickets, then you can simply use ticket application form for World Cup 2014. For this you have visit again website of IFFA. Go to this page www.fifa.com/tickets and then click on download link to generate from. After completing the form, send this application to FIFA. Applicant can send this request with the help of fax or he/she can use post services. The postal address is given below.
Fax address: +41443553117.
Postal address: Zollikerstrasse 141 | 8008 Zurich | Switzerland.
In the application form, clearly mention you contact number and Email. These contact modes are the only way through which you will get the status of your ticket request whether it is Successful or not or it is under processing.
If your request for ticket is completed and once you have got your confirmation message, you can collect your tickets from the centers of FIFA in Brazil which will be start from April 2014.
Tickets records for world cup worldwide
The request for tickets is proceeding to create a new record which is never ever set up. In this record list the host country Brazil, is at the top position. After this, the current 2nd rank of world football ranking country Argentina also at the 2nd position in record of tickets booking. After those countries like America, Chileans & Columbia are this ranking of ticket booking requests.
So apply for FIFA World Cup 2014 tickets either through online or Offline now.