We all are well aware of "Group of Death". It would be not incorrect to say that the group of death is a nightmare of a not only a footballer & manager, but also of fans. 2014 FIFA World Cup is about to come & all teams are categorized in 8 groups. This is the group in which world's best teams are grouped together for the finals of world cup 2014 in Brazil. In group phase, 1 or more strong competitors in group of death will necessarily be eliminated who would otherwise have been expected to progress further. In this world cup, Group G is the toughest group.
FIFA World Cup 2014 Group of Death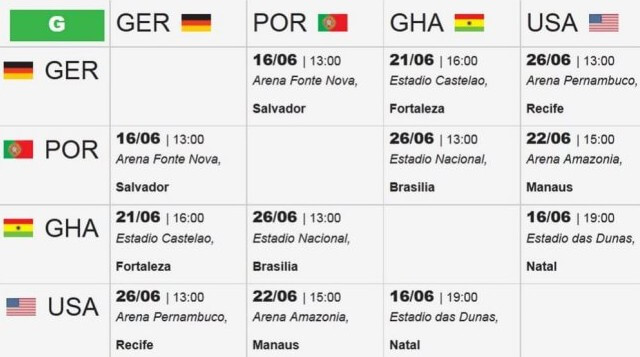 As we have discussed earlier, Group G is the the group of death which includes world's top teams Germany, Portugal, United States & Ghana. All four teams have no safety for booking ticket of round of 16. Although the current champions Spain is not included in this group, but still world's best teams of Group G can make this competition the toughest one. For this competition, Germany is considered as the most strongest contender to win world cup. We've seen the perfect performance of German national football team in qualification round. They qualified for the finals of Brazil 2014 world cup without losing a single game scoring 36 goals total. While, Portugal qualified through play-offs round defeating Sweden in both legs. These two top teams cannot refuse teams like United States & Ghana which are growing at a very fats rate.
Group G of 2014 World Cup
Teams
FIFA Rank
ESPN SPI Rank
Germany

2

4

Portugal

3

16

United States

14

17

Ghana

38

24
From this group 2 teams will qualify for next round which is round of 16. The European sides have little bit advantage of others teams, but they have to continue their winning run in register victory in Brazil World Cup.
Past Performance of Group G Teams in World Cups
Germany: Three times FIFA World Cup winners have the most balanced team squad. They have world class goalkeeper in name of Manuel Neuer, one of the best defenders including captain Philipp Lahm, midfielders like Marco Reus, Bastian Schweinsteiger, Mario Gotze & last world cup golden boot winner Thomas Muller. Last time, the Germans won this competition 24 years ago in 1990. Now, Germany's one of the best captain Philipp Lahm in in charge who can lead his team to victory in Brazil. Portugal: The Portuguese are the wounded hunter of the competition as they have not won FIFA World Cup so far. This is the reason why they are extremely hungry. Portugal Top goal scorer Cristiano Ronaldo is leading the team as captain with his Real Madrid partners Pepe & Fabio Coentrao who have experience of big games. The best performance of Portugal in World Cup is 3rd place which they registered in 1966. United States: This is the most unpredictable team of 2014 FIFA World Cup. United States team has enough talent to make a serious push to advance, regardless of that added story line. Jurgen Klinsmann is the manager of US team. The manager is going to understand what the Mannschaft want to do and at least give the United States confidence. Ghana: The team with lowest FIFA ranking the group G is known for surprises. Their performance in last world cup was just brilliant defeating Serbia & played a draw against Australia. They finished in quarter finals facing defeat against Uruguay after losing in penalties by 4–2. That's why they are one of the strongest competition of this campaign.