The FIFA World Cup 2014 Fantasy is back with new exciting prizes for all football fans across the globe. The football governing body is doing at its best to make this competition a remarkable campaign in history of football. This is your guide of world cup fantasy manager that you need to know about. It is expected that this fantasy manager will break all records of last world cups. Lets see, how to play this game & what are the prizes that you could win.
2014 FIFA World Cup Fantasy Rules & Regulations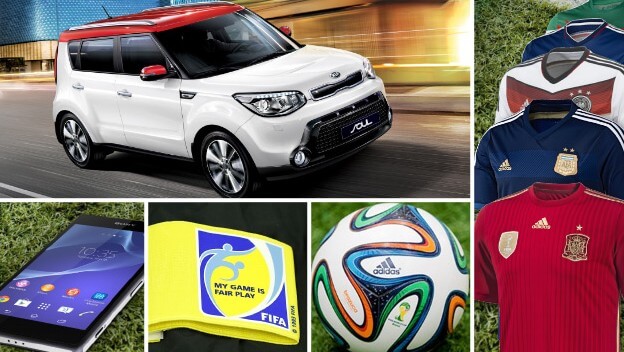 Introduction: First of all, you have to register yourself on FIFA.com. You can register on McDonald's 2014 FIFA World Cup Fantasy to play this game. After registration, you can build your own squad. You will be given a budget which you can spend it to buy your favorite players, but you selection should follow the guidelines. If you have missed some earlier games of the competition & are looking to play in mid of tournament, then don't worry, you can still play this fantasy game. But keep in mind, you'll not get points for those missed matches. So it would better if you join right from start of competition. Select your team 23 players squad of defined position. You cannot play a defined forward to play as a midfielder. Squad Selection: As we have discussed earlier, you can choose total of 23 players to build your world cup squad. From this team squad, you have to choose 11 players for world cup matches. According to FIFA, your squad should be consists of 2 Goalkeepers, 6 Defenders, 6 Midfielders, 4 Forwards. A registered user can select more than required players in team squad. Strikers budget will be high & that of defenders will be low. From one national football team, you can only select 3 players. The limit of selecting players raised throughout the campaign as teams are eliminated. Given below is the list of player limits.
Player Limits

Group Stage

3 Players From One Team

Round of 16

5 Players From One Team

Quarter-finals

5 Players From One Team

Semi-finals

8 Players From One Team

Final

Unlimited
Read also FIFA World Cup 2014 Opening Ceremony Caxirola World Cup Sound Instrument The starting players will earn points during this competition. If you want to substitute a player, then you have to select a player whose playing position is same. A user can also change a player in your lineup who has not played in the competition with a player who has played some games. There is no save button in this game. This means, all changes during the fantasy game will be saved automatically. So, there is no room to worry about saving your details. Rounds
| | | | | |
| --- | --- | --- | --- | --- |
| Round | Stage | Date | Max. Players/Nation | No. of Transfers |
| 1 | 1st group stage | 12–14 June | Three | Initial speed |
| 2 | 2nd group stage | 17–22 June | Three | 0 |
| 3 | 3rd group stage | 23–26 June | Three | 0 |
| 4 | Round of 16 | 27 June‑1 July | Five | Unlimited |
| 5 | Quarter-final | 2–5 July | Five | Unlimited |
| 6 | Semi-final | 6–9 July | Eight | Unlimited |
| 7 | Final | 10–13 July | Unlimited | Unlimited |
Points will be awarded within few minutes after the completion of match. You can make changes in your squad during the competition. There will be no fluctuation in players value during the tournament. Points Rules: As the game is all about scoring points, so you should focus on playing a fair game rather than a negative game. You player will receive points based on defined conditions. Negative points will also be given if he plays rough game. The table given below will help you about the scoring.
Points

GK

Defender

Midfielder

Forward

Playing 1–30 min

1

Playing 31–60 min

2

Playing 61+

3

Goal

5

Assist

3

Clean sheet [If he plays more than 61 min]

6

4

1

0

Shot blocked

1

2

2

2

Every 2 balls delivered to penalty area

5

Ball recovered

1

Every 3 fouls

1

Every 2 goals conceded [GK and DF]

-1

-1

0

0

Yellow card

-1

Direct Red card

-3

Own goal

-2

Foul causing penalty

-1

Penalty miss

-2

Bonus Points

Save rate > 80%

1

0

0

0

Passes completion > 80%

0

1

1

0

Attempts rate > 80%

0

0

0

1

Note: Bonus points will only given to a player who plays more than 30 minutes
Prizes in McDonald's Fantasy Manager
Grand prize of 2014 FIFA World Cup Fantasy Manager is Kia Soul. As there will be only one winner of this car, but some more cool prizes are also available like EA Sports 2014 FIFA World Cup Game for PS3 pair of Adidas boots, Brazuca ball, Sony Xperia Z2 smartphone. Jerseys of some national teams are also available ton win in this game. If you finish at 1st, 2nd & 3rd place in different rounds, some more prizes are there which you could win. See the list of all prizes of World Cup Fantasy here: McDonald Fantasy All Prizes. Kindly read complete terms and conditions here: Terms & Conditions.