Football governing body FIFA are ready to take step against racism and for this FIFA are going to appoint racism monitors for the World Cup qualifiers which should begin in June 2015. FIFA has committed to tackle racism incidents harder at World Cup matches after criticism of its lackluster efforts in Brazil. FIFA has pledged to help train and appoint anti-discrimination officers to work at qualifying matches for the World Cup 2018 in Russia.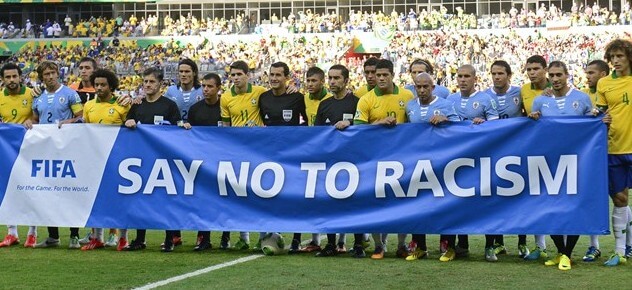 FIFA to Step up Anti-racism Efforts for World Cup
During the FIFA World Cup in summer, FIFA was criticized by its own anti-discrimination chief, Jeffrey Webb for failing to take action against homophobic chanting and neo-Nazi banners being displayed at World Cup matches. FIFA vice-president Jeffrey Webb said that they failed to gather evidence and prosecute disciplinary cases in Brazil, therefore after taking advice from its anti-racism task force, they decided to take necessary steps. FIFA will guide its 209 member federation toward best practice on policy, education, sanctions and co-operation with civil society partners. Webb said "Now we need the full support from clubs, member associations, NGOs and campaign groups" In addition, they will compile a handbook to "guide and assist" on handling anti-discrimination policies. FIFA statement acknowledged the importance of using the next World Cup to "showcase FIFA's zero-tolerance policy against any form of discrimination. Russia's World Cup organizing committee deputy CEO Alexander Djordjadze said "it was developing a plan that will encompass all areas concerning the fight against discrimination." FIFA Vice-president Jeffrey Webb, who is black, pointed then to challenges in tackling longstanding racism problems in Russian football. In addition, FIFA President Sepp Blatter said, after watching the World Cup final in Rio de Janeiro with Russia's President Vladimir Putin, that they would make the issue a priority. FIFA approach contrasted with European football body UEFA, which worked with fans monitoring group fare to gather evidence and prosecute a series of cases at the 2012 European Championship, including against Russian fans.