Federation Internationale de Football association [FIFA] has announced the top 3 players of FIFA Ballon D'or 2013. From world's top football clubs, the players are nominated for award of best football player of the year. Earlier, FIFA announced the list of top contenders for this award & now we got top 3 contenders of FIFA Ballon d'or of the year 2013.
Top 3 Players announced by FIFA for Ballon d'or 2013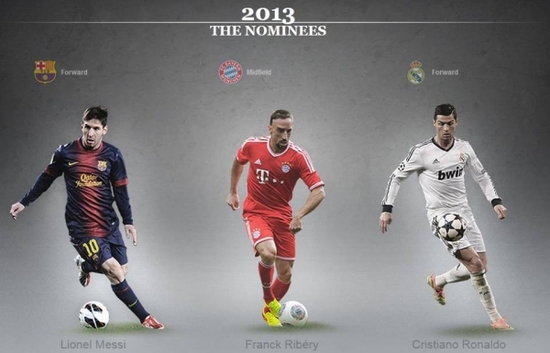 Four times winner, the Barcelona star Lionel Messi is again in the list of best 3 players. For the seventh time he is nominated for top 3 players consecutively. Right now he is not playing due to his injury but his team in Spanish league La Liga is still on top of the league table with Atletico Madrid. Messi has performed great both in league & in International competition. Although he is not the top goal scorer of league season but he is the top goal scorer of football World Cup 2014 qualifications.
Once again the Portuguese & Real Madrid star striker Cristiano Ronaldo is again in the list of top 3 players of Ballon d'or award. Since year 2007, he is in this list continuously except the year 2010. In 2010, Messi, Andres Iniesta & Xavi Hernandez were nominated as top 3 & all were of Barcelona. The season 2013 turned out perfect for Ronaldo. He is the top scorer in La Liga, UEFA Champions league of season 2013–14 & also top scorer of Portugal National Football team all time. Ronaldo has also won this award in 2008 with his former club Manchester United & the announcement was announced by his former coach Sir Alex Ferguson.
This time, Franck Ribery has joined Messi & Ronaldo in the list of top 3 football players of 2013. This is the best season of the Francis player specially in Bundesliga & his club Bayern Munich is still unbeaten in this season & maintained at top position.
Ballon D'or 2013 Winner announcement date
The date of announcement of this award & the winner of other 2 position will be announced on 13 January 2013 at head office of FIFA Zurich, Switzerland. According to current voting, Cristiano Ronaldo & Lionel Messi are leading but these are just guesses & you have to wait for 13 January next year. FIFA Ballon D'or 2013