The Ballon D'or of the year 2013 has started catching fire & the lots of predictions are already done. Still Top 3 players of Ballon D'or are not unveiled & the lots of rumors are raised about the winner of this award. But there 3 players, actually four, who are the top contenders of this award who are Cristiano Ronaldo, Lionel Messi, Franck Ribery & the Swedish Forward Zlatan Ibrahimovic. Cr7's recent win against Sweden in World Cup qualification match has made him the toughest contender for FIFA Ballon D'or award this season. Here we are sharing the news of the winner date of this award in detail.
Ballon D'or 2013 Top 3 Players (Expected) Announce Date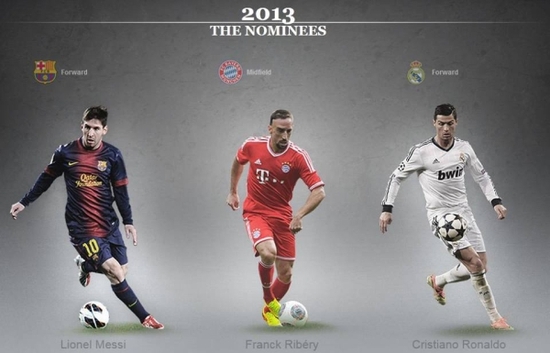 As before the announcement of winner of Ballon D'or, first of all, FIFA Nominates top 3 players out of the nominated. So FIFA along with France Football will announce the names of top three players in the month of December 2013. In the list of nomination, the German club Bayern Munich got highest nomination with maximum number. From Bayern Munich, 6 players are nominated for this award including captain Philipp Lahm who is the only defender nominated in this list. Also, from same club, Manuel Neuer, is the only Goalkeeper who is in this list. But there are some guesses about the top 3 players & these are Cristiano Ronaldo, Franck Ribery & Lionel Messi.
FIFA Ballon D'or 2013 Winner Date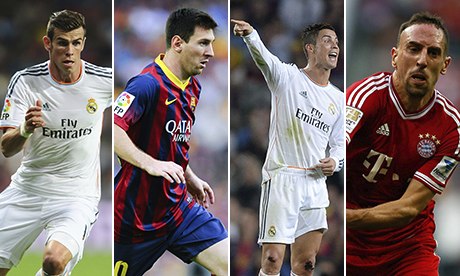 FIFA has also unveiled the winner announcement date. The winner of FIFA Ballon D'or will be announced on 13 January 2014 at head Office of Federation Internationale de Football Association. Due to injury of Barcelona forward Lionel Messi, there more probability of Cr7 to win this award once again.
Predictions of Top Footballers & Coaches For Ballon D'or winner
Carlo Ancelotti: The Real Madrid manager, Ancelotti has stated that his striker CR7 deserves Ballon D'or this year because of his fantastic season in both club & International duty. Franck Ribery: The Bayern Munich player also thinks same. He also admitted that C. Ronaldo deserves this award. Roberto Carlos: Former Brazilian star Roberto Carlos has admitted that the Portuguese forward Cristiano Ronaldo should be awarded FIFA Ballon D'or 2013. Mascherano: The Barca player stressed that his teammate Leo Messi does need this award. He is already the best player. Del Bosque: The current coach of Spain National Football team said that "I voted for Xavi Hernandez & Andres Iniesta". Cassilas: Real Madrid player Casillas has stated that Ronaldo got more number of votes as compared to any of the contender. Rosell: The chief of Barca club have also mentioned that there is only political pressure due to which Messi will stop from winning this award.