The new season is started and the champion of Champions league is also ready for its new season. The fixtures for FC Bayern Munich are announced. All Upcoming matches of FC Bayern with date are available here.
The current champions of UEFA Champions League have recently won the Audi Cup 2013 tournament in its home after beating English football club Manchester City. The final score in final match was 2–1. From past 3 years, Bayern has improved its game a lot and now the can make disasters in upcoming leagues for Real Madrid, Barcelona and other clubs.
DON'T MISS: Real Madrid Fixtures for 2013–2014
Currently this football club is at the number one position in Germany and has improved its game continuously. The players of this club have tasted huge success and also are current champions of Champions league.
Recently, FC Bayern has won the Audi cup after beating English Football Club Manchester City with a goal score of 2–1. In First half Man. City took the lead but they could not hold it. Then in second half Bayern scored 2 goals and won title.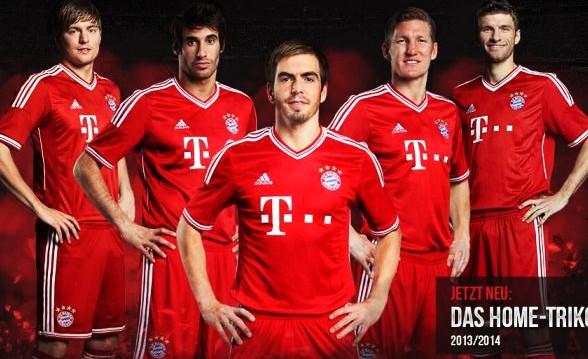 Bayern Munich 2013–2014 season Fixtures
| | |
| --- | --- |
| Date | Opponent Team |
| 09-Aug-2013 | Borussia M'gladbach |
| 17-Aug-2013 | Eintracht Frankfurt |
| 24- Aug-2013 | FC Nurnberg |
| 27- Aug-2013 | Sport Club Freiburg |
| 14-Sep-2013 | Hannover 96 |
| 21- Sep-2013 | FC Schalke 04 |
| 28- Sep-2013 | VFL Wolfsburg |
| 05-Oct-2013 | Bayer 04 Leverkusen |
| 19- Oct-2013 | FSV Mainz 05 |
| 26-Oct-2013 | Hertha BSC |
| 02-Nov-2013 | 1899 Hoffenheim |
| 09-Nov-2013 | FC Augsburg |
| 23-Nov-2013 | Borussia Dortmund |
| 30-Nov-2013 | Eintracht Braunschweig |
| 07-Dec-2013 | SV Werder Bremen |
| 14-Dec-2013 | Hamburger SV |
| 25-Jan-2014 | Borussia M'gladbach |
| 01-Feb-2014 | Eintracht Frankfurt |
| 08-Feb-2014 | FC Nurnberg |
| 15-Feb-2014 | Sport Club Frieburg |
| 22-Feb-2014 | Hannover 96 |
| 01-Mar-2014 | FC Schalke 04 |
| 08-Mar-2014 | VFL Wolfsburg |
| 15-Mar-2014 | Bayer 04 Leverkusen |
| 22-Mar-2014 | FSV Mainz 05 |
| 26-Mar-2014 | Hertha BSC |
| 29-Mar-2014 | 1899 Hoffenheim |
| 05-Apr-2014 | FC Augsburg |
| 12-Apr-2014 | Borussia Dortmund |
| 19-Apr-2014 | Eintracht Braunschweig |
| 26-Apr-2014 | SV Werder Bremen |
| 03-May-2014 | Hamburger SV |
| 10-May-2014 | VFB Stuttgart |
DON'T MISS: Barcelona Fixtures for 2013–2014