According to the responses of authoritative observers and experts, the first division of the Japanese J‑league is not such an exotic football championship in terms of the quality of the game, as, for example, the championships of the United Arab Emirates, Saudi Arabia or China. However, it is no secret that good football players move to the Land of the Rising Sun mainly at the end of their career and because of good economic support in the form of wages. Plus, life in Japan itself is a much more acceptable phenomenon for a European or a person who has spent a lot of time on the Old Continent than the countries already mentioned above, where there is much more local colour and differences from Western civilization.
However, the departure to the J‑League for almost anyone, even the once most famous football player, is the beginning of the end in terms of media popularity in Europe. Why this is so, we will follow the examples of five serious-level football players who went to Japan, and many of our readers probably had time to forget about them.
Sergi SAMPER
Age: 26 years
Citizenship: Spain
Club: Vissel Kobe
26-year-old Spanish central midfielder Sergi Samper is the only relatively young player on our list, about whom, perhaps, it is too early to say that he went to Japan to finish playing. But, on the other hand, Samper has been staying at Vissel Kobe for two and a half years, and in general, he is almost satisfied with everything at the club and the country, which is why the parties may soon extend the contract, the validity of which is calculated until the end of January 2022.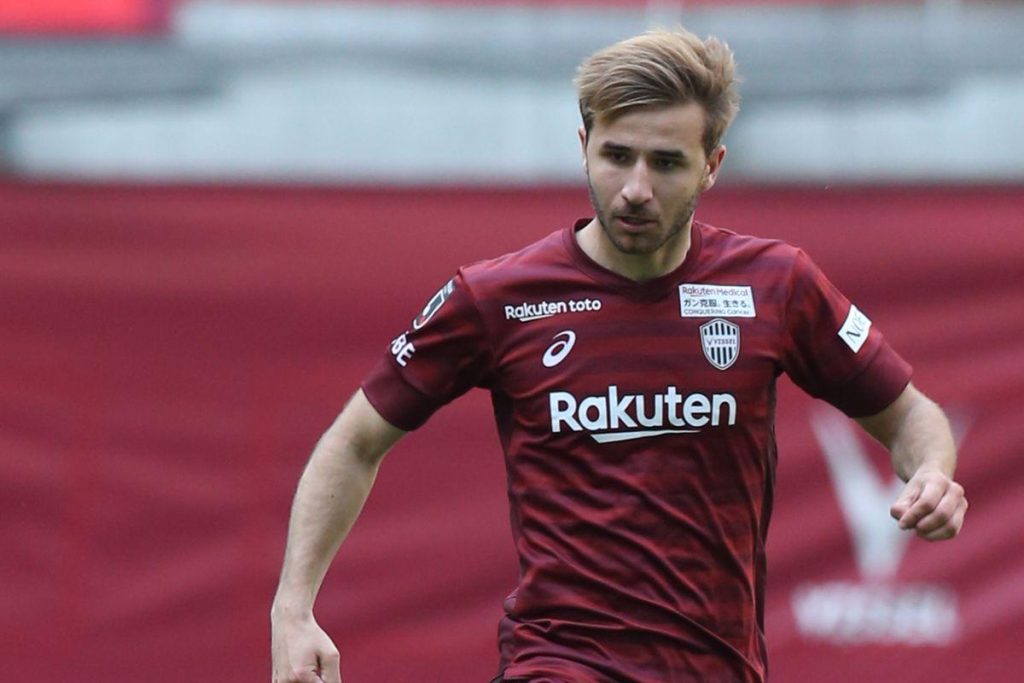 Sergi Samper was never able to become a real star of European football, although he was given phenomenal advances at a young age. He was called the second Xavi, and Barcelona expected that the midfielder would reach a similar level of play. However, at some stage of his career, things did not go well for Samper. He began to be bothered by injuries, returning after which Sergi could not mentally reconfigure himself and begin to demonstrate a high level on the field. As a result, in March 2019, after playing only 13 matches for the first team of Blaugranas, Sergi Samper terminated his contract with Barcelona and soon moved to Vissel Kobe as a free agent.
In Japan, Samper has already played 84 matches for Vissel Kobe, in which he scored one goal and gave seven assists. He managed to win the Cup and the Super Cup of the country, and in general, is in good standing. However, remaining in the J‑League, Samper is practically deprived of the chances of being called up to the Spanish national team. However, Sergi still has several years of his career ahead – in fact, its peak, and soon we will see where the midfielder decides to play his best years.
Thomas VERMAELEN
Age: 35 years
Citizenship: Belgium
Club: Vissel Kobe
Thomas Vermaelen disappeared from the radar of European fans in the summer of 2019, when he moved from Barcelona to Vissel Kobe as a free agent. However, this summer, Vermaelen again found himself in the spotlight when he took part in the final part of Euro 2020 as part of the Belgian national team, having played five matches at the tournament, three of which were in the starting line-up.
In Japan, Vermaelen is holding its third season. He is a critical football player of the foundation of Vissel Kobe, but this does not help Thomas to often find himself in the focus of attention of the European football media. Nevertheless, like Sergi Samper, Vermaelen managed to win two trophies in the Japanese team-the Cup and the Super Cup of the country, and in total, he played 45 matches for Vissel Kobe, in which he scored one goal and one assist.
Vissel Kobe may become the last club in Vermaelen's career. The Belgian's contract with the Japanese expires on January 31, 2022. So far, there is a high probability that the parties will agree on its extension for another season, and then Thomas will finish his career. What is true, in recent weeks, other information has appeared in the media on this score – that North American MLS clubs are interested in Vermaelen's services, where they wanted to drag the Belgian back in the summer of 2019. Still, then he chose the Land of the Rising Sun.
Bojan KRKIC
Age: 30 years
Citizenship: Spain
Club: Vissel Kobe
Another incredibly talented pupil of the Barcelona academy was predicted to have a crazy future but never managed to justify even half of his advances. Bojan Krkic played for the first team of "Blaugranas" from 2007 to 2011, having managed to play 163 matches, in which he scored 41 goals and gave 19 assists. Subsequently, Barcelona sold the delayed striker to Roma but soon repurchased him, although it is unclear why. Finally, after a series of leases at Ajax and Stoke City, the Catalans permanently released Krkic to the Potters ' camp for 1.8 million euros.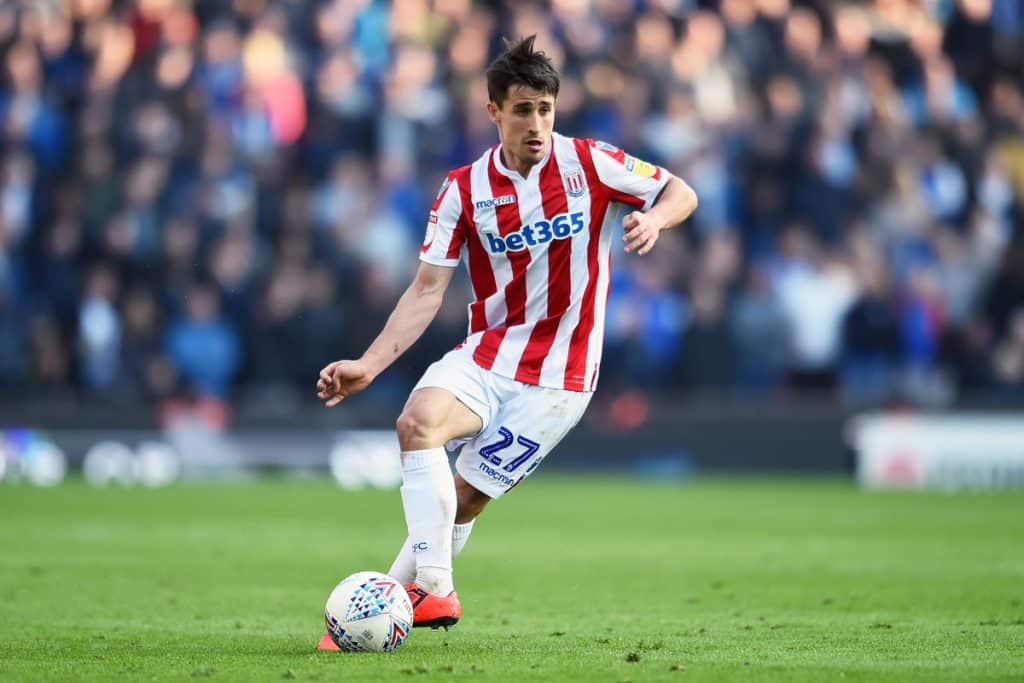 In the summer of 2019, Boyan left the English club, signing as a free agent a contract with the Canadian club "Montreal Impact", playing in the MLS. Krkich spent a year and a half there, and at the beginning of 2021, he received another"free". Thus, for more than six months, the once very talented striker remained without a club. Still, on August 9, the Japanese "Vissel Kobe", where they love to bet on age-related and well-known representatives of world football (in particular, European), announced the signing of Krkic.
Bojan's contract with Vissel Kobe is calculated until January 31, 2023. So far, the Spaniard with Serbian roots has not even made his debut in the J‑League, and therefore it is too premature to talk about how much he will be able to restart his career in the Land of the Rising Sun. Although in Europe, Krkich has probably already been wholly forgotten, given his one-and-a-half-year adventure in Montreal Impact and a six-month search for a new job.
Leandro DAMIAO
Age: 32 years
Citizenship: Brazil
Club: Kawasaki Frontale
Once upon a time, this Brazilian forward was hunted by almost all the giants of European football and those clubs that are well oriented in the South American market – in particular, Porto and Shakhtar. However, the management of Internacional managed to convince Damiao to sign a new contract, which may have somewhat undermined the player's motivation for more rapid progress. As a result, having previously refused offers of 30–40 million euros, Internacional sold Leandro Damiao to Santos in January 2014 for 13 million euros, but this deal was disastrous for Pisces.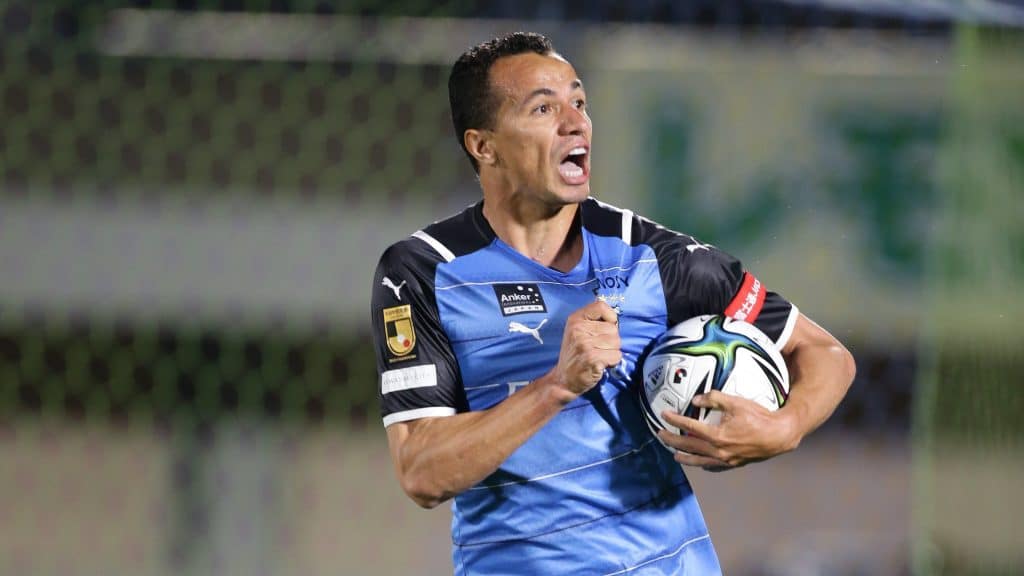 In Santos, Damiao failed (only six goals scored in 26 matches), as well as with a similar "success", he later played on loan for Cruzeiro, Betis and Flamengo. More or less, it was possible to find the former Damiao only during the loan period in his native Internacional in 2017–2018, but Leandro did not want to stay in Brazil. Thus, at the beginning of 2019, when the striker's contract with Santos expired, he left the club as a free agent and soon signed an agreement with the Japanese club Kawasaki Frontale, where he plays to this day.
In Japan, Damiao managed to become the leading player in his team. He demonstrates exemplary performance and generally receives good feedback about his game. This season, in 23 matches, the Brazilian has already recorded 13 goals scored and eight assists. As a result, Kawasaki Frontale is confidently leading in the standings and is close to defending the championship title won a year earlier.
Andres INIESTA
Age: 37 years
Citizenship: Spain
Club: Vissel Kobe
The 2010 world champion and two-time European champion Andres Iniesta does not need any other introduction. This football player, with energetic performances, became an absolute legend of Barcelona. Therefore, when in the summer of 2018 it became known about his departure from the capital of Catalonia, many fans of Blaugranas did not hide their tears.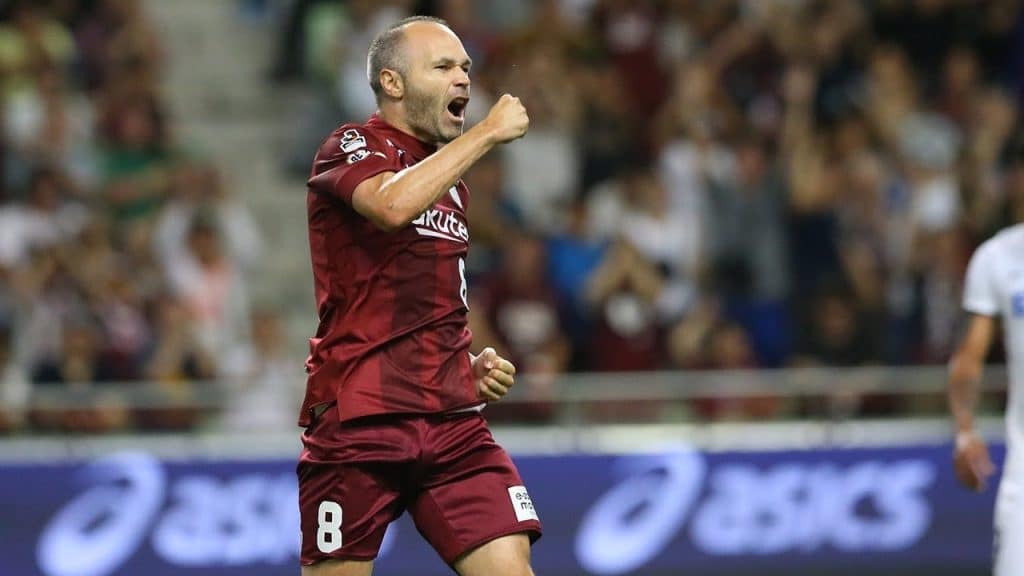 Whatever it was, Iniesta has not yet finished his career and pleases fans of Japanese football with his subtle understanding of football, transparent and timely passes, and almost logarithmic thinking on the field. It seems that nothing is impossible for Iniesta in football and Vissel Kobe appreciates this very much. In May of this year, the Japanese club took care of the extension of the contract with Andres, which was valid from the summer of 2018. Iniesta's current employment agreement with Vissel Kobe is calculated until January 31, 2024. At that time, the Spanish maestro will be almost 40 years old.
It should be noted that despite the presence of many well-known players in Europe, Vissel Kobe can not please Iniesta with the "gold" of the Japanese championship in any way. So this season, Andres ' team is still only the fifth and has lost real chances to compete for the tournament, as it lags behind Kawasaki Frontale by 21 points. Well, there will still be new draws ahead, and perhaps Iniesta will still get the title of champion of Japan.