English Premier League 2016–17 Fixtures According To EDT (USA Time), BST (British Time), IST (Indian Time), GMT+0
The schedule of England's professional football league known as Premier League has been announced for the new season. Here you will get Premier League upcoming matches according to EDT (USA Time), BST (British Summer Time), GMT+0 and Indian Standard Time The 25th season is beginning from 13th August 2016. Reigning champions Leicester will kick-off their title defence at newly-promoted Hull, as the Foxes look to see off the challenge of the likes of Arsenal, Chelsea, Tottenham, Liverpool, Manchester United and Manchester City.
With the new television contract lining the purses of club's with even bigger piles of cash, there should be several new big money players arriving this summer, along with the likes of Pep Guardiola and Antonio Conte in the dugout. Don't forget that the Special One Jose Mourinho is the new head-coach of Manchester United now, it also supplies additional intrigue to the 2016–2017 Premier League season. And with that in mind, fans will need to be aware that Sky Sports and BT Sport will be changing the more juicy looking fixtures for television coverage. All 20 football clubs are ready for another season of this competition. Look for all fixtures below.
English Premier League 2016–17 Fixtures EDT (USA Time), BST (British Time), IST (Indian Time), GMT+0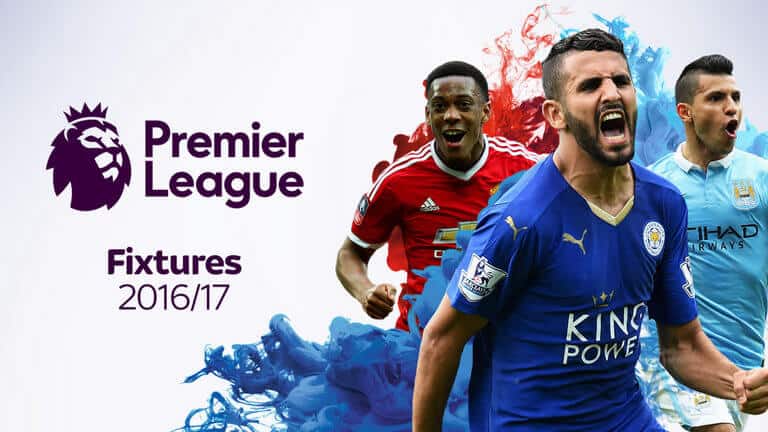 Gameweek 5 September 16–18
Chelsea v Liverpool September 16th, 2016; 15:00 EDT, 20:00 BST, 19:00 GMT+0, 0:30 IST (September 17th)
Hull City v Arsenal September 17th, 2016; 10:00 EDT, 15:00 BST, 14:00 GMT+0, 19:30 IST
Leicester City v Burnley September 17th, 2016; 10:00 EDT, 15:00 BST, 14:00 GMT+0, 19:30 IST
Manchester City v A.F.C. Bournemouth September 17th, 2016; 10:00 EDT, 15:00 BST, 14:00 GMT+0, 19:30 IST
West Bromwich Albion v West Ham United September 17th, 2016; 10:00 EDT, 15:00 BST, 14:00 GMT+0, 19:30 IST
Everton v Middlesbrough September 17th, 2016; 12:30 EDT, 17:30 BST, 16:30 GMT+0, 22:00 IST
Watford v Manchester United September 18th, 2016; 7:00 EDT, 12:00 BST, 11:00 GMT+0, 16:30 IST
Southampton v Swansea City September 18th, 2016; 9:15 EDT, 14:15 BST, 13:15 GMT+0, 18:45 IST
Crystal Palace v Stoke City September 18th, 2016; 9:15 EDT, 14:15 BST, 13:15 GMT+0, 18:45 IST
Tottenham Hotspur v Sunderland September 18th, 2016; 11:30 EDT, 16:30 BST, 15:30 GMT+0, 21:00 IST
Gameweek 6 September 24–26
Manchester United v Leicester City September 24th, 2016; 7:30 EDT, 12:30 BST, 11:30 GMT+0, 17:00 IST
A.F.C. Bournemouth v Everton September 24th, 2016; 10:00 EDT, 15:00 BST, 14:00 GMT+0, 19:30 IST
Liverpool v Hull City September 24th, 2016; 10:00 EDT, 15:00 BST, 14:00 GMT+0, 19:30 IST
Middlesbrough v Tottenham Hotspur September 24th, 2016; 10:00 EDT, 15:00 BST, 14:00 GMT+0, 19:30 IST
Stoke City v West Bromwich Albion September 24th, 2016; 10:00 EDT, 15:00 BST, 14:00 GMT+0, 19:30 IST
Sunderland v Crystal Palace September 24th, 2016; 10:00 EDT, 15:00 BST, 14:00 GMT+0, 19:30 IST
Swansea City v Manchester City September 24th, 2016; 10:00 EDT, 15:00 BST, 14:00 GMT+0, 19:30 IST
Arsenal v Chelsea September 24th, 2016; 12:30 EDT, 17:30 BST, 16:30 GMT+0, 22:00 IST
West Ham United v Southampton September 25th, 2016; 11:00 EDT, 16:00 BST, 15:00 GMT+0, 20:30 IST
Burnley v Watford September 26th, 2016; 15:00 EDT, 20:00 BST, 19:00 GMT+0, 0:30 (September 27th) IST
Gameweek 7 September 30 — October 2
Everton v Crystal Palace September 30th, 2016; 15:00 EDT, 20:00 BST, 19:00 GMT+0, 0:30 IST (October 1st)
Swansea City v Liverpool October 1st, 2016; 7:30 EDT, 12:30 BST, 11:30 GMT+0, 17:00 IST
West Ham United v Middlesbrough October 1st, 2016; 10:00 EDT, 15:00 BST, 14:00 GMT+0, 19:30 IST
Watford v A.F.C. Bournemouth October 1st, 2016; 10:00 EDT, 15:00 BST, 14:00 GMT+0, 19:30 IST
Hull City v Chelsea October 1st, 2016; 10:00 EDT, 15:00 BST, 14:00 GMT+0, 19:30 IST
Sunderland v West Bromwich Albion October 1st, 2016; 10:00 EDT, 15:00 BST, 14:00 GMT+0, 19:30 IST
Manchester United v Stoke City October 2nd, 2016; 7:00 EDT, 12:00 BST, 11:00 GMT+0, 16:30 IST
Leicester City v Southampton October 2nd, 2016; 9:15 EDT, 14:15 BST, 13:15 GMT+0, 18:45 IST
Tottenham Hotspur v Manchester City October 2nd, 2016; 9:15 EDT, 14:15 BST, 13:15 GMT+0, 18:45 IST
Burnley v Arsenal October 2nd, 2016; 12:30 EDT, 17:30 BST, 16:30 GMT+0, 22:00 IST
Gameweek 8 October 15–17
Chelsea v Leicester City October 15th, 2016; 17:00 IST, 12:30 BST, 11:30 GMT+0, 7:30 EDT
Arsenal v Swansea City October 15th, 2016; 19:30 IST , 15:00 BST, 14:00 GMT+0, 10:00 EDT
A.F.C. Bournemouth v Hull City October 15th, 2016; 19:30 IST , 15:00 BST, 14:00 GMT+0, 10:00 EDT
Manchester City v Everton October 15th, 2016; 19:30 IST , 15:00 BST, 14:00 GMT+0, 10:00 EDT
Stoke City v Sunderland October 15th, 2016; 19:30 IST , 15:00 BST, 14:00 GMT+0, 10:00 EDT
West Bromwich Albion v Tottenham Hotspur October 15th, 2016; 19:30 IST , 15:00 BST, 14:00 GMT+0, 10:00 EDT
Crystal Palace v West Ham United October 15th 2016; 22:00 IST, 17:30 BST, 16:30 GMT+0, 12:30 EDT
Middlesbrough v Watford October 16th, 2016; 18:00 IST, 13:30 BST, 12:30 GMT+0, 8:30 EDT
Southampton v Burnley October 16th, 2016; 20:30 IST , 16:00 BST, 15:00 GMT+0, 11:00 EDT
Liverpool v Manchester United October 17th 30th, 2016; 15:00 EDT, 20:00 BST, 19:00 GMT+0, 0:30 IST (October 1st)
Gameweek 9 October 22–23
A.F.C. Bournemouth v Tottenham Hotspur October 22nd, 2016; 17:00 IST, 12:30 BST, 11:30 GMT+0, 7:30 EDT
Arsenal v Middlesbrough October 22nd, 2016; 19:30 IST , 15:00 BST, 14:00 GMT+0, 10:00 EDT
Burnley v Everton October 22nd, 2016; 19:30 IST , 15:00 BST, 14:00 GMT+0, 10:00 EDT
Hull City v Stoke City October 22nd, 2016; 19:30 IST , 15:00 BST, 14:00 GMT+0, 10:00 EDT
Leicester City v Crystal Palace October 22nd, 2016; 19:30 IST , 15:00 BST, 14:00 GMT+0, 10:00 EDT
Swansea City v Watford October 22nd, 2016; 19:30 IST , 15:00 BST, 14:00 GMT+0, 10:00 EDT
West Ham United v Sunderland October 22nd, 2016; 19:30 IST , 15:00 BST, 14:00 GMT+0, 10:00 EDT
Liverpool v West Bromwich Albion October 22nd 2016; 22:00 IST, 17:30 BST, 16:30 GMT+0, 12:30 EDT
Manchester City v Southampton October 23rd, 2016; 18:00 IST, 13:30 BST, 12:30 GMT+0, 8:30 EDT
Chelsea v Manchester United October 23rd, 2016; 20:30 IST , 16:00 BST, 15:00 GMT+0, 11:00 EDT
Gameweek 10 October 29–31
Sunderland v Arsenal October 29th, 2016; 17:00 IST, 12:30 BST, 11:30 GMT+0, 7:30 EDT
Manchester United v Burnley October 29th, 2016; 19:30 IST , 15:00 BST, 14:00 GMT+0, 10:00 EDT
Middlesbrough v A.F.C. Bournemouth October 29th, 2016; 19:30 IST , 15:00 BST, 14:00 GMT+0, 10:00 EDT
Tottenham Hotspur v Leicester City October 29th, 2016; 19:30 IST , 15:00 BST, 14:00 GMT+0, 10:00 EDT
Watford v Hull City October 29th, 2016; 19:30 IST , 15:00 BST, 14:00 GMT+0, 10:00 EDT
West Bromwich Albion v Manchester City October 29th, 2016; 19:30 IST , 15:00 BST, 14:00 GMT+0, 10:00 EDT
Crystal Palace v Liverpool October 29th 2016; 22:00 IST, 17:30 BST, 16:30 GMT+0, 12:30 EDT
Everton v West Ham United October 30th, 2016; 18:00 IST, 13:30 BST, 12:30 GMT+0, 8:30 EDT
Southampton v Chelsea October 30th, 2016; 20:30 IST , 16:00 BST, 15:00 GMT+0, 11:00 EDT
Stoke City v Swansea City October 31st 30th, 2016; 15:00 EDT, 20:00 BST, 19:00 GMT+0, 0:30 IST (November 1st)
Gameweek 11 November 5–6
A.F.C. Bournemouth v Sunderland
Arsenal v Tottenham Hotspur
Burnley v Crystal Palace
Chelsea v Everton
Hull City v Southampton
Leicester City v West Bromwich Albion
Liverpool v Watford
Manchester City v Middlesbrough
Swansea City v Manchester United
West Ham United v Stoke City
Gameweek 12 November 19–21
Manchester United v Arsenal November 19th, 2016; 18:00 IST, 12:30 UK, 7:30 EST
Crystal Palace v Manchester City November 19th, 2016; 20:30 IST , 15:00 UK, 10:00 EST
Everton v Swansea City November 19th, 2016; 20:30 IST , 15:00 UK, 10:00 EST
Southampton v Liverpool November 19th, 2016; 20:30 IST , 15:00 UK, 10:00 EST
Stoke City v A.F.C. Bournemouth November 19th, 2016; 20:30 IST , 15:00 UK, 10:00 EST
Sunderland v Hull City November 19th, 2016; 20:30 IST , 15:00 UK, 10:00 EST
Watford v Leicester City November 19th, 2016; 20:30 IST , 15:00 UK, 10:00 EST
Tottenham Hotspur v West Ham United November 19th 2016; 23:00 IST, 17:30 UK, 12:30 EST
Middlesbrough v Chelsea November 20th, 2016; 21:30 IST , 16:00 UK, 11:00 EST
West Bromwich Albion v Burnley November 21st, 2016; 15:00 EST, 20:00 UK, 1:30 IST (November 22nd)
Gameweek 13 November 26–27
Arsenal v A.F.C. Bournemouth
Burnley v Manchester City
Chelsea v Tottenham Hotspur
Hull City v West Bromwich Albion
Leicester City v Middlesbrough
Liverpool v Sunderland
Manchester United v West Ham United
Southampton v Everton
Swansea City v Crystal Palace
Watford v Stoke City
Gameweek 14 December 3–4
A.F.C. Bournemouth v Liverpool
Crystal Palace v Southampton
Everton v Manchester United
Manchester City v Chelsea
Middlesbrough v Hull City
Stoke City v Burnley
Sunderland v Leicester City
Tottenham Hotspur v Swansea City
West Bromwich Albion v Watford
West Ham United v Arsenal
Gameweek 15 December 10–11
Arsenal v Stoke City
Burnley v A.F.C. Bournemouth
Chelsea v West Bromwich Albion
Hull City v Crystal Palace
Leicester City v Manchester City
Liverpool v West Ham United
Manchester United v Tottenham Hotspur
Southampton v Middlesbrough
Swansea City v Sunderland
Watford v Everton
Gameweek 16 December 13
A.F.C. Bournemouth v Leicester City
Crystal Palace v Manchester United
Middlesbrough v Liverpool
Sunderland v Chelsea
West Bromwich Albion v Swansea City
West Ham United v Burnley
Gameweek 16 December 14
Everton v Arsenal
Manchester City v Watford
Stoke City v Southampton
Tottenham Hotspur v Hull City
Gameweek 17 December 17–18
A.F.C. Bournemouth v Southampton
Crystal Palace v Chelsea
Everton v Liverpool
Manchester City v Arsenal
Middlesbrough v Swansea City
Stoke City v Leicester City
Sunderland v Watford
Tottenham Hotspur v Burnley
West Bromwich Albion v Manchester United
West Ham United v Hull City
Gameweek 18 December 26
Arsenal v West Bromwich Albion
Burnley v Middlesbrough
Chelsea v A.F.C. Bournemouth
Hull City v Manchester City
Leicester City v Everton
Liverpool v Stoke City
Manchester United v Sunderland
Southampton v Tottenham Hotspur
Swansea City v West Ham United
Watford v Crystal Palace
Gameweek 19 December 31
Arsenal v Crystal Palace
Burnley v Sunderland
Chelsea v Stoke City
Hull City v Everton
Leicester City v West Ham United
Liverpool v Manchester City
Manchester United v Middlesbrough
Southampton v West Bromwich Albion
Swansea City v A.F.C. Bournemouth
Watford v Tottenham Hotspur
Gameweek 20 January 2
A.F.C. Bournemouth v Arsenal
Crystal Palace v Swansea City
Everton v Southampton
Manchester City v Burnley
Middlesbrough v Leicester City
Stoke City v Watford
Sunderland v Liverpool
Tottenham Hotspur v Chelsea
West Bromwich Albion v Hull City
West Ham United v Manchester United
Gameweek 21 January 14–15
Burnley v Southampton
Everton v Manchester City
Hull City v A.F.C. Bournemouth
Leicester City v Chelsea
Manchester United v Liverpool
Sunderland v Stoke City
Swansea City v Arsenal
Tottenham Hotspur v West Bromwich Albion
Watford v Middlesbrough
West Ham United v Crystal Palace
Gameweek 22 January 21–22
A.F.C. Bournemouth v Watford
Arsenal v Burnley
Chelsea v Hull City
Crystal Palace v Everton
Liverpool v Swansea City
Manchester City v Tottenham Hotspur
Middlesbrough v West Ham United
Southampton v Leicester City
Stoke City v Manchester United
West Bromwich Albion v Sunderland
Gameweek 23 January 31
A.F.C. Bournemouth v Crystal Palace
Arsenal v Watford
Burnley v Leicester City
Middlesbrough v West Bromwich Albion
Sunderland v Tottenham Hotspur
Swansea City v Southampton
West Ham United v Manchester City
Gameweek 23 February 1
Liverpool v Chelsea
Stoke City v Everton
Manchester United v Hull City
Gameweek 24 February 4–5
Chelsea v Arsenal
Crystal Palace v Sunderland
Everton v A.F.C. Bournemouth
Hull City v Liverpool
Leicester City v Manchester United
Manchester City v Swansea City
Southampton v West Ham United
Tottenham Hotspur v Middlesbrough
Watford v Burnley
West Bromwich Albion v Stoke City
February 11–12
A.F.C. Bournemouth v Manchester City
Arsenal v Hull City
Burnley v Chelsea
Liverpool v Tottenham Hotspur
Manchester United v Watford
Middlesbrough v Everton
Stoke City v Crystal Palace
Sunderland v Southampton
Swansea City v Leicester City
West Ham United v West Bromwich Albion
February 25–26
Chelsea v Swansea City
Crystal Palace v Middlesbrough
Everton v Sunderland
Hull City v Burnley
Leicester City v Liverpool
Manchester City v Manchester United
Southampton v Arsenal
Tottenham Hotspur v Stoke City
Watford v West Ham United
West Bromwich Albion v A.F.C. Bournemouth
March 4–5
Leicester City v Hull City
Liverpool v Arsenal
Manchester United v A.F.C. Bournemouth
Stoke City v Middlesbrough
Sunderland v Manchester City
Swansea City v Burnley
Tottenham Hotspur v Everton
Watford v Southampton
West Bromwich Albion v Crystal Palace
West Ham United v Chelsea
March 11–12
A.F.C. Bournemouth v West Ham United
Arsenal v Leicester City
Burnley v Liverpool
Chelsea v Watford
Crystal Palace v Tottenham Hotspur
Everton v West Bromwich Albion
Hull City v Swansea City
Manchester City v Stoke City
Middlesbrough v Sunderland
Southampton v Manchester United
March 18–19
A.F.C. Bournemouth v Swansea City
Crystal Palace v Watford
Everton v Hull City
Manchester City v Liverpool
Middlesbrough v Manchester United
Stoke City v Chelsea
Sunderland v Burnley
Tottenham Hotspur v Southampton
West Bromwich Albion v Arsenal
West Ham United v Leicester City
April 1–2
Arsenal v Manchester City
Burnley v Tottenham Hotspur
Chelsea v Crystal Palace
Hull City v West Ham United
Leicester City v Stoke City
Liverpool v Everton
Manchester United v West Bromwich Albion
Southampton v A.F.C. Bournemouth
Swansea City v Middlesbrough
Watford v Sunderland
April 4
Arsenal v West Ham United
Burnley v Stoke City
Hull City v Middlesbrough
Leicester City v Sunderland
Manchester United v Everton
Swansea City v Tottenham Hotspur
Watford v West Bromwich Albion
April 5
Chelsea v Manchester City
Liverpool v A.F.C. Bournemouth
Southampton v Crystal Palace
April 8–9
A.F.C. Bournemouth v Chelsea
Crystal Palace v Arsenal
Everton v Leicester City
Manchester City v Hull City
Middlesbrough v Burnley
Stoke City v Liverpool
Sunderland v Manchester United
Tottenham Hotspur v Watford
West Bromwich Albion v Southampton
West Ham United v Swansea City
April 15–16
Crystal Palace v Leicester City
Everton v Burnley
Manchester United v Chelsea
Middlesbrough v Arsenal
Southampton v Manchester City
Stoke City v Hull City
Sunderland v West Ham United
Tottenham Hotspur v A.F.C. Bournemouth
Watford v Swansea City
West Bromwich Albion v Liverpool
April 22–23
A.F.C. Bournemouth v Middlesbrough
Arsenal v Sunderland
Burnley v Manchester United
Chelsea v Southampton
Hull City v Watford
Leicester City v Tottenham Hotspur
Liverpool v Crystal Palace
Manchester City v West Bromwich Albion
Swansea City v Stoke City
West Ham United v Everton
April 29–30
Crystal Palace v Burnley
Everton v Chelsea
Manchester United v Swansea City
Middlesbrough v Manchester City
Southampton v Hull City
Stoke City v West Ham United
Sunderland v A.F.C. Bournemouth
Tottenham Hotspur v Arsenal
Watford v Liverpool
West Bromwich Albion v Leicester City
May 6–7
A.F.C. Bournemouth v Stoke City
Arsenal v Manchester United
Burnley v West Bromwich Albion
Chelsea v Middlesbrough
Hull City v Sunderland
Leicester City v Watford
Liverpool v Southampton
Manchester City v Crystal Palace
Swansea City v Everton
West Ham United v Tottenham Hotspur
May 13–14
A.F.C. Bournemouth v Burnley
Crystal Palace v Hull City
Everton v Watford
Manchester City v Leicester City
Middlesbrough v Southampton
Stoke City v Arsenal
Sunderland v Swansea City
Tottenham Hotspur v Manchester United
West Bromwich Albion v Chelsea
West Ham United v Liverpool
May 21
Arsenal v Everton
Burnley v West Ham United
Chelsea v Sunderland
Hull City v Tottenham Hotspur
Leicester City v A.F.C. Bournemouth
Liverpool v Middlesbrough
Manchester United v Crystal Palace
Southampton v Stoke City
Swansea City v West Bromwich Albion
Watford v Manchester City