English Premier League 2016–17 Fixtures According To EDT (USA Time), BST (British Time), IST (Indian Time), GMT+0
The sched­ule of England's pro­fes­sion­al foot­ball league known as Premi­er League has been announced for the new sea­son. Here you will get Premi­er League upcom­ing matches accord­ing to EDT (USA Time), BST (Brit­ish Sum­mer Time), GMT+0 and Indi­an Stand­ard Time The 25th sea­son is begin­ning from 13th August 2016. Reign­ing cham­pi­ons Leicester will kick-off their title defence at newly-pro­moted Hull, as the Foxes look to see off the chal­lenge of the likes of Arsen­al, Chelsea, Tot­ten­ham, Liv­er­pool, Manchester United and Manchester City.
With the new tele­vi­sion con­tract lin­ing the purses of club's with even big­ger piles of cash, there should be sev­er­al new big money play­ers arriv­ing this sum­mer, along with the likes of Pep Guar­diola and Ant­o­nio Conte in the dugout. Don't for­get that the Spe­cial One Jose Mour­inho is the new head-coach of Manchester United now, it also sup­plies addi­tion­al intrigue to the 2016–2017 Premi­er League sea­son. And with that in mind, fans will need to be aware that Sky Sports and BT Sport will be chan­ging the more juicy look­ing fix­tures for tele­vi­sion cov­er­age. All 20 foot­ball clubs are ready for anoth­er sea­son of this com­pet­i­tion. Look for all fix­tures below.
English Premier League 2016–17 Fixtures EDT (USA Time), BST (British Time), IST (Indian Time), GMT+0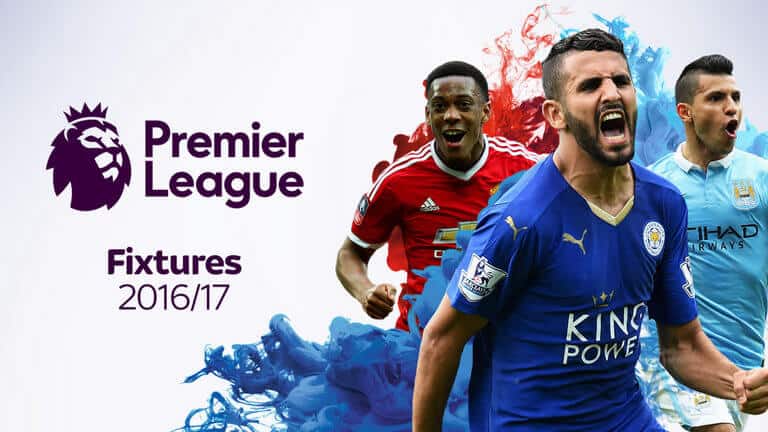 Gameweek 5 September 16–18
Chelsea v Liv­er­pool Septem­ber 16th, 2016; 15:00 EDT, 20:00 BST, 19:00 GMT+0, 0:30 IST (Septem­ber 17th)
Hull City v Arsen­al Septem­ber 17th, 2016; 10:00 EDT, 15:00 BST, 14:00 GMT+0, 19:30 IST
Leicester City v Burn­ley Septem­ber 17th, 2016; 10:00 EDT, 15:00 BST, 14:00 GMT+0, 19:30 IST
Manchester City v A.F.C. Bournemouth Septem­ber 17th, 2016; 10:00 EDT, 15:00 BST, 14:00 GMT+0, 19:30 IST
West Brom­wich Albion v West Ham United Septem­ber 17th, 2016; 10:00 EDT, 15:00 BST, 14:00 GMT+0, 19:30 IST
Ever­ton v Middles­brough Septem­ber 17th, 2016; 12:30 EDT, 17:30 BST, 16:30 GMT+0, 22:00 IST
Wat­ford v Manchester United Septem­ber 18th, 2016; 7:00 EDT, 12:00 BST, 11:00 GMT+0, 16:30 IST
Southamp­ton v Swansea City Septem­ber 18th, 2016; 9:15 EDT, 14:15 BST, 13:15 GMT+0, 18:45 IST
Crys­tal Palace v Stoke City Septem­ber 18th, 2016; 9:15 EDT, 14:15 BST, 13:15 GMT+0, 18:45 IST
Tot­ten­ham Hot­spur v Sun­der­land Septem­ber 18th, 2016; 11:30 EDT, 16:30 BST, 15:30 GMT+0, 21:00 IST
Gameweek 6 September 24–26
Manchester United v Leicester City Septem­ber 24th, 2016; 7:30 EDT, 12:30 BST, 11:30 GMT+0, 17:00 IST
A.F.C. Bournemouth v Ever­ton Septem­ber 24th, 2016; 10:00 EDT, 15:00 BST, 14:00 GMT+0, 19:30 IST
Liv­er­pool v Hull City Septem­ber 24th, 2016; 10:00 EDT, 15:00 BST, 14:00 GMT+0, 19:30 IST
Middles­brough v Tot­ten­ham Hot­spur Septem­ber 24th, 2016; 10:00 EDT, 15:00 BST, 14:00 GMT+0, 19:30 IST
Stoke City v West Brom­wich Albion Septem­ber 24th, 2016; 10:00 EDT, 15:00 BST, 14:00 GMT+0, 19:30 IST
Sun­der­land v Crys­tal Palace Septem­ber 24th, 2016; 10:00 EDT, 15:00 BST, 14:00 GMT+0, 19:30 IST
Swansea City v Manchester City Septem­ber 24th, 2016; 10:00 EDT, 15:00 BST, 14:00 GMT+0, 19:30 IST
Arsen­al v Chelsea Septem­ber 24th, 2016; 12:30 EDT, 17:30 BST, 16:30 GMT+0, 22:00 IST
West Ham United v Southamp­ton Septem­ber 25th, 2016; 11:00 EDT, 16:00 BST, 15:00 GMT+0, 20:30 IST
Burn­ley v Wat­ford Septem­ber 26th, 2016; 15:00 EDT, 20:00 BST, 19:00 GMT+0, 0:30 (Septem­ber 27th) IST
Gameweek 7 September 30 — October 2
Ever­ton v Crys­tal Palace Septem­ber 30th, 2016; 15:00 EDT, 20:00 BST, 19:00 GMT+0, 0:30 IST (Octo­ber 1st)
Swansea City v Liv­er­pool Octo­ber 1st, 2016; 7:30 EDT, 12:30 BST, 11:30 GMT+0, 17:00 IST
West Ham United v Middles­brough Octo­ber 1st, 2016; 10:00 EDT, 15:00 BST, 14:00 GMT+0, 19:30 IST
Wat­ford v A.F.C. Bournemouth Octo­ber 1st, 2016; 10:00 EDT, 15:00 BST, 14:00 GMT+0, 19:30 IST
Hull City v Chelsea Octo­ber 1st, 2016; 10:00 EDT, 15:00 BST, 14:00 GMT+0, 19:30 IST
Sun­der­land v West Brom­wich Albion Octo­ber 1st, 2016; 10:00 EDT, 15:00 BST, 14:00 GMT+0, 19:30 IST
Manchester United v Stoke City Octo­ber 2nd, 2016; 7:00 EDT, 12:00 BST, 11:00 GMT+0, 16:30 IST
Leicester City v Southamp­ton Octo­ber 2nd, 2016; 9:15 EDT, 14:15 BST, 13:15 GMT+0, 18:45 IST
Tot­ten­ham Hot­spur v Manchester City Octo­ber 2nd, 2016; 9:15 EDT, 14:15 BST, 13:15 GMT+0, 18:45 IST
Burn­ley v Arsen­al Octo­ber 2nd, 2016; 12:30 EDT, 17:30 BST, 16:30 GMT+0, 22:00 IST
Gameweek 8 October 15–17
Chelsea v Leicester City Octo­ber 15th, 2016; 17:00 IST, 12:30 BST, 11:30 GMT+0, 7:30 EDT
Arsen­al v Swansea City Octo­ber 15th, 2016; 19:30 IST , 15:00 BST, 14:00 GMT+0, 10:00 EDT
A.F.C. Bournemouth v Hull City Octo­ber 15th, 2016; 19:30 IST , 15:00 BST, 14:00 GMT+0, 10:00 EDT
Manchester City v Ever­ton Octo­ber 15th, 2016; 19:30 IST , 15:00 BST, 14:00 GMT+0, 10:00 EDT
Stoke City v Sun­der­land Octo­ber 15th, 2016; 19:30 IST , 15:00 BST, 14:00 GMT+0, 10:00 EDT
West Brom­wich Albion v Tot­ten­ham Hot­spur Octo­ber 15th, 2016; 19:30 IST , 15:00 BST, 14:00 GMT+0, 10:00 EDT
Crys­tal Palace v West Ham United Octo­ber 15th 2016; 22:00 IST, 17:30 BST, 16:30 GMT+0, 12:30 EDT
Middles­brough v Wat­ford Octo­ber 16th, 2016; 18:00 IST, 13:30 BST, 12:30 GMT+0, 8:30 EDT
Southamp­ton v Burn­ley Octo­ber 16th, 2016; 20:30 IST , 16:00 BST, 15:00 GMT+0, 11:00 EDT
Liv­er­pool v Manchester United Octo­ber 17th 30th, 2016; 15:00 EDT, 20:00 BST, 19:00 GMT+0, 0:30 IST (Octo­ber 1st)
Gameweek 9 October 22–23
A.F.C. Bournemouth v Tot­ten­ham Hot­spur Octo­ber 22nd, 2016; 17:00 IST, 12:30 BST, 11:30 GMT+0, 7:30 EDT
Arsen­al v Middles­brough Octo­ber 22nd, 2016; 19:30 IST , 15:00 BST, 14:00 GMT+0, 10:00 EDT
Burn­ley v Ever­ton Octo­ber 22nd, 2016; 19:30 IST , 15:00 BST, 14:00 GMT+0, 10:00 EDT
Hull City v Stoke City Octo­ber 22nd, 2016; 19:30 IST , 15:00 BST, 14:00 GMT+0, 10:00 EDT
Leicester City v Crys­tal Palace Octo­ber 22nd, 2016; 19:30 IST , 15:00 BST, 14:00 GMT+0, 10:00 EDT
Swansea City v Wat­ford Octo­ber 22nd, 2016; 19:30 IST , 15:00 BST, 14:00 GMT+0, 10:00 EDT
West Ham United v Sun­der­land Octo­ber 22nd, 2016; 19:30 IST , 15:00 BST, 14:00 GMT+0, 10:00 EDT
Liv­er­pool v West Brom­wich Albion Octo­ber 22nd 2016; 22:00 IST, 17:30 BST, 16:30 GMT+0, 12:30 EDT
Manchester City v Southamp­ton Octo­ber 23rd, 2016; 18:00 IST, 13:30 BST, 12:30 GMT+0, 8:30 EDT
Chelsea v Manchester United Octo­ber 23rd, 2016; 20:30 IST , 16:00 BST, 15:00 GMT+0, 11:00 EDT
Gameweek 10 October 29–31
Sun­der­land v Arsen­al Octo­ber 29th, 2016; 17:00 IST, 12:30 BST, 11:30 GMT+0, 7:30 EDT
Manchester United v Burn­ley Octo­ber 29th, 2016; 19:30 IST , 15:00 BST, 14:00 GMT+0, 10:00 EDT
Middles­brough v A.F.C. Bournemouth Octo­ber 29th, 2016; 19:30 IST , 15:00 BST, 14:00 GMT+0, 10:00 EDT
Tot­ten­ham Hot­spur v Leicester City Octo­ber 29th, 2016; 19:30 IST , 15:00 BST, 14:00 GMT+0, 10:00 EDT
Wat­ford v Hull City Octo­ber 29th, 2016; 19:30 IST , 15:00 BST, 14:00 GMT+0, 10:00 EDT
West Brom­wich Albion v Manchester City Octo­ber 29th, 2016; 19:30 IST , 15:00 BST, 14:00 GMT+0, 10:00 EDT
Crys­tal Palace v Liv­er­pool Octo­ber 29th 2016; 22:00 IST, 17:30 BST, 16:30 GMT+0, 12:30 EDT
Ever­ton v West Ham United Octo­ber 30th, 2016; 18:00 IST, 13:30 BST, 12:30 GMT+0, 8:30 EDT
Southamp­ton v Chelsea Octo­ber 30th, 2016; 20:30 IST , 16:00 BST, 15:00 GMT+0, 11:00 EDT
Stoke City v Swansea City Octo­ber 31st 30th, 2016; 15:00 EDT, 20:00 BST, 19:00 GMT+0, 0:30 IST (Novem­ber 1st)
Gameweek 11 November 5–6
A.F.C. Bournemouth v Sun­der­land
Arsen­al v Tot­ten­ham Hot­spur
Burn­ley v Crys­tal Palace
Chelsea v Ever­ton
Hull City v Southamp­ton
Leicester City v West Brom­wich Albion
Liv­er­pool v Wat­ford
Manchester City v Middles­brough
Swansea City v Manchester United
West Ham United v Stoke City
Gameweek 12 November 19–21
Manchester United v Arsen­al Novem­ber 19th, 2016; 18:00 IST, 12:30 UK, 7:30 EST
Crys­tal Palace v Manchester City Novem­ber 19th, 2016; 20:30 IST , 15:00 UK, 10:00 EST
Ever­ton v Swansea City Novem­ber 19th, 2016; 20:30 IST , 15:00 UK, 10:00 EST
Southamp­ton v Liv­er­pool Novem­ber 19th, 2016; 20:30 IST , 15:00 UK, 10:00 EST
Stoke City v A.F.C. Bournemouth Novem­ber 19th, 2016; 20:30 IST , 15:00 UK, 10:00 EST
Sun­der­land v Hull City Novem­ber 19th, 2016; 20:30 IST , 15:00 UK, 10:00 EST
Wat­ford v Leicester City Novem­ber 19th, 2016; 20:30 IST , 15:00 UK, 10:00 EST
Tot­ten­ham Hot­spur v West Ham United Novem­ber 19th 2016; 23:00 IST, 17:30 UK, 12:30 EST
Middles­brough v Chelsea Novem­ber 20th, 2016; 21:30 IST , 16:00 UK, 11:00 EST
West Brom­wich Albion v Burn­ley Novem­ber 21st, 2016; 15:00 EST, 20:00 UK, 1:30 IST (Novem­ber 22nd)
Gameweek 13 November 26–27
Arsen­al v A.F.C. Bournemouth
Burn­ley v Manchester City
Chelsea v Tot­ten­ham Hot­spur
Hull City v West Brom­wich Albion
Leicester City v Middles­brough
Liv­er­pool v Sun­der­land
Manchester United v West Ham United
Southamp­ton v Ever­ton
Swansea City v Crys­tal Palace
Wat­ford v Stoke City
Gameweek 14 December 3–4
A.F.C. Bournemouth v Liv­er­pool
Crys­tal Palace v Southamp­ton
Ever­ton v Manchester United
Manchester City v Chelsea
Middles­brough v Hull City
Stoke City v Burn­ley
Sun­der­land v Leicester City
Tot­ten­ham Hot­spur v Swansea City
West Brom­wich Albion v Wat­ford
West Ham United v Arsen­al
Gameweek 15 December 10–11
Arsen­al v Stoke City
Burn­ley v A.F.C. Bournemouth
Chelsea v West Brom­wich Albion
Hull City v Crys­tal Palace
Leicester City v Manchester City
Liv­er­pool v West Ham United
Manchester United v Tot­ten­ham Hot­spur
Southamp­ton v Middles­brough
Swansea City v Sun­der­land
Wat­ford v Ever­ton
Gameweek 16 December 13
A.F.C. Bournemouth v Leicester City
Crys­tal Palace v Manchester United
Middles­brough v Liv­er­pool
Sun­der­land v Chelsea
West Brom­wich Albion v Swansea City
West Ham United v Burn­ley
Gameweek 16 December 14
Ever­ton v Arsen­al
Manchester City v Wat­ford
Stoke City v Southamp­ton
Tot­ten­ham Hot­spur v Hull City
Gameweek 17 December 17–18
A.F.C. Bournemouth v Southamp­ton
Crys­tal Palace v Chelsea
Ever­ton v Liv­er­pool
Manchester City v Arsen­al
Middles­brough v Swansea City
Stoke City v Leicester City
Sun­der­land v Wat­ford
Tot­ten­ham Hot­spur v Burn­ley
West Brom­wich Albion v Manchester United
West Ham United v Hull City
Gameweek 18 December 26
Arsen­al v West Brom­wich Albion
Burn­ley v Middles­brough
Chelsea v A.F.C. Bournemouth
Hull City v Manchester City
Leicester City v Ever­ton
Liv­er­pool v Stoke City
Manchester United v Sun­der­land
Southamp­ton v Tot­ten­ham Hot­spur
Swansea City v West Ham United
Wat­ford v Crys­tal Palace
Gameweek 19 December 31
Arsen­al v Crys­tal Palace
Burn­ley v Sun­der­land
Chelsea v Stoke City
Hull City v Ever­ton
Leicester City v West Ham United
Liv­er­pool v Manchester City
Manchester United v Middles­brough
Southamp­ton v West Brom­wich Albion
Swansea City v A.F.C. Bournemouth
Wat­ford v Tot­ten­ham Hot­spur
Gameweek 20 January 2
A.F.C. Bournemouth v Arsen­al
Crys­tal Palace v Swansea City
Ever­ton v Southamp­ton
Manchester City v Burn­ley
Middles­brough v Leicester City
Stoke City v Wat­ford
Sun­der­land v Liv­er­pool
Tot­ten­ham Hot­spur v Chelsea
West Brom­wich Albion v Hull City
West Ham United v Manchester United
Gameweek 21 January 14–15
Burn­ley v Southamp­ton
Ever­ton v Manchester City
Hull City v A.F.C. Bournemouth
Leicester City v Chelsea
Manchester United v Liv­er­pool
Sun­der­land v Stoke City
Swansea City v Arsen­al
Tot­ten­ham Hot­spur v West Brom­wich Albion
Wat­ford v Middles­brough
West Ham United v Crys­tal Palace
Gameweek 22 January 21–22
A.F.C. Bournemouth v Wat­ford
Arsen­al v Burn­ley
Chelsea v Hull City
Crys­tal Palace v Ever­ton
Liv­er­pool v Swansea City
Manchester City v Tot­ten­ham Hot­spur
Middles­brough v West Ham United
Southamp­ton v Leicester City
Stoke City v Manchester United
West Brom­wich Albion v Sun­der­land
Gameweek 23 January 31
A.F.C. Bournemouth v Crys­tal Palace
Arsen­al v Wat­ford
Burn­ley v Leicester City
Middles­brough v West Brom­wich Albion
Sun­der­land v Tot­ten­ham Hot­spur
Swansea City v Southamp­ton
West Ham United v Manchester City
Gameweek 23 February 1
Liv­er­pool v Chelsea
Stoke City v Ever­ton
Manchester United v Hull City
Gameweek 24 February 4–5
Chelsea v Arsen­al
Crys­tal Palace v Sun­der­land
Ever­ton v A.F.C. Bournemouth
Hull City v Liv­er­pool
Leicester City v Manchester United
Manchester City v Swansea City
Southamp­ton v West Ham United
Tot­ten­ham Hot­spur v Middles­brough
Wat­ford v Burn­ley
West Brom­wich Albion v Stoke City
February 11–12
A.F.C. Bournemouth v Manchester City
Arsen­al v Hull City
Burn­ley v Chelsea
Liv­er­pool v Tot­ten­ham Hot­spur
Manchester United v Wat­ford
Middles­brough v Ever­ton
Stoke City v Crys­tal Palace
Sun­der­land v Southamp­ton
Swansea City v Leicester City
West Ham United v West Brom­wich Albion
February 25–26
Chelsea v Swansea City
Crys­tal Palace v Middles­brough
Ever­ton v Sun­der­land
Hull City v Burn­ley
Leicester City v Liv­er­pool
Manchester City v Manchester United
Southamp­ton v Arsen­al
Tot­ten­ham Hot­spur v Stoke City
Wat­ford v West Ham United
West Brom­wich Albion v A.F.C. Bournemouth
March 4–5
Leicester City v Hull City
Liv­er­pool v Arsen­al
Manchester United v A.F.C. Bournemouth
Stoke City v Middles­brough
Sun­der­land v Manchester City
Swansea City v Burn­ley
Tot­ten­ham Hot­spur v Ever­ton
Wat­ford v Southamp­ton
West Brom­wich Albion v Crys­tal Palace
West Ham United v Chelsea
March 11–12
A.F.C. Bournemouth v West Ham United
Arsen­al v Leicester City
Burn­ley v Liv­er­pool
Chelsea v Wat­ford
Crys­tal Palace v Tot­ten­ham Hot­spur
Ever­ton v West Brom­wich Albion
Hull City v Swansea City
Manchester City v Stoke City
Middles­brough v Sun­der­land
Southamp­ton v Manchester United
March 18–19
A.F.C. Bournemouth v Swansea City
Crys­tal Palace v Wat­ford
Ever­ton v Hull City
Manchester City v Liv­er­pool
Middles­brough v Manchester United
Stoke City v Chelsea
Sun­der­land v Burn­ley
Tot­ten­ham Hot­spur v Southamp­ton
West Brom­wich Albion v Arsen­al
West Ham United v Leicester City
April 1–2
Arsen­al v Manchester City
Burn­ley v Tot­ten­ham Hot­spur
Chelsea v Crys­tal Palace
Hull City v West Ham United
Leicester City v Stoke City
Liv­er­pool v Ever­ton
Manchester United v West Brom­wich Albion
Southamp­ton v A.F.C. Bournemouth
Swansea City v Middles­brough
Wat­ford v Sun­der­land
April 4
Arsen­al v West Ham United
Burn­ley v Stoke City
Hull City v Middles­brough
Leicester City v Sun­der­land
Manchester United v Ever­ton
Swansea City v Tot­ten­ham Hot­spur
Wat­ford v West Brom­wich Albion
April 5
Chelsea v Manchester City
Liv­er­pool v A.F.C. Bournemouth
Southamp­ton v Crys­tal Palace
April 8–9
A.F.C. Bournemouth v Chelsea
Crys­tal Palace v Arsen­al
Ever­ton v Leicester City
Manchester City v Hull City
Middles­brough v Burn­ley
Stoke City v Liv­er­pool
Sun­der­land v Manchester United
Tot­ten­ham Hot­spur v Wat­ford
West Brom­wich Albion v Southamp­ton
West Ham United v Swansea City
April 15–16
Crys­tal Palace v Leicester City
Ever­ton v Burn­ley
Manchester United v Chelsea
Middles­brough v Arsen­al
Southamp­ton v Manchester City
Stoke City v Hull City
Sun­der­land v West Ham United
Tot­ten­ham Hot­spur v A.F.C. Bournemouth
Wat­ford v Swansea City
West Brom­wich Albion v Liv­er­pool
April 22–23
A.F.C. Bournemouth v Middles­brough
Arsen­al v Sun­der­land
Burn­ley v Manchester United
Chelsea v Southamp­ton
Hull City v Wat­ford
Leicester City v Tot­ten­ham Hot­spur
Liv­er­pool v Crys­tal Palace
Manchester City v West Brom­wich Albion
Swansea City v Stoke City
West Ham United v Ever­ton
April 29–30
Crys­tal Palace v Burn­ley
Ever­ton v Chelsea
Manchester United v Swansea City
Middles­brough v Manchester City
Southamp­ton v Hull City
Stoke City v West Ham United
Sun­der­land v A.F.C. Bournemouth
Tot­ten­ham Hot­spur v Arsen­al
Wat­ford v Liv­er­pool
West Brom­wich Albion v Leicester City
May 6–7
A.F.C. Bournemouth v Stoke City
Arsen­al v Manchester United
Burn­ley v West Brom­wich Albion
Chelsea v Middles­brough
Hull City v Sun­der­land
Leicester City v Wat­ford
Liv­er­pool v Southamp­ton
Manchester City v Crys­tal Palace
Swansea City v Ever­ton
West Ham United v Tot­ten­ham Hot­spur
May 13–14
A.F.C. Bournemouth v Burn­ley
Crys­tal Palace v Hull City
Ever­ton v Wat­ford
Manchester City v Leicester City
Middles­brough v Southamp­ton
Stoke City v Arsen­al
Sun­der­land v Swansea City
Tot­ten­ham Hot­spur v Manchester United
West Brom­wich Albion v Chelsea
West Ham United v Liv­er­pool
May 21
Arsen­al v Ever­ton
Burn­ley v West Ham United
Chelsea v Sun­der­land
Hull City v Tot­ten­ham Hot­spur
Leicester City v A.F.C. Bournemouth
Liv­er­pool v Middles­brough
Manchester United v Crys­tal Palace
Southamp­ton v Stoke City
Swansea City v West Brom­wich Albion
Wat­ford v Manchester City