Company behind this project
BRO OU, Registered com­pany in Esto­nia under registry code 14093867
Loc­ated in Tallinn, Esto­nia,
Address: Tuukri 19, 13917, Tallinn, Esto­nia
Phone: +37255957956
Email: info@footballwood.com
People behind this project
Roman Boris­sov MSc. Edit­or.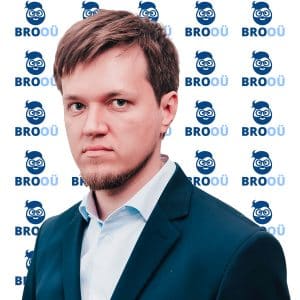 Roman stud­ied at Main­or High School in Esto­nia. After he went to Uni­ver­sity of Tartu for obtain­ing Mas­ter of Arts degree in spe­cial­iz­a­tion "Design and devel­op­ment of vir­tu­al envir­on­ments" in 2009. Few years later he has foun­ded BRO OU Com­pany, which main­tains web pro­jects like Footballwood.com.
Roman played foot­ball for the Uni­ver­sity of Tartu in a pos­i­tion of a mid­field­er for 3 years. He truly loves this game and happy to be part of that world. MSc. Edit­or has many pro­jects to main­tain, but Foot­ball­wood is one of the favor­ites.
"Our pro­ject is inspired by a pas­sion for that mag­ni­fi­cent game, which I played since child­hood. And today we are happy to con­nect our life and work with foot­ball", this is how Roman describes Foot­ball­wood.
Per­son­al con­tact: roman@borissov.ee
You can also vis­it page "Con­tact US" for gen­er­al enquires.
Vic­tor Presnyakov, Journ­al­ist, Copy­writer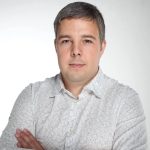 Vikt­or fin­ished the Taras Shevchen­ko Nation­al Uni­ver­sity of Kyiv (fac­ulty Philo­logy) in 2011. He likes to write great stor­ies about sport, tech­no­lo­gies, polit­ics, etc. But what he likes more than oth­er is foot­ball. Today Vikt­or live and work in Kyiv as a seni­or copy­writer with more than 5 years of exper­i­ence.
He has been respons­ible for hun­dreds of art­icles on the sports niche. Author has sig­ni­fic­ant exper­i­ence as a con­tent man­ager at lead­ing UK com­pan­ies. His free time he likes to spend in trans­lat­ing sci­ence art­icles and (of course) play­ing foot­ball.
His pub­lic­a­tions allow you to pass through the mazes of football's world. The most inter­est­ing events will be described and offered to your atten­tion. Without a doubt, Vic­tor loves foot­ball because it is an import­ant part of his life. And he'll be con­tinu­ing to do the best and make excel­lent pub­lic­a­tions for you.
With all requests and ques­tions you can con­tact by e‑mail: viktor@footballwood.com
Denis Ser­gi­en­ko, Journ­al­ist, Copy­writer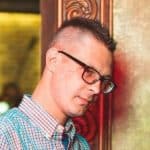 A devoted sports fan and copy­writer, Denis got a Bach­el­or Degree in Eco­nomy and ded­ic­ated his life to writ­ing cap­tur­ing stor­ies for the glob­al sports com­munity on the web. He handles effi­cient SMM strategies as well as pro­duces con­tent for web­sites and Media portals related to dif­fer­ent themes.
Denis played for the Sevastopol State Uni­ver­sity Foot­ball and Bas­ket­ball Team for 4 years. He con­stantly mon­it­ors all major foot­ball cham­pi­on­ships includ­ing La Liga and Premi­er League, while Ser­ia A has always been his main devo­tion from the times of Roberto Bag­gio, Franco Baresi and oth­er legendary ex-gen play­ers.
With all requests and ques­tions you can con­tact by e‑mail: Sergienko@footballwood.com
Obi­won Echi, M.D, Colum­nist.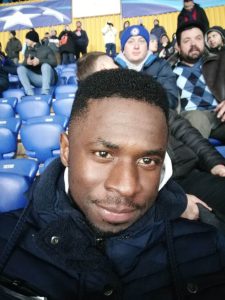 Obi­won is a gradu­ate of the Inter­na­tion­al Academy of Medi­cine and Eco­logy, Kyiv, Ukraine where he obtained the degree of Doc­tor of Medi­cine. He is a pas­sion­ate foot­ball fan and likes to work as a colum­nist as a part time job.
He had joined FootballWood.com team at the begin­ning of 2018.
As an edit­or in Footballwood.com, he cov­ers news, match pre­views, reviews and much more from major leagues round the globe.
Con­tact Obi­won Echi on per­son­al e‑mail: Obiwon@footballwood.com
Trav­is Mokey, MSc, Journ­al­ist.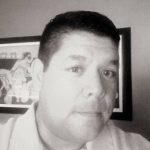 Trav­is stud­ied at Uni­ver­sity of North Car­o­lina at Chapel Hill (Cul­tur­al and Diversity fac­ulty) in 2010. He began his journ­al­ism career almost 8 years ago, work­ing in the weekly news­pa­per industry and world web. Dur­ing his pro­fes­sion­al career, he traveled to UK, Italy, Spain, Switzer­land, Rus­sia, and India.
He had joined FootballWood.com team at the begin­ning of 2016. Today Trav­is is MSc, Journ­al­ist of our pro­ject. Besides, he con­tin­ues work­ing with biggest brands and com­pan­ies in the world due to his pro­fes­sion­al pas­sion to writ­ing and trav­el­ing.
He had the pleas­ures of meet­ing inter­na­tion­al events and writ­ing about major leagues, trans­fers, hot news, etc. Trav­is is a foot­ball enthu­si­ast­ic writer and he has ana­lyzed and described almost every major events dur­ing 2016 sea­son.
Con­tact Trav­is Mokey on per­son­al e‑mail: observer@footballwood.com
Max­im Mikhaylov, Journ­al­ist.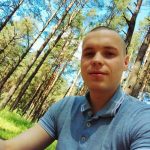 Max­im Mikhaylov born in Rus­si­an Fed­er­a­tion. He Stud­ied at Sar­atov State Uni­ver­sity at the Fac­ulty of Com­puter Sci­ence and Inform­a­tion Tech­no­lo­gies. Earned a mas­ter degree in 2012. He worked as a journ­al­ist for 5 years before join­ing Foot­ball­wood. Max­im worked on a wide vari­ety of news and enter­tain­ment stor­ies. He loves writ­ing about foot­ball matches, events and most pop­u­lar super­stars like Ron­aldo, Messi, Ney­mar, and oth­ers.
Max­im is foot­ball addicted and he's totally enjoin­ing that life­style. He is a reg­u­lar play­er of FC "Zarya" on pos­i­tion of striker. His anoth­er hobby is pro­fes­sion­al com­ment­ing of foot­ball matches on the loc­al radio. Max­im likes to spend his free time with own fam­ily and close friends.
Work­ing on Foot­ball­wood, he is fol­low­ing top five European leagues and major Asi­an and North Amer­ic­an tour­na­ments. He is respons­ible for match pre­views, import­ant foot­ball news and match reviews of the major leagues.
Con­tact Max­im Mikhaylov on per­son­al e‑mail: makkin17@footballwood.com
Naresh Sap­kota, Author.
No longer con­nec­ted to pro­ject
San­jeev Singh. Author, Edit­or.
No longer con­nec­ted to pro­ject