Barcelona thrashed Real Madrid at the Santiago Bernabeu by 4–0. The El Clasico of 21 November 2015 will be remembered for years as The Catalans destroyed Los Blancos on their home ground. Download the highlights video of Real Madrid vs Barcelona 4–0 match. Luis Suarez was the star of the night as the player struck two goals into the net. Remaining goals were scored by Brazil's Neymar and Spain's Andres Iniesta. It was a brilliant performance by Barca. They are now leading the La Liga 2015–16 table with six points clear with Real Madrid.
Download Real Madrid VS Barcelona 0–4 Match Highlights Video
Before the kick off of the game, both teams and manager of both clubs with fans had a minute of silence for the victims of Paris attack. Behind them, there was a big flag of France.
The game started by the visitors and they continued by dominating the possession. Luis Suarez was the deadlock broker who sent the ball into the back of the net in 11th minute of the first half. There was a great combination from Barcelona forwards. That was only the second goal Real Madrid had conceded at home all season, but their usually strong defence simply had no answer.
Barcelona didn't stop there. They kept on destroying the defence of Real Madrid. Brazilian super star Neymar came forward and scored the second goal which was the huge blow for Real Madrid.
After defeat at the hands of Sevilla, Real Madrid suffered second defeat in a row. It never materialized. The hosts managed just one shot on target in the first half, while Cristiano Ronaldo was quiet for much of the game.
Midfielder master Andres Iniesta was the named as the man of the match as the midfielder created incredible goal scoring chances. He scored one goal also.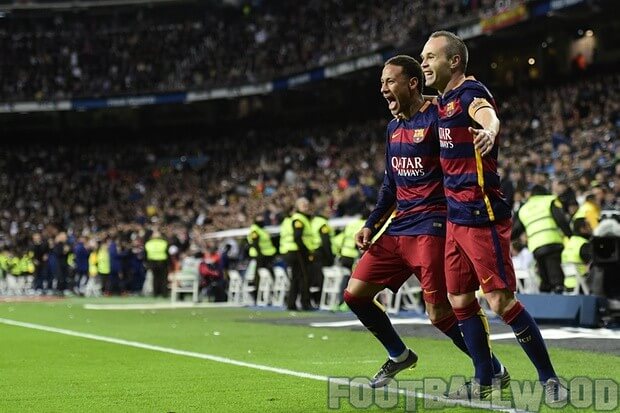 Real Madrid Vs Barcelona Stats
Real Madrid: Navas, Danilo, Varane, Ramos, Marcelo, Modric, Kroos, Rodriguez, Bale, Ronaldo, Benzema
Substitute: Pepe, Cortes, Casemiro, Carvajal, Kovacic, Jese, Isco
Barcelona: Bravo, Dani Alves, Pique, Mascherano, Alba, Rakitic, Busquets, Iniesta, Sergi, Suarez, Neymar
Substitute: ter Stegen, Messi, El Haddadi, Ramirez, Adriano, Vermaelen, Mathieu.
| | | |
| --- | --- | --- |
| Real Madrid | Stats | Barcelona |
| 0 | Goals | 4 |
| 41% | Possession | 59% |
| 13 | Shots | 18 |
| 7 | Shots on target | 7 |
| 10 | Corners | 3 |
| 13 | Fouls | 10 |
Real Madrid are now at second place in current standings with 24 points in first 12 games of La Liga 2015–16. Barca are leading with a comfortable gap of six points with 2 defeats.