The Indian Super League Football club Delhi Dynamos FC announces open football trails for Delhi NCR kids. Are you looking for great football opportunity? Are you ready to show your skills? Are you ready to play with football stars? then a mouthwatering opportunity is here just for you. The talented stars will get a chance to be a part of a skill enrichment workshop and larger opportunities. Before the start of second ISL season, Delhi Dynamos have started exploring young Indian talents.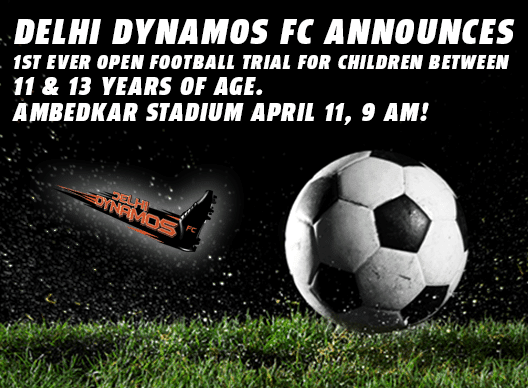 Right from the first season of Hero Indian Super League, they begun a campaign named as grassroots in search of Indian football talents. Delhi Dynamos ran a tournament "Junior Dynamos" which was one of the largest ever Inter School Football Tournament with a particular of over 2400 players from 180 schools. The club have not taken next step that will enhance their skills and technical knowledge that will help them into professional footballer.
Schedule of First Football Trials In Delhi
Date: 11th April 2015
Time: 9:00 am
Venue: Ambedkar Stadium, New Delhi
Age: 11 to 13 years.
Only those who are born in 2002, 2003 or 2004 can apply. Candidates will be given chance to showcase their talents under the guidance of Delhi Dynamos FC technical team. Selected candidates will get a chance to participate in Reliance Foundation Young Champs selection camp.
In a statement Delhi Dynamos said "The Dynamos are now stepping up their game by holding Delhi's first ever open football trials to identify and nurture real footballing talent at a young age. DDFC hopes to refine these children's game skills, enhance their technical knowledge and ultimately mould them into professional football players."
So apply for the trials now and show your best. Footballwood wishes you good luck for your trials.