Former Barcelona and Atletico Madrid forward David Villa scored in his debut match for New York City Football Club. The Spanish footballer scored an opening goal against St. Mirren that went a 2–0 win for his new club in first official match. The newly formed American football club NYFC won their first ever official match on Tuesday when they made 2–0 victory in a friendly match at Manchester.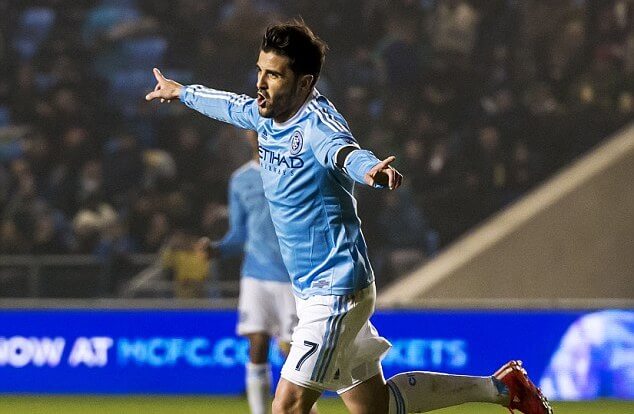 David Villa impressed as he scored on his debut for NYCFC
Being NYCFC football player, it was the first ever match of Villa and he made it a memorable day as the player scored first goal for New York Football Club. He could be joined by the Chelsea super star Frank Lampard in the next season of MLS. Villa has now qualms with Frank Lampard's decision to delay his arrival at NYCFC until July. The English footballer was seen preparing for Manchester City's next match at the Britannia stadium. Earlier, Lampard was due to join this club but he postponed his move to the Big Apple so he could see the season out with Man City. Related: New York City FC on loan players About Lampard's absence, Villa said "It would have been great if he was here now, but obviously for the football club the best thing is for him to stay in Manchester. We are only going to be focused to work hard so that when he joins in July, we can be a team that is really good and he can only improve us." A tweet of his first goal was also tweeted on twitter. Have a look on video tweet below.
David Villa's (@Guaje7Villa) first goal for @NYCFC. pic.twitter.com/8XXLVwVUiT — Major League Soccer (@MLS) February 10, 2015
One man who did make his debut on a chilly night in Manchester was former Spain striker David Villa. The 33 year old footballer has graced some of the world's biggest stages but this was a low key introduction in front of around two thousands spectators on the site of an old dyeworks. NYFC men were appeared in sky blue jersey and white shorts which was looking quite similar as compared to that of Manchester City FC. Although it was a friendly match, but first win of NYFC in official game will obviously add confidence to players.