Bad news for the fans of David Beckham as the former England team captain injured during a car accident when he was picking his son from Arsenal Training. The incident took place on Saturday when both were on the way back to their home from training of Brooklyn Beckham. But the good news is that no serious injury have been found because of airbags.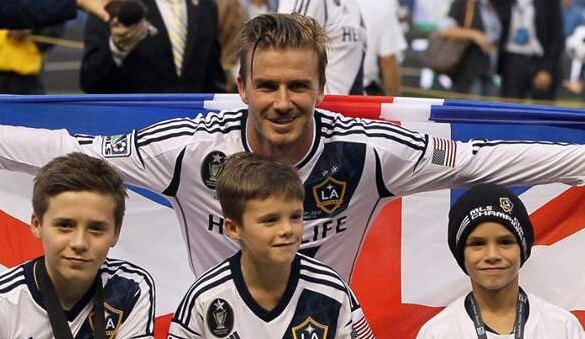 The oldest son of David Beckham is 15 years old. He plays for Arsenal's under 16 side and had been playing against Brighton's under 16s in Hertfordshire. Both father and son were traveling in Audi RS6 that collided with Mitsubishi Colt. No words have been spoken damage of both cars. Friend of Brooklyn though the whole episode was utterly surreal and tweeted "Weird to play against Brooklyn Beckham earlier. Even weirder to be currently stuck behind David Beckham as he has crashed his car." His son is playing for Arsenal U‑16 team who is signed by the club for a short term contract in November. Plans for sealing a long term deal next summer may also be on the cards if the 15 year old continues to shine. Read also: David Beckham top male beauty inspiration Tweets on David Beckham car Accident
David Beckham car crash:Brighton under-18s witness accident outside Arsenal's training ground (Get well soon Beckhams pic.twitter.com/kbhpSMjfMo — Goonerette Sang (@afc1stluv) November 30, 2014
David Beckham & his son Brooklyn were in a car accident. The car crashed right outside of arsenal's training ground complex. Both are ok. — Leah (@LeahVdc) November 30, 2014
David Beckham and his son Brooklyn were involved in a car accident after picking him up from Arsenal Training. Luckily no serious injuries. — thecypriotafc (@thecypriotafc) November 30, 2014
This is the third time Beckham is involved in an accident in last 3 years. We know, you all wants who was the second driver, but police have refused to reveal name of Mitsubishi car driver. They have only revealed name of second car.