Finally the name announced which was the favorite of most players & fans last season. The Real Madrid & Portuguese striker Cristiano Ronaldo is now world's best player & won FIFA Ballon D'or award. CR7 has stopped the successive wins of Argentina & Barcelona's forward Lionel Messi. At the award ceremony, lots of football stars & celebrities were present to attend one of the best ceremony of football. Some other awards also given to other nominations which we are sharing with you right over here.
Winner of FIFA Ballon D'or 2013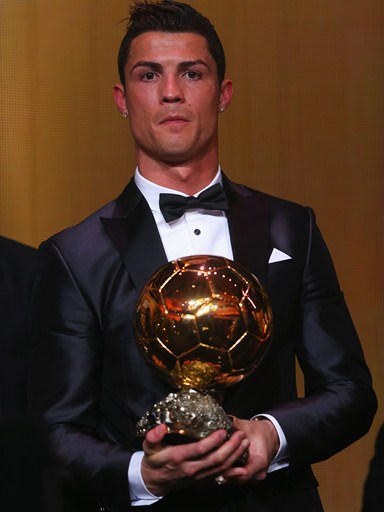 Cristiano Ronaldo is the winner of FIFA Ballon D'or 2013. The player who performed his best career season last year turned out a remember able yer for him. Last year performance was his best ever. This is the second time he won this golden trophy. Last time, he won it when he was playing for English club Manchester United. At that ceremony, he name was announced by his manager Sir Alex Ferguson. In last season he scored total of 69 goals in 60 appearances in both international & club duty. Not only that, he also helped his Portugal National Football team to qualify for FIFA World Cup 2014 Brazil. He also scored a hat-trick against Sweden in Play-off matches.
Other Awards Given at Ceremony
Some other awards also given to the champion of the champions which includes best Coach of the year men & women. Awards like FIFPro World 11 & Puskas Award were also awarded to the players. List of all awards given in Ballon D'or ceremony is given below.
AWARD WINNERS AT BALLON D'OR 2013 CEREMONY
Best Player of the year [Men]
Cristiano Ronaldo
Best Player of the year [Women]
Nadine Angerer
Best coach of the year [Men]
Jupp Heynckes
Best Coach of the year [Women]
Silvia Neid
FIFPro World 11 [Best team of the year]
Manuel [GK] Silva [DF] Lahm [DF] Ramos [DF] Alves [DF] Iniesta
[DF] Xavi Hernandez [DF] Ribery [DF] Cristiano Ronaldo [FW] Zlatan [FW] Messi [FW]
Fair Play Award
Afghanistan Football Association
Puskas Award [Goal of the Year]
Zlatan Ibrahimovic
While receiving award Ronaldo had tears in his eyes. He dedicated this award to Late football legend Eusebio