Cristiano Ronaldo to miss next match against Eibar
The Real Madrid winger Cristiano Ronaldo will not play the next game against Eibar due to yellow card that was given during Rayo Vallecano clash. Los Blancos are four points behind the league leaders Barcelona and now they have to face their next rivals without the leading goal scorer of La Liga.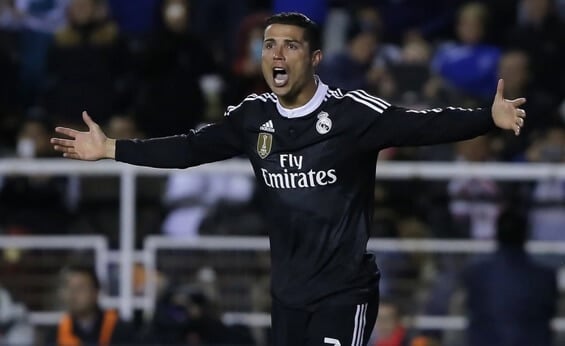 Ronaldo should have walked off the pitch at Vallecas after winning successfully over Rayo Vallecano. But, he went straight to the referee after the final whistle to protest the official's decisions to book him for diving when Andotio Amaya brought him down inside the area.
Interesting: Salary of Cristiano Ronaldo at Real Madrid
In the 50th minute, Vallecano defender Amaya fouled him down inside penalty box area. Instead to giving penalty, the referee showed yellow card to Ronaldo for diving. The reactions of Ronaldo, his team mates and away fans were unbelievable.
All wasn't lost, however, for Real Madrid and the team's fans. Ronaldo recovered to put on a spectacular show and headed in the 300th goal of his Real Madrid career in the 67th minute.
Worst news for Real Madrid fans yet to come because it's not only Ronaldo who will miss next game against Eibar, Toni Kroos and James Rodriguez also will miss next game of La Liga for yellow cards booking.
Real Madrid are likely to make appeal against the yellow card given to Cristiano Ronaldo. The top scorer of La Liga is challenging Barca's Lionel Messi and one game suspension could close the gap of Ronaldo's and Messi's goal difference.
Barcelona's forward Messi is three goals behind Ronaldo. Los Blancos are still at second spot with four points behind Barca followed by defending champions Atletico Madrid at third spot.