Cristiano Ronaldo 2015 new metallic silver / Orange / black Nike Mercurial Superfly football boots have been leaked. We have got some leaked pictures of CR7 2015 Silver Superfly soccer cleats which we are going to share with you right over here. Nike recently unveiled rare golden Ballon Boot's for Ronaldo and now they are looking to launch new Nike Mercurial boots. So let's take a look on new Mercurial boots designed specially for the Real Madrid winger.
CR7 Silver Nike Mercurial Superfly 2015
The new Mercurial Superfly boots of Cristiano Ronaldo are mainly featured with silver finish on upper surface. The design of these new boots is inspired from 2014 Ballon D'or rare gold boots. These are considered as the most advanced football boots with a fit collar also. Given below are the leaked pictures of 2015 silver Mercurial boots of Ronaldo. Have a look.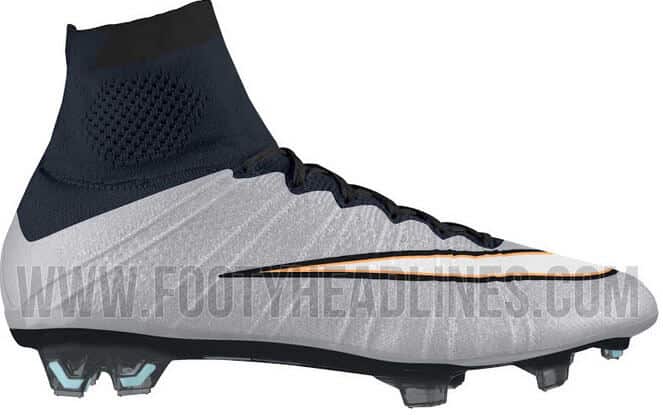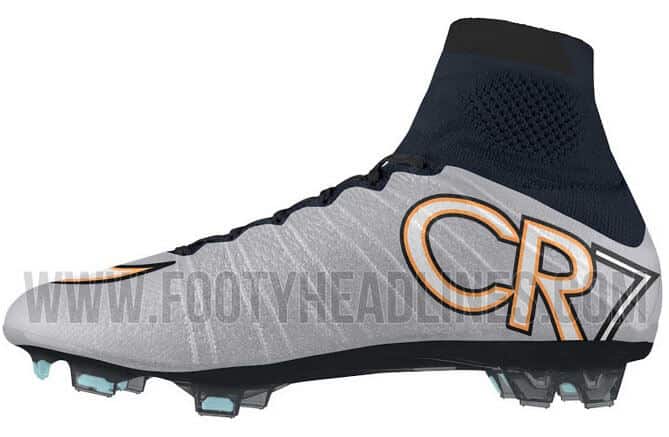 These new Nike Mercurial Superfly 2015 boots of Cristiano Ronaldo are manufactured for speed. On the upper front surface, Nike swoosh in white application with black border is designed. The one piece tongue less silver upper of the new Nike Mercurial Superfly CR7 2015 boots combines Flyknit, Nikeskin and ACC to provide a glove like fit.
For sole manufacturing, black lightweight carbon fiber is used in CR7 Nike Mercurial 2015 Silver boots of Cristiano Ronaldo which provides dynamic speed. The fit collar, fly knit, Nikeskin and a carbon fiber makes these boots the most advanced soccer shoes of Nike Mercurial series.
That's all about the leaked information of Nike Mercurial 2015 silver boots of Ronaldo. These boots will be wear by the three times FIFA Ballon D'or winner from mid March. The new Nike Mercurial Superfly Ronaldo 2015 boots will be available in some selected stores from the month of March.