Cristiano Ronaldo has set up another world record. This is an off-field record as the Real Madrid winger have surpassed Colombian Pop Star Shakira in terms of most fans on social networking website Facebook. In short, Cristiano Ronaldo is the most liked person on FB. He has now more than 107 million likes and it stands is round about 5,000 clear of Shakira.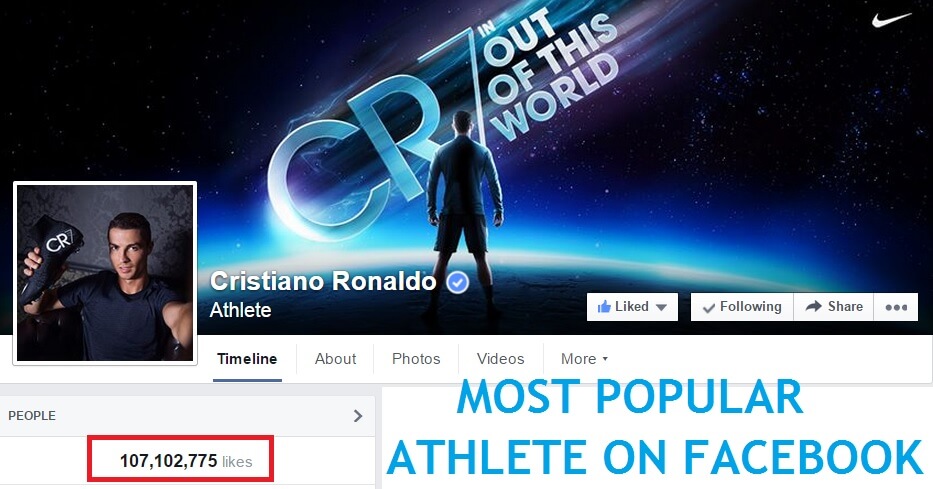 Cristiano Ronaldo is most Popular on Facebook
The Portuguese captain may be struggling for his dominant form on field, but he continues to create new records off field. Ronaldo is the most favorite player on social network Facebook after overtaking Gerard Pique's wife Shakira. At the second, Barcelona's forward Lionel Messi is there with 78 million likes. This means Ronaldo have maintained huge gap of FB likes between his closest competitor Lionel Messi. After these two giants, there is player who already said goodbye to football, but still one of the most popular players on Facebook. Former Real Madrid player David Beckham is at third spot who is known for having more than 50 million FB likes. Interesting: Most Popular Footballers on Facebook Cristiano Ronaldo is also most popular on other social platforms which includes Google+, Twitter. The player has more than 34 million followers on Twitter and he has one million more followers than Ricardo Kaka who is at second spot. This year is turning out to be a tough one for Cristiano Ronaldo. Although he scored 2 goals during return leg of round of 16 in UEFA Champions League, but the player has vowed not to speak to media until the end of the season. Cristiano Ronaldo's side Real Madrid will play their next game against Levante in La Liga 2014–15. The Vikings will be looking to earn three precious points as their next fixture is against El Clasico rivals Barcelona at Camp Nou.