Cristiano Ronaldo & Gareth Bale are one of the most prominent football players who are currently playing for Spanish club Real Madrid. These two players are the most expensive football players in history. Before Gareth Bale, Ronaldo was the most expensive, but after the arrival of Italian coach Carlo Ancelotti, he made a record signing to sign the former Tottenham Hotspur player with record price of 86 million pounds which broke all records of football transfer. In return, this duo is creating history with trophies & goals. Both of them are also known for scoring amazing goals. Here we are sharing one of the most popular & long range goals of Bale & Ronaldo. So brace yourself for watching best goals of this fast & furious duo.
Cristiano Ronaldo Best Goals in Real Madrid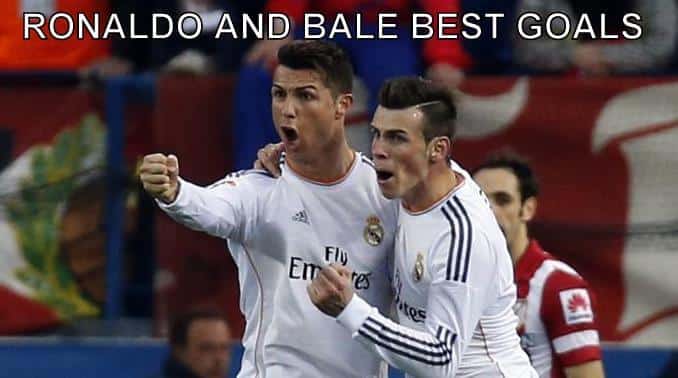 On 1 July of 2009, Ronaldo joined Real Madrid with a record transfer fee of 80 million pounds. Los Blancos legend Alfredo de Stefano presented him new jersey for his new club. During the presentation more than 80,000 Madridistas were present at Estadio Santiago Bernabeu. Against Shamrock, he made debut of his new club which turned a win for the vikings. Cristiano Ronaldo scored his first goal for Real Madrid with a penalty which went to 4–2 win over LDU Quito. He is the first player to win all major trophies with two clubs. He is called as goal scorer machine & have ability to score stunning goals.
Gareth Bale Best Goals for Real Madrid
Given below is the best goals video of Gareth Bale. The 25 year old player had fantastic season with his former club Tottenham Hotspur. There he scored lots of goals which made him PFA player of the year & 2 times young player of the year. Due to these achievements, managers from other club took interest in him, but it was Carlo Ancelotti who showed greatest interest. In first season of his charge, Ancelotti broke record of all time transfers & made an agreement with Welshes player. Gareth Bale scored one goal in his opening game against Villareal He suffered a lot in first season which forced him to remain on beck because of injuries. His goal against Barcelona in Copa del Rey was the best goal of the season.