All Facts and Figures with records, Statistics of Copa America Football competition
The South American football championship Copa America is just few days away to begin in Chile. Before enjoying this one of the best football competitions, you should know about some facts and figures of it. From 2 confederations, total of 12 national football teams are selected for this mega event. CONMEBOL, the football organizing governing body of South America is all set for 44th edition of it. Lets have a look on Copa America facts and figures.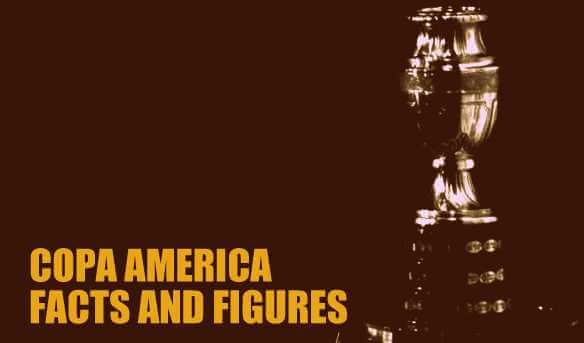 Mexico was the first non South American National football team to win Copa America competition

Brazil won the final of 1949 cup by 7–0. This is the largest win in the history of this competition.

In its territory, Uruguay have never lost this tournament in 20th Century. They won the campaign in 1917, 1923, 1923, 1924, 1942, 1956, 1967, 1995.
The biggest win in the history of Copa America is 12–0, made by Argentina against Uruguay in 1942.
So far in this championship, 15 national football teams have made appearances. Out of these 15 teams, 10 are from CONMEBOL confederation. In 2015, Jamaica will be 16th team to play Copa America.
Total of 726 official games have been played in this competition with average of 3.28 goals per game. Quite interesting fact. Isn't it?
During Copa America 1922 which was held in Brazil, the average goals per game record was 2.00, the lowest in history.
The Whites and Sky Blues [Argentina] are have won the most number of matches. They have won 111 games after playing 173, lost 31 and drew 31 times.
National football stadium of Peru and Lima holds record of hosting most number of Copa America matches. These grounds have organized 76 official games.
Argentina have scored the most number of goals with total count of 422, while Japan have scored 3 goals after playing 3 games.

To decide winner, seven editions have needed addition games

Argentina have played final of Copa America 26 times, more than any other team
Uruguay have made 34 semi final appearances which is the highest semi final appearances.

Chile have lost most number of CA football matches. The nation have lost 81 times, more than any other team.

So far in this tournament, 2381 goals have been scored in the history.

Argentina hold the record of winning Copa America three times in a row [1945,1946 and 1947].

Copa America 1927 saw 37 goals with an average goal per game ratio of 6.17 in 6 games, highest in the history. Least number of goals [22] have been scored in 1922 Brazil.
Norberto Mendez [Argentina] and Zizinho [Brazil] are the leading goal scorer of this football competition who have netted 17 times.

Jair da Rosa have record of scoring most number of goals in one season [9 goals].

Only Scarone, Marvezzi and Evaristo have netted five times in one game of Copa America.

Honduras have conceded least number of goals [5]

Johnnier Montano is the youngest goalscorer of Copa America. He scored the youngest goal at the age of 16 years and 172 days.

1009 minutes without conceding goal is yet another interesting fact of this championship

Uruguay is the most successful team as they have won it 15 times followed by Argentina [14 titles].
Venezuela, Chile and Ecuador are the only South American National Football teams who have never won this competition so far. Will they do it this time?
Related: Copa America worldwide broadcasting rights
Facts of 2015 Copa America Football Tournament
In 2015, Jamaica will play their first ever tournament. They are the first Caribbean who will make appearance in 2015.

Earlier, Brazil was going to host the 44th edition, but due to organizing 2014 World Cup, 2013 Confederation Cup and 2016 Olympics ahead, they decided to swap this edition with Chile. This means Chile will host this edition and 45th edition will be organized by Brazil.

Spain football team was invited for the competition, but the 2010 World Cup champions refused to play because the Royal Spanish Football Federation didn't want to interrupt the vacations of their players.

Champion of Copa America 2015 will automatically qualify for the Confederation cup of 2017 which will be held in Russia.

If world cup vice champions wins this Copa America, they will join Uruguay in winning it most times.
So these are the facts and figures of Copa America football tournament. Hope you like it.