Here is the schedule of Copa America Centenario 2016 in IST [Indian Standard Time]. Full fixtures of match dates and timing of Copa America which is going to be held in United States this year. This is the 45th edition of Copa America since its inception in 1916, will be held as part of an agreement between CONMEBOL and CONCACAF. It will be played by 16 men national football teams from these two confederations. Although it's a confederation campaign, but the winning team would not be able to qualify for FIFA Confederation Cup 2017 as Chile have already qualified for that tournament. Check out the schedule in IST below.
Copa America Centenario 2016 IST Schedule Fixtures
Being host nation of the championship, United States will begin the competition against Colombia on 3rd June. Only one game will be played on the opening day. Champions and winners of Copa America 2015 are in Group D. Qualified teams: United States, Mexico, Costa Rica, Jamaica, Haiti, Panama, Argentina, Bolivia, Brazil, Chile, Colombia, Ecuador, Paraguay, Peru, Uruguay, Venezuela.
Match
Date
Time
Venue
Group Stage
USA vs Colombia
03 June
TBD
Levi's Stadium
Brazil vs Ecuador
04 June
TBD
Rose Bowl
Costa Rica vs Paraguay
04 June
TBD
Orlando Citrus Bowl
Haiti vs Peru
04 June
TBD
Centurylink Field
Mexico vs Uruguay
05 June
TBD
University of Phoenix Stadium
Jamaica vs Venezuela
05 June
TBD
Soldier Field
Argentina vs Chile
06 June
TBD
Levi's Stadium
Panama vs Bolivia
06 June
TBD
Orlando Citrus Bowl
USA vs Costa Rica
07 June
TBD
Soldier Field
Colombia vs Paraguay
07 June
TBD
Rose Bowl
Ecuador vs Peru
08 June
TBD
University of Phoenix Stadium
Brazil vs Haiti
08 June
TBD
Orlando Citrus Bowl
Mexico vs Jamaica
09 June
TBD
Rose Bowl
Uruguay vs Venezuela
09 June
TBD
Lincoln Financial Field
Argentina vs Panama
10 June
TBD
Soldier Field
Chile vs Bolivia
10 June
TBD
Gillette Stadium
USA vs Paraguay
11 June
TBD
Lincoln Financial Field
Colombia vs Costa Rica
11 June
TBD
NRG Stadium
Brazil vs Peru
12 June
TBD
Gillette Stadium
Ecuador vs Haiti
12 June
TBD
Metlife Stadium
Mexico vs Venezuela
13 June
TBD
NRG Stadium
Uruguay vs Jamaica
13 June
TBD
Levi's Stadium
Argentina vs Bolivia
14 June
TBD
Century Link Field
Chile vs Panama
14 June
TBD
Lincoln Financial Field
Quarter Finals
TBD
16 June
TBD
Centurylink field
TBD
17 June
TBD
Metlife Stadium
TBD
18 June
TBD
Gillette Stadium
TBD
18 June
TBD
Levi's Stadium
Semi finals
TBD
21 June
TBD
NRG Stadium
TBD
22 June
TBD
Soldier Field
Match For Third Place
TBD
25 June
TBD
University of Phoenix Stadium
Final
TBD
June
TBD
Metlife Stadium
Download schedule Click on the above link to download IST schedule of Copa America. Note: Match timings are not announced yet. List will be updated after confirmation of match timings.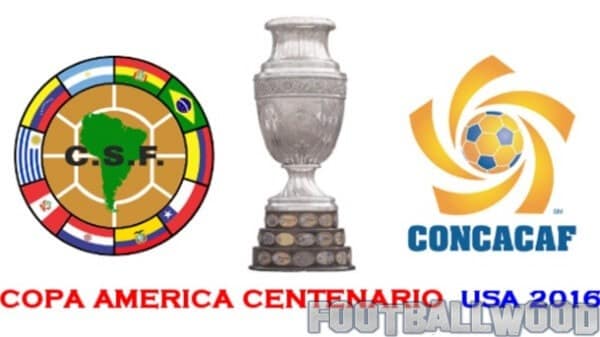 On 26th of June 2016, the final of Copa America 2016 will be played at MetLife stadium located in East Rutherford. It will be 32nd game of the competition. So this the schedule fixtures of Copa America 2016 according to Indian Standard Time [IST]. If you have any query regarding this schedule, feel free to bother us. Just leave your query in the comment box below. So which side on you are?