CONMEBOL have finalized match dates based on groups draw of Copa America 2015 that is to begin from 11 June 2015. After a draw on 23 November 2014, all twelve teams are finalized into 3 groups with each group having 3 teams. This time the major competition will be organized in Chile. All match dates of the competition have been announced which we are sharing with you right over here. The final match of this campaign will be played on 4th of July 2015.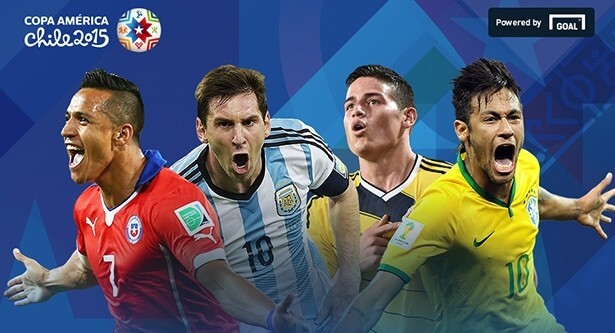 Copa America 2015 Groups of All Teams
Host nation Chile will face Mexico, Ecuador and Bolivia in group stage games. Chile and Ecuador will play the opening game of the competition on 11 June 2015 at Estadio Nacional de Santiago. The most successful team of Copa America i.e. Uruguay will face World Cup vice champions Argentina, Paraguay and Jamaica.
Group A
#
Team
P
W
D
L
GF
GD
Points

1

Chile

2

Mexico

3

Ecuador

4

Bolivia

Group B

1

Argentina

2

Uruguay

3

Paraguay

4

Jamaica

Group C

1

Brazil

2

Colombia

3

Peru

4

Venezuela
Third place team from each group will qualify for the knockout round out of which 2 teams will get ticket of quarter final round. Based on the performance, winners, runners-up and two best third placed teams from each group will qualify for the next round which is quarter final. Total of 8 teams will enter to this round. All games will be played according to rules and regulations of CONMEBOL. Read also: Copa America 2015 Ball
Copa America 2015 Match Dates
Group Stage
Group A
Match
Date
Time
Venue

Chile vs Ecuador

11 June

20:30

Estadio Nacional de Santiago

Mexico vs Bolivia

12 June

20:30

Estadio Sausalito, Vina del Mar

Ecuador vs Bolivia

15 June

18:00

Estadio Elias Figueroa, Valparaiso

Chile vs Mexico

15 June

20:30

Estadio Nacional de Santiago

Mexico vs Ecuador

19 June

18:00

Estadio El Teniente, Rancagua

Chile vs Bolivia

19 June

20:30

Estadio Nacional de Santiago

Group B

Uruguay vs Jamaica

13 June

16:00

Estadio Regional de Antofagasta

Argentina vs Paraguay

13 June

18:30

Estadio la Portada, La Serena

Paraguay vs Jamaica

16 June

18:00

Estadio Regional de Antofagasta

Argentina vs Uruguay

16June

20:30

Estadio la Portada, La Serena

Uruguay vs Paraguay

20 June

16:00

Estadio la Portada, La Serena

Argentina vs Jamaica

20 June

18:30

Estadio Sausalito, Vina del Mar

Group C

Colombia vs Venezuela

14 June

16:00

Estadio El Teniente, Rancagua

Brazil vs Peru

14 June

18:30

Estadio Municipal German Becker

Brazil vs Colombia

17 June

20:30

Estadio Monumental David Arellano

Peru vs Venezuela

18 June

20:30

Estadio Ellas Figueroa, Valparaiso

Colombia vs Peru

21 June

16:00

Estadio Municipal German Becker

Brazil vs Venezuela

21 June

18:30

Estadio Monumental David Arellano
Quarter finals: 24 June to 27 June 2015 Semi final: 29 and 30 June Third Place playoff: 3 July 2015 Final: 4 July 2015