Spain has thrashed away Tahiti team in its match of Confederation Cup on Thursday. The latest news from Rio De Janeiro has reported that Spain made a huge victory over Tahiti with a score of 10–0. The coach of Tahiti Eddy Etaeta is still thinking positive. He was expecting that Spain might be scoring 15–0 or 20–0 but it did not do that. This year is tuning out very bad for Tahiti because the team did not qualified for the FIFA World Cup of 2014 & then a big loss from Spain in Confederation Cup. (Spain: 10 Tahiti:0)
How many Goals scored by Players ?
| | |
| --- | --- |
| Player | Goals |
| Fernando Torres | 4 |
| David Villa | 3 |
| Silva | 2 |
| Mata | 1 |
It was great to see the team combination from world's number 1 team Spain. From Spain Fernando Torres has scored 4 goals. The Superstar who played for Barcelona with Lionel Messi, David Villa also made a hat-trick and scored 3 goals. Silva & Mata has scored 2 & 1 goals respectively.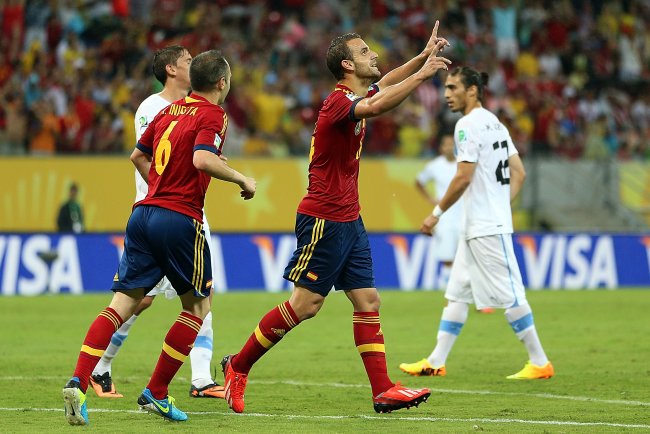 Tahiti was the group favorite at the Maracana sports stadium with Brazilians wildly cheering the underdogs and jeering Kingdom of Spain. Once Spanish midfielder Mata tried to attain with a bicycle kick with the score at 4–0 met with loud booing.
Spain forward Fernando Torres has missed from a penalty. The ball bounced off the crossbar and Tahiti keeper Roche raised his hands in celebration as if he stopped it. That additionally drew thunderous commendation. Just from the start of match Fernando was looking to impress his coach so that the coach reaches a stage of dilemma & he proved it.
David Villa Encourage Tahiti goal keeper
Although Spain has won the match with a big win but Villa came forward to encourage the goal keeper of Tahiti. It is very hard to loss a match with a very huge margin. After the match, Villa came & shaken a noble hearted hand with Mikael Roche (goal keeper of Tahiti).