Spain beat Nigeria in the last group match Confederation Cup of 2013. After winning this match Spain entered into the Semifinals of this tournament. Spain beat Nigeria with goal score of 3–0. Till the end the match was under controlled by the Spanish team.
Match details of Spain vs. Nigeria
Nigeria has given tough competition to Spain in the first half of the match. But in the second half, the superstar of Barcelona club Jordi Alba from Spain scored 2 goals first in 3rd min. & the second in 87th min. The third goal was scored by Chelsea star Fernando Torres. That goal was fifth goal of Torres in this Cup.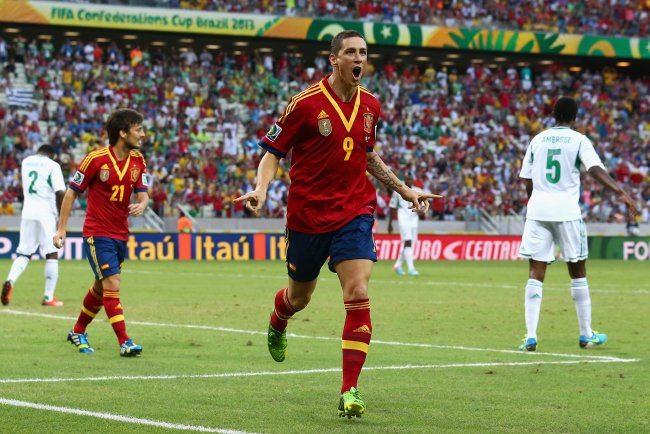 Match Statistics
Spain
Stat
Nigeria
22
Shots
13
17
Shots on goal
8
3
Fouls
11
6
Corner Kicks
5
1
Offside
6
58%
Possession
42%
0
Yellow cards
0
8
Saves
14
Nigeria has made lots of attacks in the 1st half. But its players did score any goal and all goals were blocked by the defenders and the goal keeper. The second half was totally in favour of Spain. After scoring 3 goals in the match, the team got 9 points & also got first position in the group B.
Now this winning team will face second position team of Group A Italy in the Semifinals of the confederation cup. Italy was beaten by the Spanish team in the finals of EURO Cup of 2012 by 4–0. Now Italy will is looking to take the revenge of the last year. Super Eagles Team (Nigeria) after losing the match is knocked out from this cup. It has won only a single match against Tahiti.
Goal Scorers: Jordi Alba (3, 87), Fernando Torres (62)
2nd Semifinal between Uruguay & Brazil
The second Semi-final will be played between Uruguay & hosting country Brazil. Uruguay has beaten team Tahiti with a goal score of 8–0. Both teams are the tough competitor of each other and the fans of these 2 teams can expect a great match between these 2 teams